There is nothing on this Earth more prized than a True Friendship ..A friend is what all the heart needs at times..
Here it is ,the South Indian films that based on some sweetest friendship dedicated to all the friends in the forum ..
These films can't be missed for any reason...
1 THALAPATHI - 1991 . Original : Tamil , Dubbed as Dalapathi into Telugu
l
This social classical film written and directed by Maniratnam which is based on the life stories of characters in Mahabharata i.e.,Friendship between Karna and Duryodhana ..
The film staring South Indian Legends Rajnikanth (karna) and Mammotty (Duryodhana) and Shobana the lead actress .
The film is the mix of Maniratnam's Class appeal and Rajni's Mass touch ..
The Music given by Illayaraja truely a divine ..The 'kaatuyiluin in Tamil " Singarala Pairulona(tel)" song which sung by great singers SP.Balu and Yesudas is still the best ..This the last film of Mani and Illayaraja Combo for which both won Best Filmfare For Direction and Music respectively ..
2.Kadhal Desam - 1996 : Original : Tamil ,Dubbed into Telugu as Prema Desam ..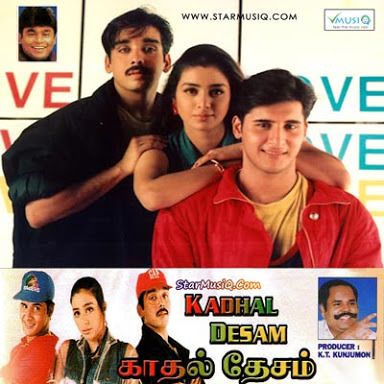 An Unique Triangular love &Friendship saga written and directed by Kathir based on two tennagers Vineeth and Abbas both from colleges in Chennai which are rival to each other.
They both become unseperable friends but loves the same girl Tabbu without knowing the fact .After realising the fact both want to sacrifice for each other .The ending of the film is worth watching .The songs are composed by AR .Rahman became biggest Musical Hits .Espcly.,the song"Mustaffa Mustaffa "sung by Rahman himself redefines the meaning of friendship .
AR.Rahman won Filmfare for the Film,which is his 5th in a row .
3.Niram - 1999 :
Original Malayalam ,Remade into Telugu as 'Nuvve kavali' and as 'Piriyadha Varam Vendum'
.
MALAYALAM TAMIL TELUGU
Niram is a Malayali film directed by Kamal ,with Kunchacko Bob and Shalini as lead pairs ..The story revolves around the young boy and girl who born on same day and friends from their childhood, sharing everything eachother.The first half of the story is subjected to the
notty friendship and later both knewing that they can't live without eachother ..At the end You will cant come out of the characters ,for sometime after watching this ..It was a Blockbuster in Malayalam bringing the days of college stories back ..
Vidyasagar was the music director ...
The film was remaked as 'Piriyadha Varam Vendum' with Prashanth and Shalini as leads ..The film enjoyed commercial success ..S.A.Rajkumar given the tunes ..
The film made again in telugu with Tarun and Richa acting as friends ..this film made Tarun overnight a super star and lover boy..The beauty of telugu one is its the duo.,i.e., dialogues are written by Trivikram Srinivas and direction by Vijaybaskhar ..It suceeded over 200days and gifted with National award (telugu) and four Filmfares. Koti given magical tunes .
4.Friends -1999 :Original ; Malayalam,Remade in Tamil and Telugu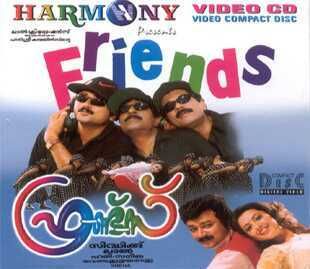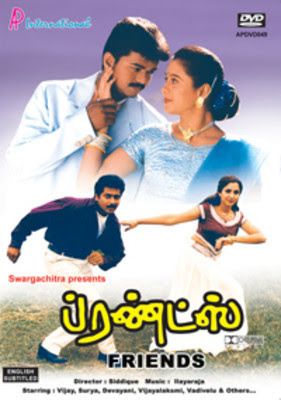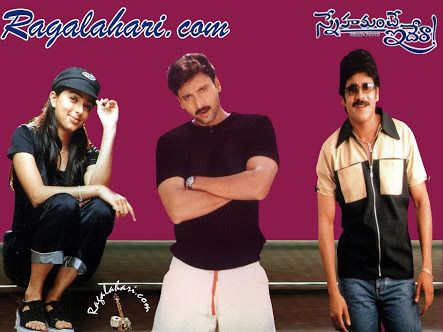 MALAYALAM TAMIL TELUGU
The comedy entertainer staring Aravindan,Chandhu &Joy ,the malayalam film which shows the value of Friendship over everything else,even family .The film is written and directed by Siddique which suceeded very well at the boxoffice..
Later the film was remade into Tamil under same name ..Vijay and Suriya are the leading pairs The story and characterisation of the film got wide audience reception and also excellent success.Siddique was also the director of tamil version
But the Telugu version of the film 'Snehamanthe Iddera 'with Nagarjuna and Sumanth failed to rock as expected .
5.Manasantha Nuvve : 2001 Original -Telugu ; Remade into Hindi
Manasantha Nuvve is a Telugu flick written and directed by V.N.Aditya and Music composed by R.P.Patnaik.. Late Uday Kiran as Chanti and Reema Sen as Anu done magic to their roles .Anu and Chanti are childhood friends at Araku Valley .Anu's
father is a wealthy govt, official and Chanti's mom is a widow .Anu leaves
Chanti at the age of 8 when her parents shift to Vizag. Later on Chanti loses his
mother. Mohan Rao (Chandra Mohan) adapts him and renames him as Venu. After several years, Anu returns to Vizag from Malayasia. Meanwhile Venu waits for Anu.
She starts writing a serial named 'Manasanta Nuvve', which contains her live story, expecting, that Chanti would read it &come back to her. The rest of the story is how
Venu and Anu unite. RP Patnaik music adds class to the film..
The main soul of the film is in the 15mins childhood scenes between the lead actors ..It is one of the best telugu friendship and love entertainer till date..
Later similar film made into Tamil as 'Thithikudhe' and Kannada as 'Manasella Neene' with same story line ...


Some more films to Follow in next post...