Part 1
In a creepy looking house in 1978 in canada
We see a guy taking the bricks out of a wall making a big squar shaped space,he then picks up a wrapped unusually heavy thing and puts it inside the space,asoon as he puts it in we see a white cold hand from ht eedge of the blanket,yes there was a dead body in it.he then got the bricks and cemented them back in the wall.
10 years later(1988)
We see that same guy this time hiding behind the fridge in the same house with a axe,a new couple had recently moved in to a house ,they were cooking for the dinner party they had held tonight but what did they no,the guy came from the back of the fridge with the axe and killed the couple and wrapped the up in blanket also putting them in to the wall.
18 years later (now the real story begins)
We see a college behind that house,in the college people are cheering,screaming,kissing,all things normal 16-18 year olds do.in one side of thecollege at the gym we see a guy working out,a guy next to him on the phone and a guy next to him sleeping.
Guy on the phone-what were coming(disconnects)
Guy working out-kya hua
Guy on the phone-angad they've told sir
We now see the fit guy working out,its Angad khannah: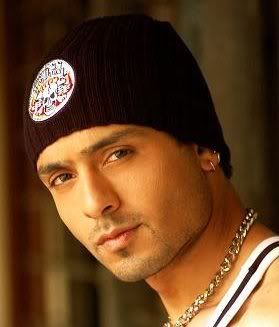 Angad-lakshya im gonna kill them,we gotta find sir
We now see the guy who was chatting on the phone,it was lakshya,lakshya virani Angads best friend:
Lakshya-yep but first wake up that dumbo
Angad gets his water bottle and dumps it on the guy who was sleeping,the sleeping guy wakes up angrily
Sleeping guy-kya angad
Angad-get up Rishi,them idiotic girls have told sir
We now see the sleeping guys face it was Rishi,Rishi khan,Angads other best friend.
Risi-wat aur tum mughe abhi patare ho,u fool
Angad-we just found out now come we gotta find sir
Rishi-yea u go ill cum later
Lakshya-why later u cum with us now
Rishi-lakshya im tired give me 10 more mins to sleep
Lakshya-(shouting)rishi if u don't get ur lazy ass off that floor now I will personally invite those girls to come and batter you
Rishi(gets up)-ok im up just don't shout
Lakshya-ok angad u deal with drama queen,Rishi u deal with fashion queen and ill deal with miss money queen
Angad-done but I think we should let sir in to a secret first
Rishi-wat secret
Angad-the queens secrets
Lakshya-now were talking
Right guys I know it wasn't that scary but the next two parts will be mostly the introductions' then the horror will be unimaginable
Preview-the queens introduction
-punishment