KTH CONTINUE...
Part_1
Small recap
(sujal garewal or piyush raheja buisness partners or best friend hain rishi sujal ka chota or ladla bhai hai kashish ek classical indian girl hai uski 4 sisters hain wo r&g group of industries me job karti hai or use sujal se pyar hojata hai on the other hand piyush ko bhi kashish se pyar hojata hai kuch misunderstandings ki wajha se sk door hojate hain or kashish ki shadi piyush se hojati hai sujal kashish ko pane kelye piyush ko puri trhan barbad krna chahata hai kuch arse baad piyush ki death hojati hai or ilzaam sujal pe aata hai kashish piyush ka badlaa lene kelye sujal se shadi karti hai or use hr trhan se dard deti hai but after sometimes sb clear hojate hai or sk Apni life me khush hote hain...soyam or akshat sujal k sotele bhai hain dusri shadi karne pe sujal apne papa se naraz rehta hai soyam sujal ko barbad karna chahta hai or dusri trf rishi bhi soyam or akshat se nafrat krta hai isi nafrat ki wajha s wo akshat ki gari se 4 5 logo ka accident krdeta hai or ilazam akshat pe laga deta hai kashish us waqt akshat k sath hoti hai islye wo court me akshat k haq me or rishi k khilaf bayan deti hai ye bat sujal ko buri lagti hai or wo kashish ko apna bayan wapis lene kelye kehta hai kashish mana kardeti hai or sujal use ghar se jane kelye keh dta hai kashish chali jati hai ab aage,,,,,,,,,)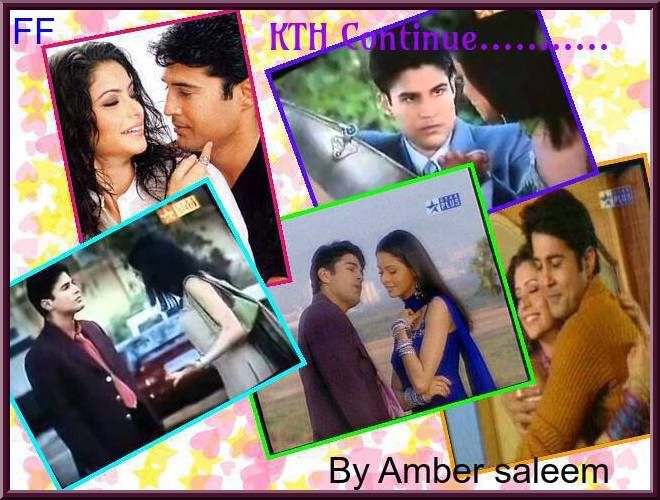 Sujal or kashish court k bahar khade hain
Sujal:me ne kabhi socha nhi tha kashish k yum mere sath aisa karogi kash ye din dekhne se pehle me mar gaya hota
Kashish(crying): sujal plzz tum galat samjh rahe hai
Sujal(lift his hand): bus (or wahan se jane lagta hai phr wapis aata hai or kashish k gale me ek heart shape ka locket hota hai us me se apni pic nikal leta hai) jub dil me hi me nhi raha to is me rakhne ki kkya zrurat hai (or chala jata hai kashish bhi rote hue wahan se chali jati hai)
Inside the court case chalta hai or akshat ko baizzat bari kardya jata hai jb k rishi galat sabit hojata hai sujal is too much shocked use kashish ko kaha apna eke k lafz yad aata hai or wo uth k bahar aajata hai
Rishi:big b ((sujal is not responding) big b wo me bus us soyam or akshat ko sabaq sikhana chata tha
Sujal(turn and slap him): sikhadya sabaq??mil gaya sukun???sabaq to tum ne mjhe sikhaya hai rishi k apne bhai pe andha vishwas karke me ne kitni bari galti ki court me tum nhi me galat sabit hua hun or saza bhi me hi bhugtunga (sujal leftor rishi bus use jata hua dekhta rehta hai)
Sujal aise hi road pe chalta jaraha hota hai use apni or kashsh ki sari behas yad aarahi hoti hai or uski ankho se ansu nikal rahe hote hain
Sujal: q q q kashish q har bar me tumhe galat samjhta hun q??khud se zyada chahta hun tumhe pr kyun apne hi pyar pe bharosa nhi karpata kyun?? Kya kashish mjhe maaf kar payegi?kis munh se mafi mangu me us se????magar me kashish k bina nhi reh sakta mjhe us se bat krni hogi wo jo saza de mjhe manzur hail akin use mere pass wapis aana hi hoga (wo apna phone nikalta hai or kashish ka number milata hai magar wo off hota hai phir wo kashish k ghar ka num try kart hai)
Cahru:hello
Sujal:hello charu kashish kahan hai use bulao
Charu:jiju di tto ab tk ghar nhi ayi hain
Sujal:ab tk nhi i?????
Charu:nhi court se nikal gain kya???
Sujal:han use to kafi time hogaya,,,,,acha tum ruko me dekhta hun
Charu:ok jiju (Sujal phone rakhta hai or soch raha hota hai kashish kahan gai )
Sujal:kahin kashish akshat k pass to? Me ne uske sath bhi sahi nhi kya wo sahi tha or me use saza dilane chala than hi mhe us se mafi mangni hogi (sujal akshat ka num try krta hai but not reachable aaraha hota hai phr wo msg kardeta hai)
Sujal yunhi soch raha hota hai k tb hi uske mobile pe ek call ati hai
Sujal:hello
Person:hello mr sujal garewal?????
Sujal:yes speaking
Person:mr garewal NH2041 apki gari ka number hai???
Sujal:g ye car meri wife use krti hen pr q?????????
Person:me inspector rahul bat kr raha hun kali pahari se mr garewal apki gari ka accident hogaya hai ap yahn aajayiye plz
Sujal k to mano pero tale zamin hi nikal gai ho charo tarf sanata hai sirf hawa chal rahi or beach road pe sujal mobile lye khada hai use kuch samjh nhi aaraha k us ne kya suna hai
Inspector:mr garewal????
Sujal(bohat mushkil se bolta hai):me aaraha hun (wo bhagta hua apni gari me betha hai and driving like crazy use kuch hosh nhi hota bs use apni kashish k pass jana hota hai tabhi uska mobile bajta hai wo bohat mushkil se receive krta hai
Sujal:hello??
Akshat:hello sujal tum ne msg kyat ha???9sujal kuch nhi bolta he is just crying)sujal?sujal????kya hua kuch bolo sujal??
Sujal:akshat kashish ka accident,
Akshat:kya?kese?kahan ho tum?(sujal use btata hai sb) tum pohncho me bs abhi aaya
Sujal phone rakhta hai or akshat bhi tezi se ghar se nikalta hai
End of part
Hope you like it
Do coments J J