Originally posted by rinall
Garuuu !!!!!
How are you dear ??
Oh thank God, it's not tonsils

And I keep forgetting that your dad's a doctor

... Anyway, please take good care of yourself... and don't stress yourself out !
Arre haan, you have your presentation tomorrow na?? ... All the best for that !

...vaise, can't they give you , like, a break or something for this week ?? I mean you weren't feeling fell na for so many days... Toh abhi presentation ke liye prepare karna will only add to the stress
...Koi nahi, take this jadu ki jhappi
and just chill ! Everything will be fine
And And And... A big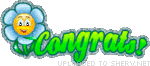 and

for becoming Dazzler !!

Finally, coming to the story... Awesome update !!

Pratap and gang ki haalat par hasi aa rahi hai meko
I mean, I'm feeling bad for the other boys...but Pratap and Chakri both deserve the bootcamp punishment ! Well done, BD!

Awww
...Sagar is so cute !

Love his equations with BD,JB, Ajab and I'm guessing, even Subho
Rawatji is snooping around !

Yayy!! Kalyan Singh ki bbhi entry ho gayi !
Bas, ab un dono ko koi aisa clue mil jaaye jise use karke, vo US ki band baja sake !
I wonder who that unfortunate woman is jiski body mili...Kahin vo Gauhar jan toh nahi ?
Looking forward to the next update !!
US and Phool, dono ki khub band bajaana !
Rinal my yaara
ab kya baatayein hum aapko fever uttar gaya par yeh cough jaane ka naam hi nahi le raha hai - matlab waise nahi aayega par jab mein kisis ki company mein hongi tab aise aata hai jaise ki hum 90 saal ke buddhe hon...
Yaar papa Dr, meri maa dr, mera bhai dr- main toh doctors se pareshaan ho gayi re -pakka kisi dr se shaadi nahi karene waali - bhagaa dena agar koi aa bhi gaya toh I tell you
Break- not happening kyunki maine short term course join kiya hai which ends in 3months and last Saturday I didn't attend kyunki I was not able to get up from my bed- badi buri haalat thi tab meri...so they gave me the leave for that day and tomorrow is my presentation - I'm keeping it real simple and easy -aage jo hoga dekha jaayega
Your jhappi is the best...this one is for you
Tu bhi jaldi jaldi mereko join kar dazzling group mein ab okay
I was thinking of firing Phool but mere brain mein new idea aaya and so I will try that...