God gave a gift to the world when you were born
a person who loves, who cares,
who sees a person's need and fills it,
who encourages and lifts people up,
who spends energy on others
rather than herself,
someone who touches each life she enters,
and makes a difference in the world,
because ripples of kindness flow outward
as each person you have touched, touches others.
Your birthday deserves to be a national holiday,
because you are a special treasure
for all that you've done.
May the love you have shown to others
return to you, multiplied.
I wish you the happiest of birthdays,
and many, many more,
so that others have time to appreciate you
as much as I do.
Plz join me to wish n bless one of the most adorable members of our forum
The glory of her friendship is her unselfish heart , her kindly smile , her outstretched hand to caress you in times of need but most imp her spiritual inspiration that makes us believe in true friendship...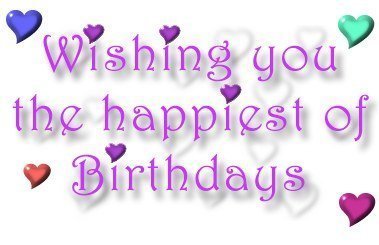 Dance among the ribbons
of the birthday balloons.
Smile through the lit candles
and sing to the classic happy tune.
Eat the cake of wishes,
frosted with sweet dreams of parties to come.
Blindly swing at the flying unicorn,
sending treasures across the lawn.
Spin among the music and laughter
in your perfect party dress that's brand new.
And till next year my dear,
happy birthday to you.
Make a wish and give it wings Dreams of bright and beautiful things Dance through all the fun filled hours Don't forget to smell the flowers Share some love and birthday cake All life joys are yours to take And when evening comes to view Thanks your lucky stars you're you
On your birthday,I wish for you the fulfillmen of all your fondest dreams . I hope that for every candle on your cake you get a wonderful surprise . I wish for you that whatever you want most in life, it comes to you, just the way you imagined it, or better.
Every year, on your birthday,I think about how glad I am that you were born,how thankful I am to have you in my life.Every year is another yearfilled with the special joys you bringjust by being yourself.Every year, when you open your birthday gifts,realize what a gift you areto everyone who knows you,especially me.Happy Birthday!
I wish for you, a happy day,
For lots of love, to come your way.
May your heart be filled with cheer,
That will last, thorough the coming year.
Best wishes from my heart,sent your way..
Hoping that much joy, be yours today.
This special prayer for you, I will say,
God bless you on your very special day.
HAPPY HAPPY HAPPY BIRTHDAY!
My another wish for you...
Is that this life becomes all that you want it to
Your dreams stay big, your worries stay small
You never need to carry more than you can hold
May you smile everyday and it gets on wider
This I wish for your life with no divider
May you celebrate this day with a lot fun and joy
This I really wish in your life to be employed
May you be like this always and never change
And for this, I can give anything in exchange
May everything happy
And everything bright
Be yours on your birthday
From morning till night.
And then through the year
May the same thing hold true
So that each day is filled
With life's best things for you!
Wishing You the happiest of Birthday!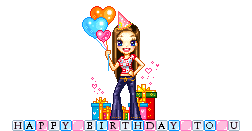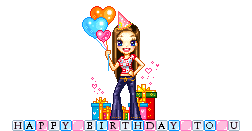 Today is your birthday, it's really true,A fantastic birthday, let me wish you.What's inside that box?It might be a fox!As for this day,I want to say Happy Birthday.Let's have a cake that we bake
Happy birthday my dear friend,A special birthday to attend.Wouldn't miss it for the world,Laughs and stories we shall record.Our friendship began, long ago,Support and sympathy, mutually bestow.Never envious or neglect,Always listen and reflect.Cherish everything we share,Hope you know how much I care.Just want to wish you all the best,On your day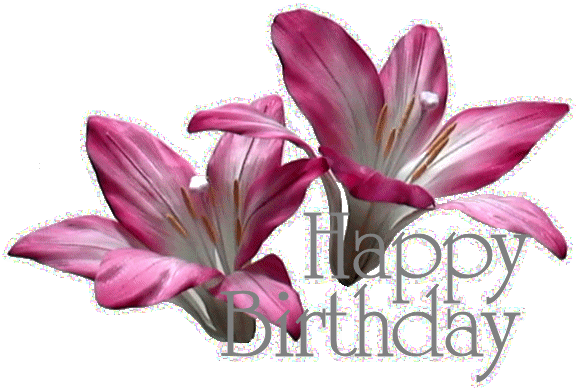 Its your Birthday ...

"Happy Birthday" means much more than have a happy day.Within these words lie lots of things I. never get to say. It means I love you first of all,Then thanks for all you do.It means you mean a lot to me,And that I'm proud of you.
But most of all, I guess it meansThat I am thinking of you on this very special day,Happy Birthday"
.