IT IS INTERESTING TO NOTE THAT ARJUN WHO HAD THE MOST SUCCESSFUL 2014 IS NOT ON THE LIST, SID IS NOT AT THE TOP OF LIST WITH ANY ANALYST. WHY?
Ranveer, Varun or Sushant: Who will rule the box office in 2015?
It's a brand new year at the movies, and a number of films are lined up for release. While some actors will have multiple releases, others will be seen on screen only in 2016. We asked industry experts to predict who will rule at the box office this year, and here's what they had to say.
Komal Nahta, trade analyst
Actors:

Ranveer Singh
Varun Dhawan
Sidharth Malhotra
Actresses:

Anushka Sharma
Alia Bhatt
Sonakshi Sinha
"All these actors have a huge fan following, and have established themselves as leading men and women. They are being careful with their careers, and are not making hasty decisions," says Nahta.
"Despite being an Aamir Khan-starrer, PK (2014) has been a shot in the arm for Anushka Sharma, who gets significant screen time in the film. She has a fantastic line-up in 2015 as well. Alia is the new darling of the Hindi film industry, and she has proved herself with all her films till now. As for Sonakshi, she has a knack for picking the most commercial films, and has a huge fan following which works for her" explains the trade analyst.
Prahlad Kakkar, adman
Actors:
Ranveer Singh
Sushant Singh Rajput
Sidharth Malhotra/Varun Dhawan

Actresses:
Anushka Sharma
Shraddha Kapoor
Alia Bhatt

"I think Ranveer has already made it. He has a stable market, and his line-up for 2015 looks promising. He's doing some good films with big production houses. I feel Varun and Sidharth are neck and neck, while Sushant has done some interesting films. It will be exciting to see what new he can offer," says Kakkar.

"Anushka has already shown her screen presence, and she has some exciting films lined up this year. Shraddha is a very strong contender and so is Alia, since both have a lot of ads. Having endorsements means you are very famous," says the adman.

Mukesh Chhabra, casting director
Actors:
Varun Dhawan
Sushant Singh Rajput
Sidharth Malhotra

Actresses:
Shraddha Kapoor
Anushka Sharma
Alia Bhatt

"Varun has amazing energy. The way he is choosing his projects " from comedy to action and dancing " is a good attempt at showcasing his versatility. Sushant has made up his mind to do intelligent, and different cinema. His upcoming films " the Mahendra Singh Dhoni biopic, Shekhar Kapur's next, and a film based on detective Byomkesh Bakshy " are proof of this," says Chhabra, adding, "Sidharth is a real actor, who goes deep into his roles and works on becoming his character. For one film, he's putting on weight and growing a beard, and for another, he's losing both."

"Shraddha faced rejection early in her career, but she hung around, determined to make her mark. Anushka, on the other hand, has worked with the biggest names in the industry. As for Alia, she's the most fearless actor I've seen in recent times. She's spontaneous and very sharp," says the casting director, explaining his choices.

Ashish Patil, producer
Actors:
Ranveer Singh
Sushant Singh Rajput
Ayushmann Khurrana

Actresses:
Anushka Sharma
Alia Bhatt
Shraddha Kapoor

"Ranveer has two films in 2015. In Zoya Akhtar's next, you'll see a new side to him. Then, in Sanjay Leela Bhansali's magnum opus, he has shaved his head to play a Maratha warrior. Sushant, too, has compelling films lined up - one where he plays detective Byomkesh Bakshy, and the other is a biopic on MS Dhoni," says Patil, adding, "Ayushmann's two films are very exciting. He has the biopic on a Marathi scientist, and then a film directed by Sharat Katariya."

"Among actresses, I have no doubt that 2015 will belong to Anushka Sharma We've already seen the response to PK. In the first half of next year, she has three releases - her home production, followed by Bombay Velvet and then Zoya Akhtar's film. Alia will have a great year, just like she did in 2014. Shraddha's ABCD 2 also seems exciting. However, I'm not too excited about Sonakshi Sinha and Sonam Kapoor's line-up," says the producer.

Kamal Gianchandani, CEO, PVR Pictures
Actors:
Varun Dhawan
Sidharth Malhotra
Sushant Singh Rajput

Actresses:
Alia Bhatt
Anushka Sharma
Sonam Kapoor

"I think Varun and Sidharth are like horses that are in the race for the long run. I look forward to more hits from them. Sushant comes across as a hardworking, diligent actor who will do justice to Dibakar Banerjee's detective film," says Gianchandani.

"For me, Alia Bhatt is clearly the leader of the pack. She is versatile, and has a huge fan following, without coming across as unapproachable. She will have a great 2015. PK has re-established Anushka, and this will prove to be a big impetus for her career. As for Sonam, Khoobsurat (2014) was a big catalyst in her career. She carried the film on her shoulders. I hope she has a good 2015 too," says Gianchandani.

Anushka says: 2014 has been special and quite an eventful year for me. I was juggling four films and travelling to different countries shooting for them. This year, I also started my first film as a producer. And I couldn't have asked for a better ending to 2014 than PK. Year 2015 promises to be a very exciting year for me as well, since I have three releases lined up. This year I will also start shooting for Karan Johar's film, besides starting work on my own second production.

Ranveer says: I had a good 2014 with Gunday being declared a commercial success. And although Kill Dil didn't do well, my performance was appreciated. I signed a couple of endorsements, and was part of their campaigns creatively too. People also seemed to like some of the stuff I did on the side, like the Bang Bang dare video, and the roast with Arjun Kapoor. I've also shot for Zoya Akhtar's film and started working on Sanjay Leela Bhansali's next.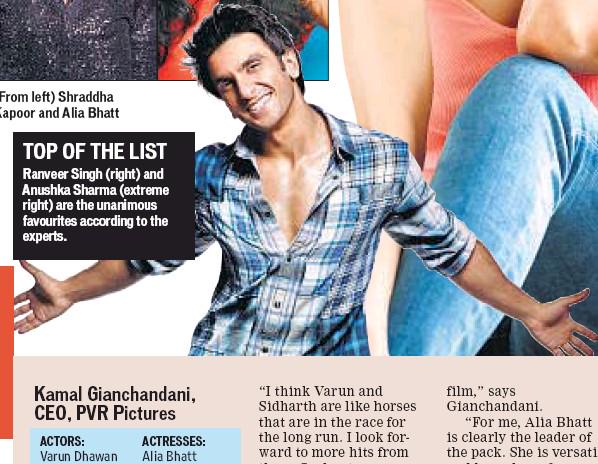 See more at: http://www.hindustantimes.com/entertainment/bollywood/ranveer-varun-or-sushant-who-will-rule-the-box-office-in-2015/article1-1302230.aspx#sthash.xi3UCyAK.5j4ij3o2.dpuf