YRKKH: Akshara finds about Kuhu's mother, supports Naitik Upcoming Track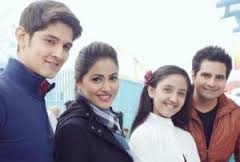 The upcoming episode will show that Naitik is tensed for Kuhu.
And has brought her home and takes good care of Kuhu.
Naksh and Naira are irked seeing Kuhu calling Naitik her dad.
And also seeing Naitik too concerned about Kuhu.
Akshara supports Naitik
While Naitik is trying hard to hide truth from Akshara and tries to keep all a secret.
But Akshara finds truth and sees Kuhu's mothers photo.
Akshara finds about all truth and is guilty to not trust Naitik.
Akshara apologizes to Naitik and also supports Naitik.
Stay tuned for more exciting updates of the upcoming episodes.
Credit:serial gossip


Edited by munna111 - 17 March 2016 at 12:06pm