Originally posted by FIZK6
I dont think we've seen this pic.
chatter box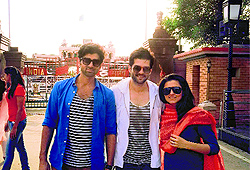 Home for polls
Actors Raqesh Vasisth, Ridhi Dogra and Akshay Dogra have made a trip to Amritsar to support their family. We hear that Arun Jaitely is Ridhi and Akshay's uncle and hence the entire family is together. In fact, Akshay and Riddhi have spent many summer holidays as children in Amristar.
full support: (L-R) Akshay Dogra, Raqesh Vasisth and Ridhi Dogra
First time seeing this pic, thanks for sharing Fiz.
Wish it was a bigger size/hq