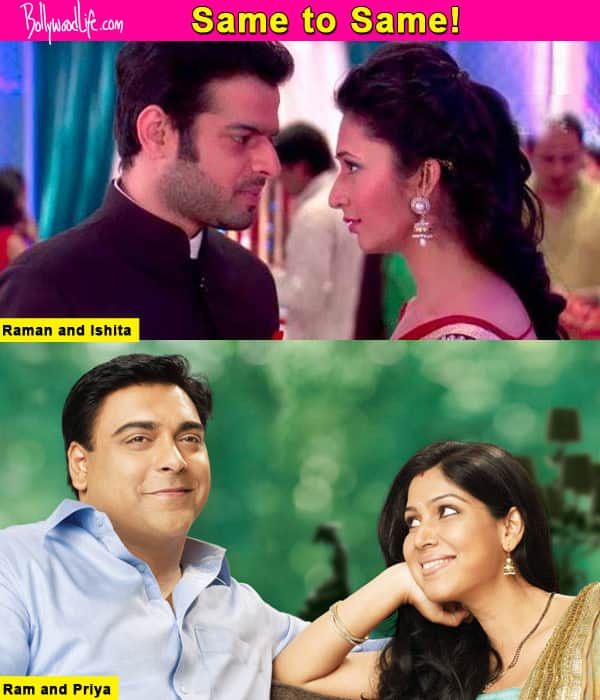 Though the latter has ended, I can see some elements borrowed from the former show and incorporated in Diyanka-Karan's present one. Read on to know more!
Karan Patel- Divyanka Tripathi aka Raman and Ishita's show, Yeh Hai Mohabbatein, is currently one of the leading shows on TV. The series is Ekta Kapoor's creation and I can't help but be reminded of the similarities it possesses with her previous production Bade Acche Lagte Hain. I list down 5 things the two shows have in common:
Raman and Ram- The angry young men
I remember Ram (Ram Kapoor) as this impatient, serious and bitter lad, married to Priya Sharma (Sakshi Tanwar). His personality traits come across as similar to those of Raman, who like Ram, loses his cool quickly. But Raman's wife, Ishita (Divyanka Tripathi) has propelled him to be the loving husband he is today, all thanks to her generosity. Similar was the case with Ram, who let go off his wrath when in company of his doting better half Priya. Same to same?
Priya and Ishita- They kill with kindness
Priya was a loving wife to Ram, one who could sacrifice a whole lot for her husband's happiness. Well Ishita is no different, is she? Be it accepting Raman's ex-wife Shagun or being a caring mother to Aditya, Ishita likes to kill with kindness much like Priya. Ultra sweet, open minded and big hearted, Ishita could well be the reincarnation of Priya.
Kapoors and Bhallas- Rolling in Ka Ching
The Bhalla family reminds me of the Kapoors. Where the latter was a favourite of the media and often in the news for their scandalous affairs, similar is the case with the Bhallas in YHM. Influential and loaded with money, the Bhallas are a reflection of the Kapoors. Mirror mirror on the wall, who is the richest of them all?
Ruhi and Pihu- The girls who knows it all
Much like adorable little Pihu who was the apple of Ram and Priya's eyes, Ruhi in YHM holds a similar status with Raman and Ishita. Where Pihu often played cupid for Ram and Priya, Ruhi is the glue that holds Raman and Ishita together. I have learnt not to underestimate the power of a little girl!
Arranged marriages are meant to work
Ram and Priya took a long while to fall in love with each other and confess their feelings. Similar is the case with Raman and Ishita who were bound in a union, they didn't approve of. After a lot of bickering, the two have finally come to accept their relationship. The only difference? They haven't said the three magical words to each other like Ram and Priya yet!