annboleyn
Dearest Dee,
Happy birthday my darling girl!
As you are embarking on a journey that was familiar territory I thought I'd share something with you. It's going to be exciting,humbling,depressing,lonely.confusing and will give you some medical problems of your own (both physical and mental). Long hours,no food,humiliations galore,Latin words,eponyms,acronyms(fangurls lingo will be put to shame) are all going to get incorporated in your DNA either by symbiosis or out of desperation. All of us flounder,most of us regret our decision and some of us don't cope.
But saying that you will have that one moment most probably after you are done " studying medicine" when it clicks and that moment will humble you. So my dear girl don't take yourself too seriously and don't trivialise it either. It's not going to be everything you dreamed of but it won't be a downer either. Keep your balance and keep your FOCUS but most of all keep your soul intact. You will be fine. From what I have known you this is something that you need to define you and that's a good place to start.
I found an article which I thot you may like http://www.independent.co.uk/student/student-life/whats-up-doc-the-essential-guide-to-studying-medicine-at-university-9706498.html
Much love and best wishes.
I tell my son to keep his chin up no matter what. So keep the chin up Dee and smile you will be fine.
Doc
TheFaerieQueen
Dee,
Wish you a wonderful birthday and year ahead. May you get all the happiness, love and success in life.
Lots of Love,
Sarika
-MKB-
happy birthday Dee
Aka my sarun deewani ,I miss you in the AT
Anyway hope you have a blast and party all night
May god bless you and give you all the happiness
All the best for your next phase
I love you
Humesha...
Medha.S









I am here with the gifts and flowers, Yo!

Dee,My Bae! A Freakin' Awesome, Happening and Happy Birthday darling! I wish the coming year ahead for you will be as amazing and lovely as you are.Enjoy the day,it is all yours and celebrate the eff' out of it and all of us will celebrate it with you!You know in the short time I have known you, I have come to completely adore you and everything you write and the way you write!I used to wait for your first post after every episode back when I was new on the forum and didn't knew anyone.Because your first post-epi post was filled with so much genuine feels and warmth and you described it all so perfectly! I LOVE interacting with you on the AT and anywhere! You are just so lively and genuine and FUNtastic! I love you too much and from being your stalker to hopefully, a friend has been an awesome experience!
Again, Happy Birthday baby -We all love you Loads and I miss you since you have been gone and rarely appear on the AT! Hope you will be back for real,to stay soon!
So, lets Party now!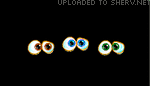 Edited by TheShipWeirdo - 01 January 2015 at 5:19am