Arjun Kapoor: I may look like my mum but my personality is like my father
Dec 30, 2014
Bombay Times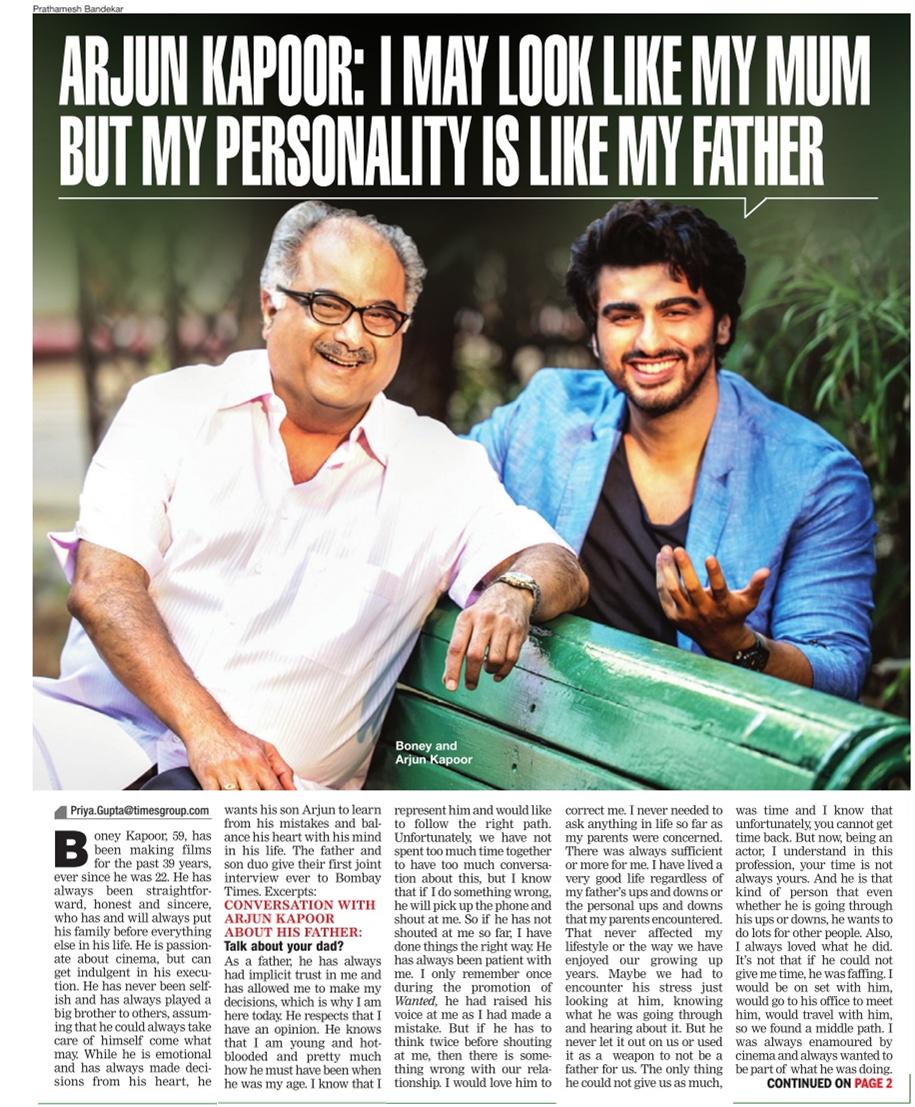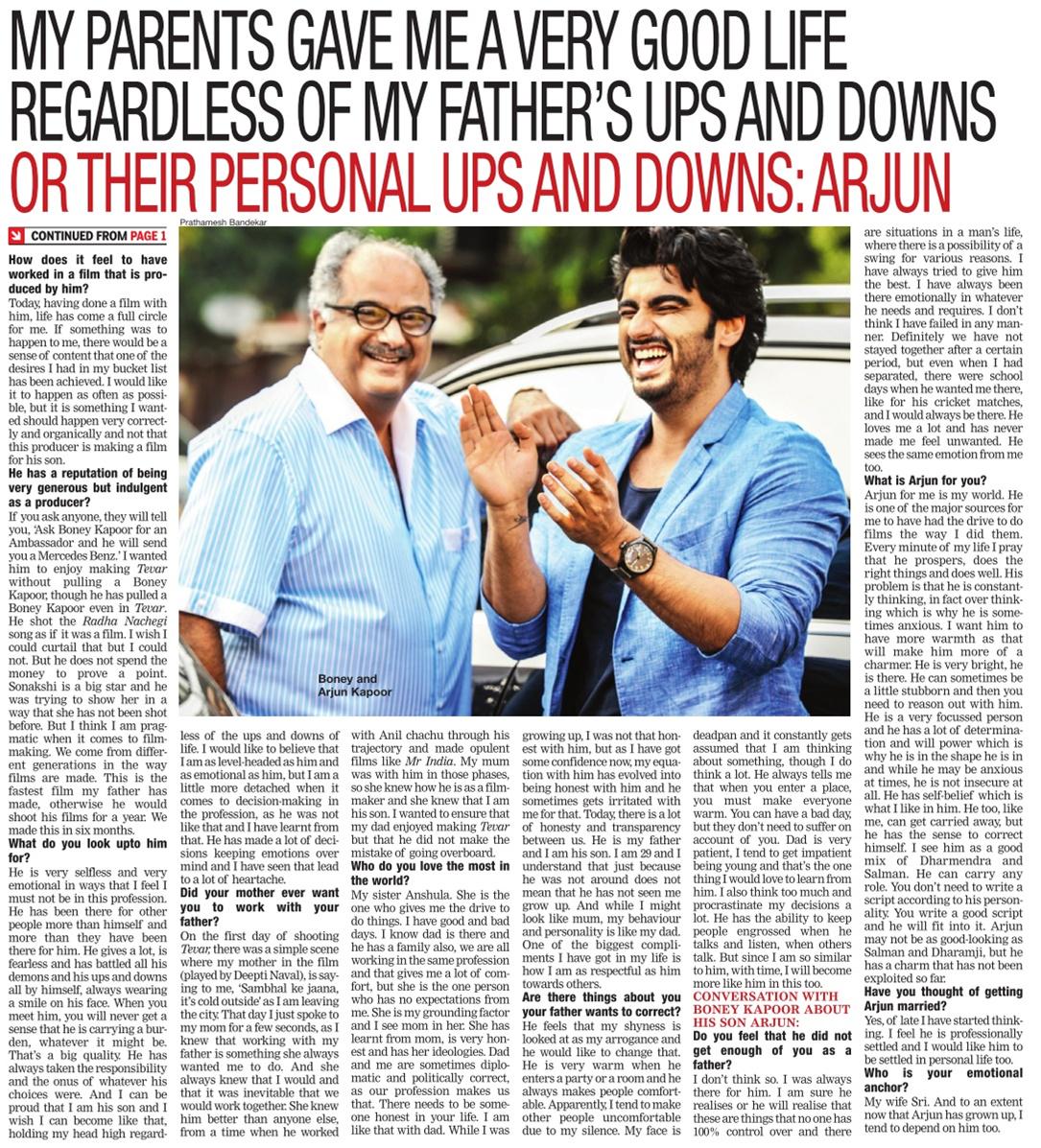 Boney Kapoor, 59, has been making films for the past 39 years, ever since he was 22. He has always been straightforward, honest and sincere, who has and will always put his family before everything else in his life. He is passionate about cinema, but can get indulgent in his execution. He has never been selfish and has always played a big brother to others, assuming that he could always take care of himself come what may. While he is emotional and has always made decisions from his heart, he wants his son Arjun to learn from his mistakes and balance his heart with his mind in his life. The father and son duo give their first joint interview ever to Bombay Times. Excerpts:
Talk about your dad?
As a father, he has always had implicit trust in me and has allowed me to make my decisions, which is why I am here today. He respects that I have an opinion. He knows that I am young and hot-blooded and pretty much how he must have been when he was my age. I know that I represent him and would like to follow the right path. Unfortunately, we have not spent too much time together to have too much conversation about this, but I know that if I do something wrong, he will pick up the phone and shout at me. So if he has not shouted at me so far, I have done things the right way. He has always been patient with me. I only remember once during the promotion of Wanted, he had raised his voice at me as I had made a mistake. But if he has to think twice before shouting at me, then there is something wrong with our relationship. I would love him to correct me. I never needed to ask anything in life so far as my parents were concerned. There was always sufficient or more for me. I have lived a very good life regardless of my father's ups and downs or the personal ups and downs that my parents encountered. That never affected my lifestyle or the way we have enjoyed our growing up years. Maybe we had to encounter his stress just looking at him, knowing what he was going through and hearing about it. But he never let it out on us or used it as a weapon to not be a father for us. The only thing he could not give us as much, was time and I know that unfortunately, you cannot get time back. But now, being an actor, I understand in this profession, your time is not always yours. And he is that kind of person that even whether he is going through his ups or downs, he wants to do lots for other people. Also, I always loved what he did. It's not that if he could not give me time, he was faffing. I would be on set with him, would go to his office to meet him, would travel with him, so we found a middle path. I was always enamoured by cinema and always wanted to be part of what he was doing.
How does it feel to have worked in a film that is produced by him?
Today, having done a film with him, life has come a full circle for me. If something was to happen to me, there would be a sense of content that one of the desires I had in my bucket list has been achieved. I would like it to happen as often as possible, but it is something I wanted should happen very correctly and organically and not that this producer is making a film for his son.

He has a reputation of being very generous but indulgent as a producer?
If you ask anyone, they will tell you, 'Ask Boney Kapoor for an Ambassador and he will send you a Mercedes Benz.' I wanted him to enjoy making 'Tevar' without pulling a Boney Kapoor, though he has pulled a Boney Kapoor even in 'Tevar'. He shot the 'Radha Nachegi' song as if it was a film. I wish I could curtail that but I could not. But he does not spend the money to prove a point. Sonakshi is a big star and he was trying to show her in a way that she has not been shot before. But I think I am pragmatic when it comes to filmmaking. We come from different generations in the way films are made. This is the fastest film my father has made, otherwise he would shoot his films for a year. We made this in six months.
What do you look upto him for?
He is very selfless and very emotional in ways that I feel I must not be in this profession. He has been there for other people more than himself and more than they have been there for him. He gives a lot, is fearless and has battled all his demons and his ups and downs all by himself, always wearing a smile on his face. When you meet him, you will never get a sense that he is carrying a burden, whatever it might be. That's a big quality. He has always taken the responsibility and the onus of whatever his choices were. And I can be proud that I am his son and I wish I can become like that, holding my head high regardless of the ups and downs of life. I would like to believe that I am as level-headed as him and as emotional as him, but I am a little more detached when it comes to decision-making in the profession, as he was not like that and I have learnt from that. He has made a lot of decisions keeping emotions over mind and I have seen that lead to a lot of heartache.
Did your mother ever want you to work with your father?
On the first day of shooting 'Tevar', there was a simple scene where my mother in the film (played by Deepti Naval), is saying to me, 'Sambhal ke jaana, it's cold outside' as I am leaving the city. That day I just spoke to my mom for a few seconds, as I knew that working with my father is something she always wanted me to do. And she always knew that I would and that it was inevitable that we would work together. She knew him better than anyone else, from a time when he worked with Anil chachu through his trajectory and made opulent films like 'Mr India'. My mum was with him in those phases, so she knew how he is as a filmmaker and she knew that I am his son. I wanted to ensure that my dad enjoyed making 'Tevar' but that he did not make the mistake of going overboard.

Who do you love the most in the world?
My sister Anshula. She is the one who gives me the drive to do things. I have good and bad days. I know dad is there and he has a family also, we are all working in the same profession and that gives me a lot of comfort, but she is the one person who has no expectations from me. She is my grounding factor and I see mom in her. She has learnt from mom, is very honest and has her ideologies. Dad and me are sometimes diplomatic and politically correct, as our profession makes us that. There needs to be someone honest in your life. I am like that with dad. While I was growing up, I was not that honest with him, but as I have got some confidence now, my equation with him has evolved into being honest with him and he sometimes gets irritated with me for that. Today, there is a lot of honesty and transparency between us. He is my father and I am his son. I am 29 and I understand that just because he was not around does not mean that he has not seen me grow up. And while I might look like mum, my behaviour and personality is like my dad. One of the biggest compliments I have got in my life is how I am as respectful as him towards others.

Are there things about you your father wants to correct?
He feels that my shyness is looked at as my arrogance and he would like to change that. He is very warm when he enters a party or a room and he always makes people comfortable. Apparently, I tend to make other people uncomfortable due to my silence. My face is deadpan and it constantly gets assumed that I am thinking about something, though I do think a lot. He always tells me that when you enter a place, you must make everyone warm. You can have a bad day, but they don't need to suffer on account of you. Dad is very patient, I tend to get impatient being young and that's the one thing I would love to learn from him. I also think too much and procrastinate my decisions a lot. He has the ability to keep people engrossed when he talks and listen, when others talk. But since I am so similar to him, with time, I will become more like him in this too.

Do you feel that he did not get enough of you as a father?
I don't think so. I was always there for him. I am sure he realises or he will realise that these are things that no one has 100% control over and there are situations in a man's life, where there is a possibility of a swing for various reasons. I have always tried to give him the best. I have always been there emotionally in whatever he needs and requires. I don't think I have failed in any manner. Definitely we have not stayed together after a certain period, but even when I had separated, there were school days when he wanted me there, like for his cricket matches, and I would always be there. He loves me a lot and has never made me feel unwanted. He sees the same emotion from me too.

What is Arjun for you?
Arjun for me is my world. He is one of the major sources for me to have had the drive to do films the way I did them. Every minute of my life I pray that he prospers, does the right things and does well. His problem is that he is constantly thinking, in fact over thinking which is why he is sometimes anxious. I want him to have more warmth as that will make him more of a charmer. He is very bright, he is there. He can sometimes be a little stubborn and then you need to reason out with him. He is a very focussed person and he has a lot of determination and will power which is why he is in the shape he is in and while he may be anxious at times, he is not insecure at all. He has self-belief which is what I like in him. He too, like me, can get carried away, but he has the sense to correct himself. I see Arjun as a good mix of Dharmendra and Salman. He can carry any role. You don't need to write a script according to his personality. You write a good script and he will fit into it. Arjun may not be as good-looking as Salman and Dharamji, but he has a charm that has not been exploited so far.

Have you thought of getting Arjun married?
Yes, of late I have started thinking. I feel he is professionally settled and I would like him to be settled in personal life too.

Who is your emotional anchor?
My wife Sri. And to an extent now that Arjun has grown up, I tend to depend on him too.