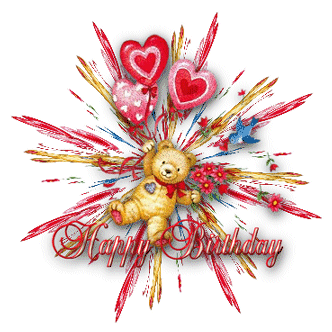 Happy Birthday Warrie..
It's true you have been lax in coming to Laagi
Yes Daya, Twinky and myself made your birthday threads.. previously
This time I know you didn't expect anything !
For I told you so.. I was miffed by your erratic attendance !
But see despite everything your friends at Laagi still remember you
I mentioned to bart and with her magic wand she zapped up a post!
For your special day ! I wish you the very best of everything in life
May your dreams, desires and aspirations realize themselves to the fullest
Be blessed with sound health , good fortune and stability all year round
With prayers, blessings and much love.. hammie. December 30.12.14
~~~~~~
My special thanks to bart for making warrie's thread.. bart you are one lady with a golden heart..how do you know what's in hammie's heart..? your lazy Kala bundar, choohaa.. daya too knows about my laid back ways, but she shows me the bat! and twinky she's too scared of my roars.. warda dekh! how much we care for you.. lazy daisy larki.. happy birdday... tweet! tweet!
twinky great comment
super made me smile


Edited by Hamlet53 - 31 December 2014 at 11:25am