Thank you guys for all the appreciation, continue this in the future as well. Hope you guys will like this, do like and comment and share your thoughts!!!!
THE FLASHBACK
"Foul!!", a girl with a high ponytail, shouted from one side of the net.
"And why is that so??", a snobbish girl from the other side asked.
"Because the ball was caught in the dead zone", the first girl replied as a matter of fact, and the grin on her face ended the matter, and with that the game was resumed.
They were playing throwball, in the grounds of their school, when a young girl came running out of an office to the girl with the ponytail.
"Kria di, Kria di, Princi is calling you, I think we have a visitor, it's urgent"
"Okay, Sara I'm going, do me a favour, just take my place here till the time I'm back... and you guyz, it our service", Kria gave orders, went to a bench and wore her gown which was kept there.
Yes, that girl was none other than our Kria, and she was the head girl of her school.
"Ma'am, may I come in?", she asked.
"Yes, Kria you can.", an elderly lady, who was Kria's principal, replied.
"Ma'am, you called me?"
"Yeah child, meet Mr Reyaansh, he is from a corporate firm, who give educational funds to different educational institutes.", she introduced her to a man... No, he was more of a boy, he was very young.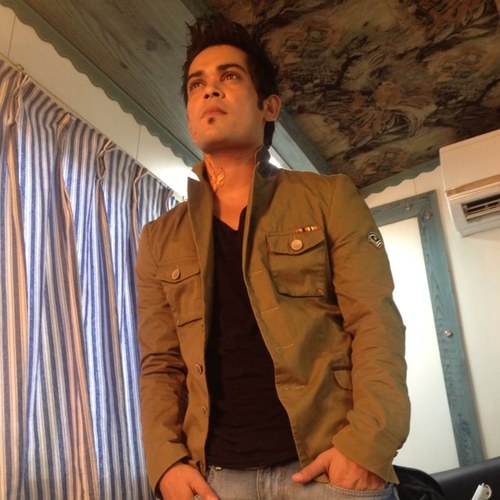 "Hello, Sir", Kria replied with an official smile, but the that person was staring her, it was making her feel conscious of herself.
"It's your free period na, Kria", her princi asked.
"Yeah, ma'am"
"Then do me favour, just give Mr Reyaansh a tour of the school, as right now I've a meeting with the staff, and after all you are the head girl of our school!!"
"Okay, ma'am I'll do it", she replied half heartedly, as she soo wanted to play and relax right now, and also this Reyaansh's stare was making her uncomfortable.
"Come", she gestured him proceed.
As they were approaching the ground, Kria's juniors started calling her.
"Come on, Kria di come na, without you the game is becoming soo boring and slow."
"I'm sorry guyz, i just cannot come, but you guyz carry on, I'll join if I'll get time, but right now I'm a bit busy", replied Kria while indicating them about that 'Staring Machine', walking behind her.
Reyaansh was continously staring at her as if the whole world doesn't existed for him for he had seen world's most beautiful girl and with every passing minute his liking was speedingly converting into his love for her. He was not flirting with her. Oh! He was never that type of a boy, nor it was some sort of physical attraction, as she was in her uniform which was perfectly normal and uninviting for anyone...nothing attractive about it!!... but instead he was attracted towards her behaviour, her nature, her attitude towards people. There was some kind of inner connection that was pulling him towards her, and it was the first time when HE was attracted towards any girl or else everytime it was the opposite of it where girls used to droll over him, used to throw themselves on him!!! As he had it all a handsome face, a well built body, an extremely intelligent mind and above all a highly rich father... or might that is the reason why he is attracted towards Kria as she was the sole girl he met who didn't gave a damn to his looks!!!
He was so lost in HER thoughts, that he didn't even realise that Kria had taken a pause to reply to her juniors.
Anddd... Bang!! He bumped into her, causing both of them to touch their mother earth!! But, but, but... Reyaansh was smart enough to change their position, so that he would be first to touch the floor... After all, how can he bear to see his princess getting hurt!! How sweet!!
"How dare you touch me!!!", there Kria started bursting, but controlled herself from doing the damage of spoiling their institute's reputation.
"I mean, are you alright? Sirrr...", she asked, gritting her teeth, trying her level best to calm her anger.
"Yeah! I'm fine, and it was my mistake, I was just thinking something and didn't realise you took a pause".
"Yeah, yeah!! Was thinking about something or ogling at me, bloody perv." She self talked.
"Okay, so shall we continue with our tour", she asked.
"Yes,of course... So you like sports?"
"Yup"
"Yeah, that's why you have such a perfect figure!!!", he replied without realising about its consequences.
"Excuse me," she questioned him with raised eyebrows.
"I mean to say, you are very smart and fit",Reyaansh corrected and mentally slapped himself for that.
"Yeah, ofcourse... Thank you", she replied with a forced smile.
"Now, can we continue with our tour?", Kria asked, being fed up with this whole scene.
"Yeah, yeah ofcourse!!"
And they continued their awkward journey, few minutes passed by and Reyaansh's restlessness was increasing with the time, he so wanted to talk to Kria, to get to know her but Kria was behaving as if she had worn a 'No Entry' board. She was so adamant to keep quiet that it was intriguing Reyaansh, and was unintentionally unveiling Reyaansh's that side about which even he was unaware.
(His bold and flirty side
)
They were passing by the garden when
"Woo, these flowers are beautiful... just like you!!", and here he started using his charms.
"Really, Ahan!! But people usually call me the 'tomboy' Kria rather than the 'beautiful' Kria",well our Kria was also not an easy nut to crack, she knew how to play along.
"Really!!! Well I guess then these people badly needs an eye specialist, or else if they see from my point of view, things are vastly different!!", he replied with a boyish smirk on his face.
"Okay, now if you are finished with giving your observation about me, so can we get over with this tour plz?? I need to continue with my game."
"Oh yes, after you." And being a perfect gentleman that he was, he made way for her. But when Kria proceeded forward..
"Sorry Miss Ghai, but your wish will not be fulfilled till the time I'm here, for I'll not let you go anywhere away from me", he self talked and winked.
"So Mr Reyaansh, these are the classes for the juniors, and ...", she was speaking but when she didn't got any response, turned and saw Reyaansh standing there and grinning like a fool.
"Mr Reyaansh!! Have you cancelled your plan of our school tour??", she taunted him, folding her hands.
"No!!", he came out of his 'self - talking' mode.
"So will you plz do the honour of moving from there?", Kria's patience was wearing out.
"Oh! Sorry coming"
"So as I was saying, these are the junior classes and beside ...", she was interrupted.
"And where is your class??", asked Reyaansh.
"My class is in the senior section ... but that portion doesn't need renovation", she replied matter-of-factly.
"Oh! Fine", he replied with a sad tone.
But ignoring that, she continued.
"So beside these classes, is the library which really need some attention in it's interiors ...", while talking Kria was continously observing him, he was least interested in the interiors of the library, rather all his attention was focused on Kria only, he was staring at her without even blinking, as if he was spell bound to her, as if he'll blink and she'll vanish in thin air. Kria was feeling so conscious under his stare. Even though, she could feel that his stare was not flirting or dirty, but still it was making her uncomfortable, her breathing was in creased, and her focus was distracting. This was the effect of Reyaansh on her. Well, we can say the sparks were on both the sides, only the difference was one was trying to supress it, while the other was happily embracing it.
Till then they have reached the principal office, and by this time Kria hyperactive fighter mode was back.
"So what have you noticed ... Well, I'm sure you've not observed anything, BECAUSE you didn't have to time for that, as all this time you were busy ogling at me!!!", with every word Kria's tone was increasing but Reyaansh, he was wearing a very calm expression and when she was done...
"First floor, besides junior classes, library needs interior renovation, second floor senior's staff room need more fans and proper furniture, in the front ground the cafeteria space needs to be expanded And yeah your class is n the senior section, which 'does not' need any renovation",he answered with a smirk. Although, Kria was right, all that time he was busy admiring (not ogling at) her, but, but, but... Reyaansh was not called the youngest executive manger for no reason, he was a genius and luckily his intelligence helped him here.
Kria was so stunned by his answer that for a few minutes, she just forgot to respond.
"Kria, Mr Reyaansh, you have returned from your tour? I hope Kria had managed to show you our institution in a great manner Mr Reyaansh", there her princi came out of her room and broke Kria's trance.
"Oh! Yes ma'am, your student has given me everything that I wanted!!", he said eyeing Kria, but when her principal became a bit suspicious, "I mean to to say, all the information that I wanted abt your institution", he covered up.
"Ma'am, now can I go? I want to continue my game plz", asked Kria impatiently as she so wanted to rush from there.
"Yeah! Child you can go, I'll handle from here"
"Thank you ", and she rushed to the ground, but as soon as she settled herself for the game, the period bell rang, and there ended her free period. She was so frustrated and irritated, that she wanted to just kill Reyaansh with her bare hands, but all she could do was give him a deadly stare before proceeding into her classroom. If looks can kill, Reyaansh would have been in ashes by now!!
But for Reyaansh, his world was going away from him, suddenly he was very upset, the rest of the day with the principal, he didn't hear a single word of her.
He was upset because Kria had gone far from him, but the main reason for his sadness was that, he was going to London next week, far far away from Kria.
It was so weird for him to feel this way, as few days before he was soo happy and excited to go to London he always wnted to go there, but now after meeting Kria, it all became so different for him.

This one girl just changed his life,
in such a short span of time.