See who all had dropped in their wishes for u :
Abhiya4life (Meghu)
After 11 months and 11 days...Sudha you have become IF-Rockerz
A very accurate calculation if I say


Time for an essay...if I can pull it off
Here goes nothing...*takes a deep breath*

Okay to start, I suck at making threads...but I hope you won't mind...because you know how much I love you
And I mean it...I love you lots Sudha...you are my favorite stalker
We joined IF a day apart, it's weird...but cool...we were destined to meet


I remember when I posted my first OS here...and you were the first one to comment on it
And it was a long comment for me...I felt happy
Like about to explode happy...because I thought the OS was terrible


Then you started writing your own stories...and I got first most of the time until our insane sisters showed up
Yes guys I used to get first in her stories


You are one of my sweetest sisters...and I'm glad that I have a sis like you
I hope we will always remain in touch...and maybe meet each other in person one day


Congrats for becoming IF-Rockerz...I know you like the Dazzlerz color...but you have to deal with it
I hope you become IF-Sizzlerz sooner...because you took forever to get to this rank
The IF unicorns shall bless thee with indestructible spamming skills
*awkward*

So this is my essay...hoped you liked it sudha...I really do hope you like it...
I'm lazy...so I am just adding onto my already written essay...
Feeling awkward again...funniest moment that I can remember between us is that fight over the first spot in Ni's LTKFTL
After all that fighting...you finally took the first spot...because of your stalking skills and my internet
There should be more funny incidents...but I can't think of them off the top of my head
How am I writing this much?
It's a world record!!!
Then again I do love you very much...
I've said that like 3 times already
I have a habit of repeating myself...
Your present will be given to you on New Years Eve or Day...you know what I'm talking about
Let the time zones decide when you will get the gift...
There is my final product of an essay...but knowing Ni and Di (
that rhymes) they will write much more...oh well...love you very much sudha and I'm glad I have a sis like you
(four times now
)
Miss_uliuli (titli)
"congratulations Sudha for turning red hot. I'm very happy for your promotion. But you know higher posts always carry bigger responsibilities. So from now you have to write more and more ROFLing stories for us all and also have to update them without delay!
and for our special moments.. Though we haven't interacted much but just today I've fooled you while we were chatting!
so unfair na? At one side I'm congratulating u n same day making u fool!! LOL. I know I know you are not going to leave me. Have already given me Dhamki..
but I'll gladly face anything. I'm for now super happy to see I have compelled you to res for pyaar hai
Finally..keep writing and commenting. I'm fan of ur long lovely comments too..such a fun to read them like ur stories.."
noiseygirl (shuv)
Congo Sudha for promotion :)
I still remember our 1st chat
do u remember ?
I asked ur name and u answered it and it was my cousin's name:P
I met u by reading ur story
Sweetheart hope u will rock like this nd be with us as a frnd
God bless u darling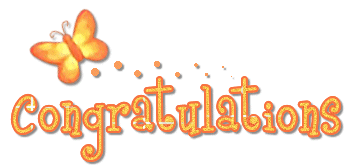 NehaVdian (Neha)
Firstly big congratss to u sudha dii
i m so happy to meet a person like u
who is so full of energy as well as surprises
n lately we have found out our passions n interests infact our way of thinking which is too similar concluding that we our long lost sisters lol
n twinnies as u said
n hatss off to ur writing skills n humour
u have no idea wat a perfect writer u r
i so wish u get many more such promotions
not only here but in real life too

just for u to know that there is one person in this world who will always cherish ur friendship
n ur togetherness
i m overwhed to have a sister like u
love u so much dii
have a grt day full of celeberations
n i wish u a very happy new year too
may this yr give u lots of success n.promotions
n we make many more beautiful memories together adding in our old ones
love u god bless
ashabanerjee (ashu)
We just love your lengthy Comments and wonderful write ups...keep it up SUDHA dear..love you loads...
Congratulations
My_VivJaan (suru)
Hi Sudha Dear!!!
So Time came nd You did it becoming Rockerz!!! Yayyy!!! Keep Rocking nd Soon Be sizzling!!!!
Party Time... Rock and Roll...

AzraZaidi (azra)
Congratulations on your promotion sudha di
keep rocking and soon start sizzling
and may you always keep coming first on everyones updates and even mine and surus as you know how we count whos first comment is ... oh btw it was you only who made it
Ni33(nina)
Dear Baby Stalker...
It's about time you became a Rocker
May your stalking abilites change to spamming
So a new thread for you can be on planning
Sorry but my rhymes suck for the moment
But I am glad we met and we are first spots opponents...
Have a happy new year in color of flush
I hope I didn't make you blush...
Sudha... Do you remember how we met?
I do... It was during the time I met Di, Lu and Shree and our never forgetable time when we filled 150 pages in less than 24 hours...
It was right after Di, me and Shree spammed and trended for an update at Lu's ATOF... I remember somewhat our convo on Di's storythread...Well mostly spamming it...
Then later when I started my FF the real fun began...
We got to know each other better and after some time we made your first thread of LSAM reach 170+ pages...
Aaa...the convo right there is a funny story by itself... And not appropiate for all ages...
So skipping it...
But as Meghu has probably said as the funniest moment was when you spammed my thread...
I said I would update and I thought doing so after waking up...But you two...you two made me update before going to bed at 4:30 in the morning! And even after saying don't post I'll post the update on a new page... Well you two had something else in mind...Nevertheless I got my vengance for Meghu...But the vengance for you is still unfulfilled...
Beware of a spamming Ni...
That should be my New Years present for you... A spammed storythread...
And where the real fun would be...Except for that story we thought of...
Some more on the way, wil add it later.


Edited by uma88 - 30 December 2014 at 9:45am