How often is one lucky enough to cross the path of a person accidentally and thank our stars for it?
How often do you see the person without actually seeing?
How often do you feel loved and appreciated because of a few letters that have been formed into words by an intelligent and accurate reader which leaves your heart overwhelmed with joy?
Well all these describe our very beautiful and lovely forum member and friend
You are one person I truly respect without knowing why.
I love you loads too...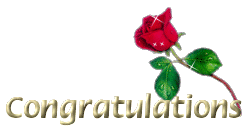 to you my dear
Wishing you a lot more years here in our forum and a beautiful life filled with peace and joy
Love,
Shanti