Aamir Khan's film PK, which dealt with the concept of godmen and blind faith, has been courting controversy ever since its first poster released. After sparking protests for its nude poster featuring Aamir in the buff, the film which released on December 19, has drawn the wrath of afew Hindutva groups who claimed that it hurt their religious sentiments.
PK was also accused of propagating 'love-jihad' because of a romantic angle between the characters of Anushka Sharma and Sushant Singh Rajput in the film. There were numerous protests by activists of the Bajrang Dal and Vishwa Hindu Parishad (VHP) in different Indian cities including Jammu, Delhi, Mumbai, Bhopal, Agraand Ahmedabad.
Members of the Bajrang Dal allegedly vandalised theatres in Ahmedabad and demanded a ban on the screening of the Aamir Khan starrer.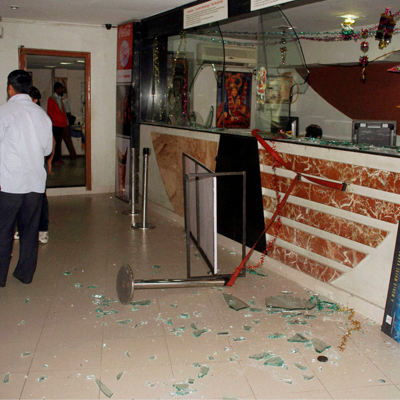 A theatre vandalised in Ahmedabad. PTI
In Agra, a PK screening was disrupted by protestors who accused Aamir Khan of double standards and allegedly even asked him to move to Pakistan.
Police said that activists of the Bajrang Dal and VHP entered the premises of Shree Talkies, on Sunday and tore posters of the film, shouting anti-Aamir Khan slogans. The manager of the theatre was also threatened to stop the screening of the film, they added. A complaint has been filed by the manager of the cinema hall, SP (City) Sameer Saurabh said, adding that investigations were on.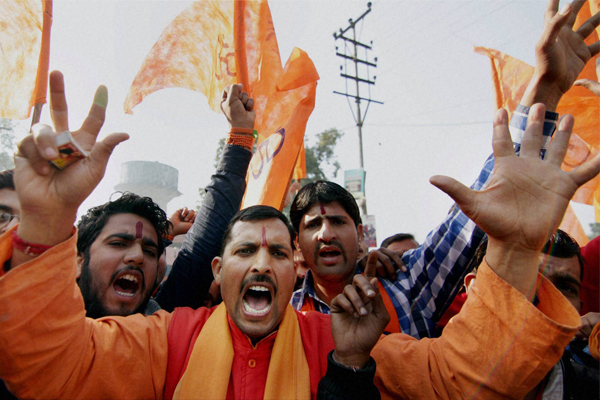 Bajrang Dal members protest against PK in Jammu. PTI
Not only Ahmedabad and Agra, the Bajrang Dal protested against the film in other Indian cities as well, including Bhopal and Jammu. The activists condemned the film, claiming that certain scenes from the film portrayed Hindus in a bad light and also hurt religious sentiments. Posters of the film featuring Aamir were torn and burnt and a demonstration was also held.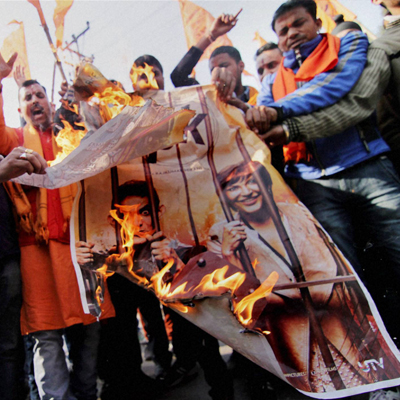 Posters of Aamir Khan's PK burnt in Bhopal. PTI
The Bajrang Dal did not spare metros like Delhi and Mumbai as well. Screenings in Delhi were disrupted and framed posters of the film were broken while elsewhere, the poster was subjected to a 'cover up' with paper.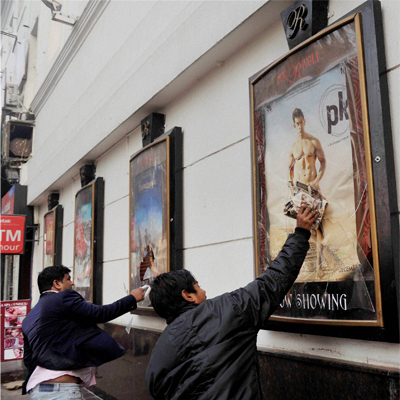 Protesters cover Aamir's nude PK poster with paper in Delhi. PTI
Leading theatres in Mumbai have also received threatening calls to ban the film and stop screenings. Many screenings in Mumbai were reportedly cancelled and stalled at the last moment to prevent any further protest. Deepak Talkies, now known as Matterden cinema hall in Mumbai, cancelled PK's screening on Sunday after the Hindu Mahasabha threatened to hold demonstrations. However, on Monday two shows of the film were screened peacefully here.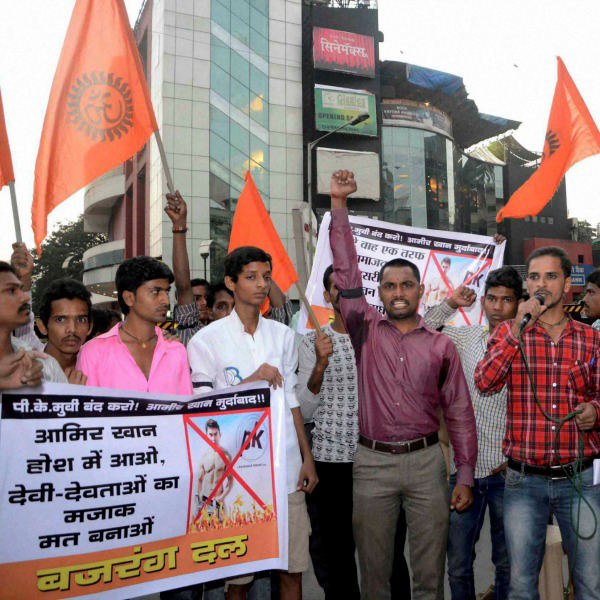 Demonstrations against PK screening in Mumbai. PTI
Baba Ramdev has also condemned the film and accused it of promoting 'objectionable content'. Demanding a ban on PK, he said that people associated with the film should be ostracised from society.
Read more: Aamir Khan speaks on the 'PK' controversy
Meanwhile, actor Aamir Khan has clearly stated that the movie's intention was not to hurt any religious sentiments and defended the film, saying that they had given a sensible and not sensational treatment to the film.
++++++++++