Not sure if this has been posted before but I thought it was hilarious. Is this the same Kanti Shah whose angoor those school kids in Udaan go watch at the theater?




After Aamir Khan's PK poster, here's Poonam Rai's OK poster!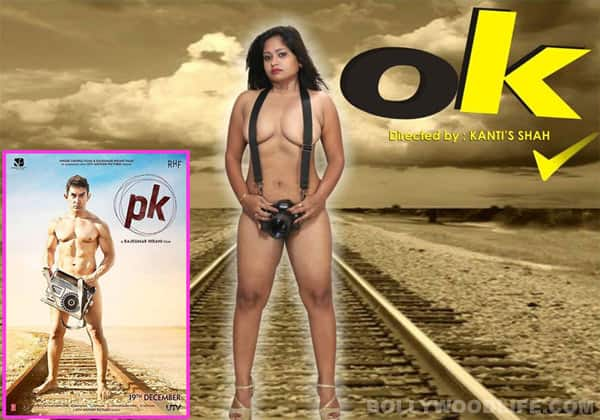 If Rajkumar Hirani had a very controversial first poster of his upcoming film, Kanti Shah too has come up with a similarly controversial poster. Read on to know more...
Aamir Khan's first PK poster had created a lot of controversy when it came. Just recently we came to know that Kanti Shah's upcoming film OK also has a similar poster. Director Kanti Shah has stunned everyone by the movie poster just like Rajkumar Hirani did with his.
In PK's poster Aamir was seen posing nude with only one transistor, in Kanti Shah'sOK we can see a nude Poonam Rai posing with only a camera. When contacted by a leading daily Kanti Shah informed that the film revolves around prostitution. He said, "OK is a story about a school girl and her friend and what happens when they see a couple next door making out. Even though there is a lesbian angle as well to this otherwise normal love story', I am sure that the film will be well received by everyone. The film deals about the growing up of a girl into a woman. The lead protagonist of the film hails from a very poor background and due to the lure and want of money, she slowly gets introduced into prostitution. The lead heroine's Her name is Poonam Rai. And she is definitely a name to watch out for as far as upcoming talents are concerned." Kanti Shah is famous for making films like MMS Kaand, Free Entry, Angoor, Phoolan Hasina Ramkali, Jallad No. 1, Meri Jung Ka Elaan, etc.
Wethinks if the poster of Aamir's film got clouded in controversy, then definitely OK may also get into legal constraints. So go ahead BollywoodLifers, have a look at both the posters and let us know your thoughts on the same.
Source: http://www.bollywoodlife.com/news-gossip/after-aamir-khans-pk-poster-heres-poonam-rais-ok-poster/