Part 8
Riddhima was sitting beside her bed and looked at armaans pic...she had many tears in her eyes...she couldn't forget the past neither could she forget him...he was a very important part of her life
Riddhimas POV
Tum mujhe chor ke chale gaye the Armaan...subha ka suraj nikalne se pehli hi tum chale gaye...na to tumne mujhse kuch kaha aur na hi mujhe kuch bataya...bas sorry kaha aur chale gaye...aisa kyu kiya tumne Armaan? kya mere pyaar me koi kami reh gayi thi...tumne hi to kaha tha na ke tum mujhse pyaar karte ho...to phir tum apne pyaar ko aise chor ke kaise chale gaye...tumhe pata hai...jab mene tumko car ke andar baithte hue dekh to mano ke jaise meri saanse hi ruk gayi
Mene tumko bohot dhunda Armaan...har jagah dhunda...lekin tum mujhe kahi nahi mile...mene Rahul bhai aur atul bhai se bhi puch lekin unko bhi nahi pata tha ke tum aachanack se kaha chale gaye...tum meri zindagi me aaye aur phir aachanak se gayab ho gaye...mene zindagi me aisa kya gunah kiya tha ke tum mujhe chor ke chale gaye Armaan...na tumhara aata na koi pata...pagalo ki tarha mene tumhe har kone me dhunda lekin mujhe tumhari koi khabar nahi mili...akhi har ke mene apni jaan dene ka faisla kar liya tha...uss din agar mujhe agar sahi waqt pe hospital nahi le jaya hota to na to me bach pati aur na hi sarah...haa 2 weeks ke baad mujhe bata chala ke me tumhare baache ki maa bane wali hu...tum to mujhe chor ke chale gaye the...lekin apne pyaar ki nishani ko me khona nahi chahti thi...isliye maine faisla kar liya tha ke me London hamesha ke liye chor dungi...me un yaadon ko apne dil aur dimaag se mita dungi...aur kahi had tak me kamyaab bhi ho gayi thi...lekin phirse tum ek tufaan ki tarha meri zindagi me aagye...sab kuch ulta seedha karne ke liye...aur upar se tumhe lagta hai ke mene kisi se shaadi kar li...armaan tum apni riddhima ke bare me aisa sooch bhi kaise sakte ho?? kya itna hi jante ho tum apni riddhima ko...tum aisa sooch bhi kaise sakte ho ke tumhari riddhima tumhare ilawa kisi aur ke bare me soochne ki bhi galti kar sakti hai...me chah ke bhi tumhe nahi bata sakti ke sarah tumhari beeti hai...mujhme nahi hai itni himmat ke me tumhara samna karo...aur aaj jo kuch bhi hamare beech me hua...uske baad to bilkul bhi nahi...me kal hi resign karke sarah ke saath kahi aur shift ho jaungi...
riddhima drift off to sleep in the same uncomfortable position...tomorrow was a big day for her...she again tried to leave her past behind her and to move on...but this time she didn't know that her past won't leave her that easily...
Next day
riddhima dropt sarah to the kindergarten and drove to her workplace...sarah was still a little bit upset with her...but riddhima knows how to make up with her...she got sarah on their way her favorite chocolates...now they both get well together again...riddhima doesn't want to harm their relationship because of Armaan. she reached her office and started to go to her boss office with the resignation letter in her hand...she was hell nervous...she doesn't know what she is going to do then...where she is going to live with sarah aur where they will move aur how they will do that...but by one thing she was sure...she want to go as far away as possible from Armaan...she knocked on the door...
R: May I come in sir...
V: yes...
she entered her boss room...he was sitting in his chair which was directed toward the window so she wasn't able to see who it was...
R: sir I know it will come all of a sudden but I want to resign...it has nothing to do with the work place or anything related to the work...but it's a personal matter...some personal problem...hope u understand...and...
V: resignation rejected...
the chair turned around and Armaan was sitting in the chair...riddhima was hell shocked to see him sitting there...
R: Armaan tum yaha...
A: Miss. Riddhima...yes me Armaan...your new boss...since yesterday...u remember a got disturbed by a call during our private moment...it was arjun and he gave me the gud news...and about your resignation...sorry but I cant accept it...since I am the new boss of this company I have made an contract with all the workers...they arnet allowed to resign till 3 years atleast...so I am sorry but you don't have a choice...
R: but what happened to my boss...
A: you mean ur ex-boss...he sold this company to me...now he got a transmission to new York...dont worry he will be save there...and you here by me...
R: Excuse me...
A: yes you heard it right...you are now my private secretary...and you will be all the time here when I need you...and you are not allowed to leave the job...and don't even think to leave this city...
Armaan stood up and moved to the door he closed it and then...he moved back to riddhima and stood in front of her...he moved close to her...
R: why did you closed th...
A: shhh I am not finished yet...dont interrupt me...
Armaan put grabbed both her shoulder and pulled her close to himself...very close so that no air could pass...riddhimas breath got stocked at this closeness...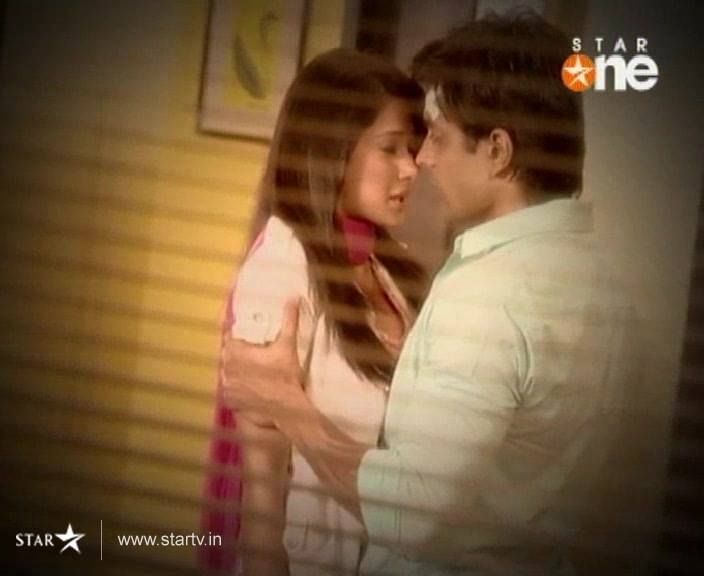 A: Mujhe chorne ke bare me soochna bhi mat riddhima...ab tum to kya
tumhare saya bhi mujhe nah ichor sakta aur na hi me chorne dunga...jo 5 saal pehle hua tha...wo me ab repeat nahi hone donga...ab tumhe aur sarah ko mujhse koi door nahi kar sakte...aur rahi baat tumhare "husband" ki...to mujhe nahi lagta ke use koi problem hoegi...warna wo aaj tumhare aur sarah ke saath hota...
R: Mr. Mallik please leave me...you don't have the rights to interfere into my personal life...
A: mere saare haq tumpe hi hai riddhima...aur yeh haq mujhe koi bhi kabi bhi nahi cheen sakta...aur behtar hoga ke tumbhi ye jitni jald ho samajh jao...

with that he shushed her with a passionate kiss...the kiss got time by time more passionate...before riddhima could totally lose her sense she backed out and put her hands in between them...

A: Riddhima...
R: No Mr. mallik yeh galat hai...
A: First of all stop calling me Mr. Mallik...aur secondly yeh kuch bhi galat nahi hai riddhima...
R: Galat hai Armaan...kis haq se tum mujhe kiss kar rahe ho? Husband ho tum mere ya phir mere boyfriend...u are nothing to me...phirse mere pas aane ki koshish mat karo armaan...please armaan...

Armaan moved forward to calm her down...but before he could do anything riddhima turned around run over to the door...opened it and run out of his office...Armaan also rum behind her

Riddhima had tears in her eyes to she couldn't see anything properly...she stumbled on something and was about to fall...in the fear of getting hurt she closed her eyes but before she could touch the floor two strong arms caught her and pull her toward his body...riddhima opened her eyes because she couldn't feel any pain...she was surprised to see the person in front of her...

It was Arjun...armaans PA...he saw riddhima running and having tears in her eye...he got tensed and wanted to ask her if she is alright...by then he saw her falling and rushed over to her before she could touch the floor...

Arjun: Are u alright riddhima...
R: yes thanks Arjun...hmmm Arjun u can leave me now...
Arjun: ohh yah...sorry..
R: no no dont be...its okee.

Riddhima straightened herself and settled her dress properly...

Arjun: by the way riddhima can I ask u something?
R: ya sure ask...
Arjun: tum ro kyu rahi thi?
R: oh nahi...me ro nahi rahi thi...bas meri aankh me kuch chala gaya tha...aur me dekh ke nahi chal rahi thi...isliye...
Arjun: ohhh agar tum nahi batna chahti to koi baat nahi...but atleast hum dost to ban sakte hai na?
R: hmm ofcourse...friends

they both shook hands...from her eyes winkles riddhima saw Armaan fuming in anger and coming in their direction...she bid bye to Arjun and rushed to her cabin...so she didn't have to face Armaan anymore...

Armaan saw Arjun catching riddhima before she could fall...he was somehow thankful to him...because he saved his riddhima from the hurt...but then he saw how close she was with him...he didn't like it a bit...in that moment he wanted to kill Arjun...how dare he touch his riddhima that way...only Armaan has the right to pull riddhima that close to him...not anyone else...Armaan was already very angry but he got the hell out of him when he saw them shaking hands and riddhima laughing by his talks...he couldn't take it anymore and started walking towards them...but before he could reach them riddhima left from there...Arjun saw him and walked over to him

Arjun: Sir your bungalow is ready...u can shift there today self...and don't worry about the companies in London...i will take care everything there...
A: good...thanks Arjun...and one more thing...by the end of the day I want you to find all the information about riddhima...even the littlest thing...and if you won't be able to do that...then give me your resignation letter...am I clear...
Arjun: yes sir...
i really hope that u all liked it
waiting eagerly for ur comments
with love AMNA


Edited by Amna_xd - 21 January 2015 at 8:08am