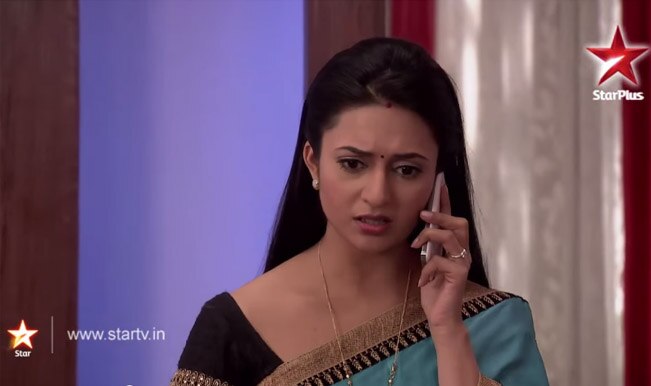 Ruhi enters Raman and Ishita's bedroom complaining that Adi is nowhere in the house. Ishita said that he might be in the washroom or with Shagun but Ruhi insists that she checked the entire house and Adi is not in the house. Ishita gets nervous after checking the house herself. She goes alone out in the cold to look for Adi and finds him sleeping on the bench shivering. She asks him what he was doing out there and he says that he was feeling scared so he went out of the house. Ishita takes Adi back home.
Ashok and her friend are furious because Mihika has deleted all the pictures from the camera which Ashok had clicked to prove that they have a good marriage in case Mihika claims that Ashok is a hateful husband. Raman is surprised to wake up and find Adi sleeping on the bed next to him and Ishita explains what happened. Ishita asks Raman to sleep with Adi in his room to comfort him and make him feel safe in the house. Raman hugs Adi and sleeps while planning to never let go of him.
Ishita enters Raman's room next morning and is happy to see that Adi is sleeping peacefully. She tries to wake Adi playfully by pulling his blanket but Adi snaps back at Ishita and leaves after informing him that breakfast is almost ready. Adi is scared but defiant of Ishita. He gets up as soon as Ishita leaves and finds that he has wet the bed. He is extremely anxious to get rid of the bed sheet because Shagun had told him that if Ishita gets angry on them then she will kick them out of the house.
Adi throws talcum powder on the wet portion of the bed and pulls it off the bed when it doesn't work. Ishita is working in the kitchen and wonders how difficult it must be for Adi who has been brainwashed for six years by Shagun. Ishita remembers that Adi's toothbrush is in Ruhi's room and goes to Raman's bedroom to give it to him and finds that the bed sheet has been changed. She enters the bathroom to find Adi washing the bed sheet and she is confused. Adi snaps back at him for not knocking before entering the bathroom and says that he is a guest in the house and he knows it. Ishita corrects him and says that the family is very happy that Adi is home.
Shagun scolds Adi for snapping at Ishita but starts filling his head that they are a charity case and they need the Bhalla house till she can make other options for their accommodation. Shagun reminds him that one mistake will get them kicked out when Ishita complains to Raman.
Ishita plans to have a Christmas celebration with Santa Claus and she asks Raman to be the Santa. Raman says that he will be the fittest Santa in the world but Ishita says that he has grown a paunch because of all the butter chicken masala and other fattening dishes he eats. He threatens to wear the X-ray glasses which had kept Ishita scared and in the bedroom for over two hours the previous night. Raman says that Ishita is not thin either and she has bloated a lot.
Ishita asks Santosh Kaur to be the Santa Claus but she refuses. Santosh Kaur says that she is not as fat or tall or a man mostly to act like Santa Claus and wear the dress. Ishita is discussing the gifts with Simi and Ishita says that the latest video game is in the biggest box of gifts. In the confusion of not having a Santa Claus, Ishita ends up asking three different people and because they all love Ishita, three Santa Claus' turn up at the party.