After full week torture, we actually got the best scene of this week and it reminded me of the amer trip during sukanya wedding days.
Firstly it was indeed awestruck awesome scene of akdha today when jo went in disguise and jallu dialogues bah Mashaallah. I lol hearing how he was pretending her to be the dasi and complaining about jo. ...patar patar, matar matar. ...kan paka dete hain. Hahaha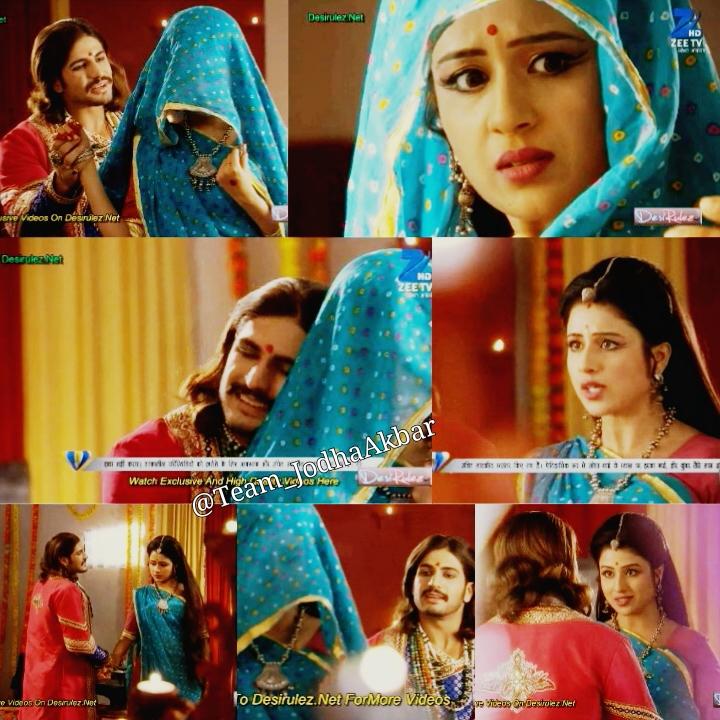 Now the gm tht I found. I wish if anyone can post the pix of ths scenes
Ahhh how jallu was rubbing jo's soft hand all over his chin and hold on near close his chest.
Then when he said ek raaz ki baat bata te hain and he actually was about to put his hand on jo special place instead of shoulder but he quickly hold the shoulder lol
Then when jo was saying that she knew shehenshah wud recognise her and the way jallu was looking at her. ...haiyye. ...They can kill me with this look only. Yaar what a chemistry they have. Truly unbelievable and unbeatable
Jallu looked twice in jo's bossom. Guess Guess guess. ...
Once when he said mayke mein ake bilkul mayke jaise ho gayi hain.
He was glaring...
Then when he said humare ghadali sa looking nice that time too he looked at there.
And the praises of how soft her hand and khuda ne kitna sundar wow.
Mardala jajo
I only watched the episode for this scene. If they show more such akdha romance and more akdha with more dialogue to akdha then this show can improve in trp. So sad this number 1 show of zee have lost their long reigning spot for stupid weak tracks but hope to regain is alive as long as parijat is in it.
Love the precap
In precap too found gm
Guess guess
Let's see if you can


Edited by stephhh - 26 December 2014 at 11:57am