Dear friends,
Guess what?? This year mera luck ke baare mein kya kahoo... So many gifts from so many Santas.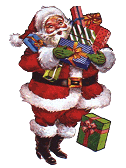 First Tanu made me DOTW.. which went on to be a smashing hit
... with the halp of Santas from the entire forum...especially, Vidi, zoya, tupu, Dee, Suvika...
Then Tupu brought a delicious cake.
Shirley gave me Tagore ji's book - none other than Gitanjali.
Now Hina made a fabulous Siggie for me.. Thank you thank you Thank you so much Hina for taking all pains for me
... Here it is


Edited by mudraswathi - 26 December 2014 at 1:51am