'PK' controversy: Salman Khan,
Ritesh Sidhwani, Shekhar
Kapur come out in support of
Aamir Khan's film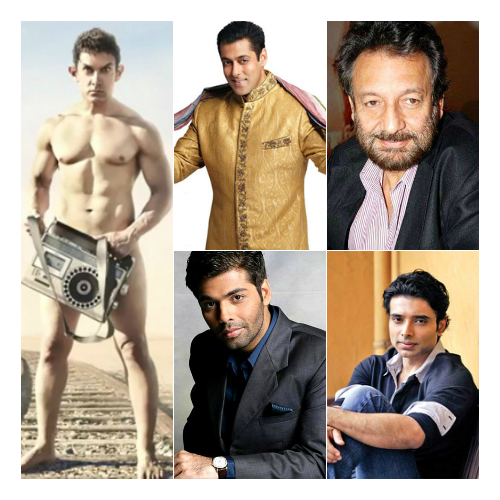 Amidst protests by several right-wing
activists against Aamir Khan's PK,
several Bollywood celebrities like Salman Khan and Karan Johar came out in support of the film. Right-wing
outfits like Bajrang Dal and Hindu Sen have alleged that the movie was
disrespectful to Hinduism and
demanded a ban on the film for hurting religious sentiments.
Bollywood superstar and Aamir's close friend, Salman Khan, led the support for the film, saying, "Is PK not an amazzziiing film?" Criticising the protests against the film, director Karan Johar said, "Attacking a duly censored film has to stop! What kind of a democracy are we living in?? No film should be targeted or be allowed to PK."
Lending his support to the movie,
Bollywood producer Ritesh Sidhwani tweeted, "PK is a must watch. I am a believer and nowhere does it hurt our sentiments or questions religion. In fact it teaches you to love. And not fear in the name of God. What it rightfully does is questions the so called messengers and their role between us and our belief."
Actor-producer Uday Chopra said,"What a wonderful film! I am bowled]over. It is the most important film that
every Indian should see."
"I found PK very entertaining. But I still admire the amazing selfless work some of our spiritual leaders are doing for our people #PKdebate," filmmaker Shekhar Kaur said. Actor Ranvir Shorey posted,
"I would say these morons vandalising against PK should go get jobs, except that we all know this is their livelihood."
In a statement, the film's director Rajkumar Hirani today said he had no intention to hurt anyone's sentiments and maintained that the movie upholds the true spirit of religion while condemning "only the abuse" of it.
"I'm deeply saddened and concerned about the protests by some groups against our film PK. On behalf of the entire team of PK, I would like to clarify that we respect all religions and faiths," he said.
"Our film is inspired by the ideas of Sant Kabir and Mahatma Gandhi. It is a film, which brings to fore the thought that all humans who inhabit this planet are the same. There are no differences," he said
PK which also stars Anushka Sharma and Sanjay Dutt, was released across the country on December 19 and has already earned Rs 246.32 crore at the Indian box office.


Edited by Sharif.Badmaash - 30 December 2014 at 7:56am