All were numb beside geet which is giving her best smile to sameera...
Mohinder handa was first one to break the silence n looked at maan n said u can leave gentleman...
but before he could complete his sentence geet interrupted in between and said....u cant b rude to him dad...he is my guest here and i wont take any insult of him...
Mohinder handa just ignored her and said further...as i was saying young man...as for now i want u need to leave...and before geet can interrupt he showed his hand towards her to stop n not to interrupt again...as for now i want to talk to my daughter first and know what she feel about her relation but i will like to invite u for dinner tonight...hope u r free tonight??
maan who was just speechless nod his head...he was totally out of his senses...he was just too shocked to react anything just nodding his head at everything...
geet escort the young man and come n meet me in study ...i will be there
sameera lets go......n he left with sameera by his side...
geet who just blurted out what come in her mind to teach sameera a lesson but now seeing maan face come to understand what blunder she did...n now there is no way out to gather some time for stating any reason or an excuse...she just moved forward...
maan had no option than just follow her...he was just shocked to see sameera suddenly infront of him but what geet said about their just shook him...he was too shocked to understand what happening around him...
he just wanted to know reason from geet as he didnt miss her extra coated sweet smile which she gave to sameera...n he has many question to in mind... does she know about him n sam n using him against sam...what she is planning against sam...n lots
Geet was just moving out when she got call from office ...in some project her urgent presence was required as they got last min change from other side...she was called urgently to office...maan who was just behind her guessed something went wrong in office...
Geet turned toward maan n said...maan i know u want some answer from me about what happened inside n surely i will answer ur all question but right now i have to leave...sum office work...will talk to u later...
Its ohk geet...i do understand...work come first...chalo let me drop u...
Nahi nahi...u don't need to ...i will go in my car...today is sunday so u rest n enjoy d off
Its ohk ...sum work is left for presentation of xy project...so i will also complete it today itself...lets go
Ohk...lets go
Maan was driving n geet was sitting in passenger seat...but during whole drive geet was just on phone...firstly she told about this sudden problem to her dad n letting him to know she is going to office n will talk later...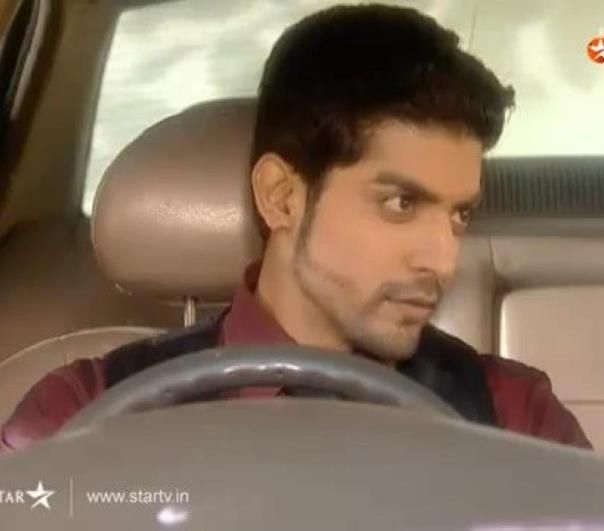 Maan take a sigh of relief...atleast he got some time to get ans from geet...n to face her father
Later geet got busy on collecting all the information n contacting the entire related person of that project...
They reached office n geet moved towards conference room were staff was waiting for her n maan moved towards his cabin to finish presentation...
After few hours...
Its late night, geet come back to cabin after solving the problem n on her own... her eye went to maan's cabin n a smile come to her lips...he was there n still working...
She just took sum required files n move towards maan's cabin...n moved in without knock...
Maan u still here...ur presentation work not over yet...
Oh u...ur work get over...mine was over too...was just looking at some files...
Were u waiting for me ??
Maan was closing files n packing his stuff but this sudden question from geet shocked him...geet is not a person to ask such question...he looked at her n replied...
Yeah u can say so...u don't have car n i thought v can talk to about ur morning stunt too while going back ...
Geet looked at him n nodded...n moved out of his cabin ...
Maan followed her...
They reached car n both get seated...geet just rested on her seat n closed her eyes to recollect what has happened in all day ...what reason she can state for her behavior in morning...or she should told him truth about sameera but is she ready to share her life problem with someone...
Maan saw her n thought to give her sometime to recollect herself as day was too hectic mentally as well physically too...
After sometime he said...Geet y u said such thing in morning...introducing me as ur bf ...u just used to hate me than suddenly this...y
But there was no response from other side he looked towards her n called her name again....Geet...Geet ...u awake...
Bt geet was sleeping peacefully...he shake his head n starts driving towards her home...
Someother place in delhi...
A man was working on his lappy...he was disturbed by a bell of his home n he looked towards time...its 10 in night
N he said....who can b here this late...
He is Aditya chopra...right hand and most trusted employee of Mohinder Handa...he trusted him above his all family member. Aditya is working for him from past 10 yrs when he just graduated from college. Every work of Mr. Handa was controlled by him.
He just moved to main gate n opened it...n was shocked to found sameera at the entrance...
He asked her....maam u at this time...is there some emergency?
I bought a wine...n I need company Aditya... she moved inside the house...
Both get settled in the living room...sameera poured drinks for both n gave him the glass...he took it from her n kept in front n asked.....y u r here maam?
How many times I have said not to call me maam...n u know y I m here......
He just looked at her n didn't speak a single word...
I know Mr. Handa must have asked u to find about Maan Khurana...his princess's bf whom she introduced today...n now u know truth...
After a while she spoke again...
I suffered a lot from my childhood Aditya...my mom was prostitute who don't know who my father was but still she raised me with lot of difficulties but I never know what her motive was n who can doubt her mother intentions ever...she just want me to sell in same business ...how can a mother do that to her own daughter...somehow I escaped n started my life where I met maan...he was the dream guy any girl want in her life ...but I was the lucky one...he was like warm blanket where after a hectic day u just give all ur worry n dream big...he was there to pamper me... to protect me...my life was going perfectly...but one day it changed...i murdered someone in my defence n he loved me so much that he took blame for me...n what I did...i betrayed him...when he was not there with me...I just lost myself...I got insecure ..my stability of mind was ruined ...i moved forward in my life than waiting for him...i was given hope of better n luxurious life which I always dreamt n I choose that than him...
While telling him all truth about her life...she kept drinking n in the end she was highly drunk but still in senses...
Aditya gave her support n drive her to his home...he reached HM and supported her towards the gate...when she said,...
I asked u to give me company but u didn't n see I drank all...but not to worry me not totally drunk I can handle myself u can go...
Why u told me truth??
What...sameera asked
Why u told me truth of ur life... what if I go n tell chairman...
I know u wont...i trust u...
Y u would trust me so much...I m loyal to chairman always
Because I know u like me...way before chairman came in my life...since I join his company
N she moved forward n kissed him on his lips...he stood there just numb...she moved backward n said...
U can tell him if u wants too but still I trust u...
Aditya didn't said single word n moved towards his car n gone from there...sameera start moving towards the entrance when she heard sound of closing of car door...she turned n got shocked to see maan standing beside his car ...