Maan POV
We were enjoying our snacks cum lunch...it was warm atmosphere being with geet than usual cold environment which was felt usually. Last piece of sandwich was left on the plate n suddenly child in us got hold of us as v both were looking towards the sandwich like lost treasure which v have to get or it seems like v r back to childhood where during college break we friends always fight for last bite. Same was happening here n seeing her moving forward towards the plate, i too rushed towards to it when i hit my leg in table and i lose my balance and just fell on geet. Geet got sandwich between me n sofa.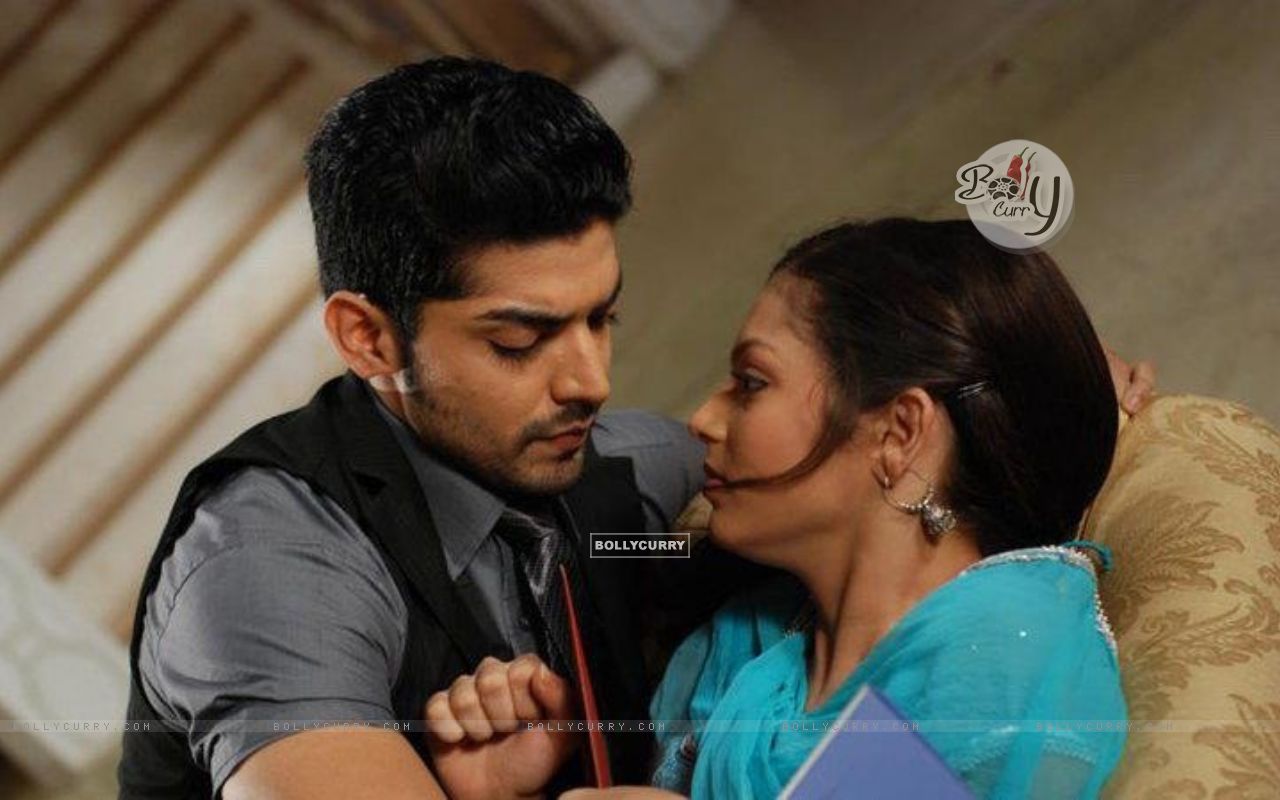 Her face was so close to mine that both our breathes were mingling with each other. I looked in her eyes for the first time n lost myself in them. She has almond eyes which speak volume. It was so deep like ocean where u can't find out the depth of it. It holds so many strong emotions which are unreadable to everyone thus include me. A loose tendril come in front of her eyes and break my thoughts. On my own my hand moved towards her face to remove the tendril but then i heard a loud voice asking...


What going on ...n who is he geet ???
I looked towards the side from where voice came n shocked must b understatement for me...their standing geet's father and sameera...
I just stand up from sofa n looked at side to help geet but she was already standing beside me...n infront of us her dad n my ex lover...who can imagine situation can b like this ever.
Geet POV
I was just too lost in maan eyes to understand the surrounding...i was trying to find some answers in his eyes but as always his eyes were masked...nothing to show...


But than a loud voice makes me come back to reality about surrounding...i know whom that voice belong to...my father...


I just stand up and saw my father and her so called wife in front of me. My father was angry but was that something new...nah...he was n he will always b angry on me...


I just look down n waiting for his further scolding but I was surprised that rather than shouting at me he want to listen my side n asking same from me...
Geet i asked who is he and what he is doing here...


I looked above n saw him looking eagerly at me for some answers but what surprised me was her reaction...sameera's reaction...she is quiet surprised...not a single word spoken yet n her face was pale...
Oh yeah she must b shocked seeing me with some guy...n especially in compromise situation me n maan was...because i remember the taunt she used to give me regarding relations...
She is too clever as a person...i still don't know how she convinced my dad for marriage because i don't believe my father love her...he think i don't know but that's nt the fact...I know my father loved my mom way too much that's y even after she left him...he never moved forward in his life but now in this age of life he married someone of my age was too surprising for me specially when they come directly after getting married in court. My father must have talked to me regarding her or marriage. How can its not fishy that girl that is beautiful and young will marry an old men of double age as of her n that too on wheelchair. All this questions has always put me in dilemma regarding her motive which later got confirmed by her behavior.
In front of pa she used to show concern but behind his back always used to taunt me...


I remember clearly when i fainted in mumbai near beach n stayed in maan's house for a night...she got to know that i was not in home n spend night somewhere else...she confronted me when i was back to delhi...
Flashback
Sam: where were u that day...
Geet: that's non of ur business


Sam: It is...as i m ur mom...


Geet: U r not my mom Sammera...don't dare to speak once more about it...u r just my father's wife so stay like that ...n away for me


Sam: Nothing gonna change it geet...u better accept n respect the truth...


Geet: Nt even in ur dreams sameera...


Sam: My dreams surely don't have u in them...so where were u?


Geet: Y so interested about it sameera...u were never concern about me...


Sam: If not concern than take it as courtesy...because if normal people don't come home than they might stay at friends or gf/bf...but u dont have friends n bf must b alien word for u...


Geet: What if i m with someone...someone who cared...


Sam: Haha...nobody cares about u geet...accept that...ur mother left u...ur dad is not bother about u...n karan ditched u...no one loves u geet handa...no one did n no one does...n without love no one show care ...no one can b ur bf... if there is someone special in ur life than i will surely like to meet him...after all being geet handa's bf is no small deal...


Geet: I dont have useless time to waste on u...i have business to run...


Sam: Which might b no longer with u...


Geet: V will see sameera...for now bye
Sam: will b waiting to meet ur someone special geet...do introduce him to us...


Flashback end
Geet come out of her past...n smiled wickedly towards sameera...seeing her pale reaction was cherry on top for her...
N than she turned her gaze towards her father n said...
he is my boyfriend dad...his name is maan
Shocked would b understatement for all...all three pair of eyes turned towards geet...n where she was smiling evilly...
Sameera pov
I so don't want to leave mumbai or India but than i have no excuse to deny Mr handa request to accompany him for his business trip.
I was hell shocked to see maan in the plane...when he got out of jail...did he searched me...what he want...all questions were running in mind as with times thought of maan slipped from my mind. I never thought I will face him one day that's y I removed all clues about my past life and didn't left any trace to find me but when I met him and the way he was looking at me already passed the message to me...his anger was seen in his eyes clearly...i have to deal with him as early as possible...
i have to left mumbai that day itself and then later left India too...
After spending so many days there finally v returned today...but i never imagined that i will b welcome like this...
v both just entered in handa mansion when i got shocked of life time...maan n geet were in such proximity state...about to kiss eachother I guess but their trance was broken by Mr handa loud voice...finally he asked what my heart n my mind was shouting...what r they doing together...how did they know eachother...
but answer by geet make ground slip beneath me... i never imagined answer to b this...maan is geet's bf...i was just simply numb n shocked to think further...
...
P.S. - For Pm send me buddy request...n sorry fr mistakes...nt checked properly...