Geet moved out of her home holding maan hand n she just reached near her car n take the driver seat n looking for maan to get settle on passenger seat. She just wanted to leave from here at this very instance. Maan got hint from her look n sat in car. He was not that amused by geet rash driving. Speed was above 170km/hr and her turn is soo sharp that she just missed to get banged into other car but he know its her anger which is coming out in such manner. He kept quite and even didnt ask her to drive safely as he just want her to went out her anger in any way n he know he can use handbreak if she lost control atleast will save them in bad scenario. He want her to vent out because he know she keep all emotions with in...no one to share so may be this is way where she vent it out all her frustration and anger.
She stopped near a park n moved inside without looking back at maan. She was just lost in her zone to see surroundings...she reached near one bench and sat there. Maan just followed her n sat beside her. Park has lots of people who came here with family or kid or with their love ones but this side of park is bit secluded. Place is just too serene to define in words and lake infornt of bench just added more beauty to it.
Few minutes passed and no one said a single word but finally geet broke the silence n said...
U know maan this place is very dear to me ...its like my runaway destination whenever m upset or feeling lonely I came here...this place is very close to me n my mom...v used to come here in my childhood...
My family was not like which u have seen today...it was like other happy normal family...my mom n dad loved eachother soo much...n me being their only child was pampered too much...if I have said something or desire to have something...it will be there for me in next moment...v were too happy but then I guess there is never happily ever after nah ...so thing change too from bad to worse... dad got busy expanding his work n his life got hectic but still he never slept without wishing me goodnight...despite anytime whenever he is back he will first come to my room to see me...if I was awake v used to play so much n than i used to sleep on him only...n if he came late n I slept by than he would wish me goodnight n left...but I think during this time mom felt ignored as dad was not able to give her time which she wanted...that day...it was first time I heard them fighting
Flashback...
Mom get me ready fast...else I will miss party n karan will cut cake without me...pretty please......a very bubbly n cute geet asked her mom...
Haan sweety...wait ...ek toh tumhare baal ...thik se bandthe bhi nahi...n karan tumhara best friend h nah who tumhare bina kaise cut karega...just give me a min sweety
Mom jaldi nah...mujh uske sath khelna b h n use mujh apni nayi watch b dikhani h...papa mere liye princess watch laaye h nah
Ohhh toh yeh baat h...chalo meri princess tayar ho gyi...ab jaao...shanti tumhare sath jaygi...n driver uncle tumhara wait kr rhe hai....
Geet just jumped from bed n moved out of room...n met her dad just outside room...
Aww meri princess kitni sundar lag rahi h...meri princesses kidhar jar hi h....mohinder just picked her up n kissed her cheek
Papa aaj nah karan ka b'day h mein uski party mn hi jaa rhi hn...ab mujh late ho rha h...mujh neeche utaro mujh jana h
Haw princess ke pass time nhi h uske papa ke liye...papa hurt....n ram poted making baby face...
Papa yahan baby kaun h...mein nah toh ab kyu baby ki taraf behave kar rahe ho...mein jaldi ajungi n then hum dono khelnge...ab mn jau...n she kissed on his cheek to cheer him up n ram face brighten with his princess kiss...n gave her toffee...
Ohk princess...bbye n apna dhayan rakhna...
She run from there...she reached near car when she remember that she forget karan's gift in her room...she run inside towards her room when her leg got stuck at the gate of her room as she heard her mom n dad fighting for the first time...she was small to understand ...y they were fighting but they were shouting at eachother...
From her mouth a mutely voice come out n she said.... mom n dad ...r u fighting...
Both looked at gate n was shocked to see geet standing at gate...priya just rushed toward geet n pull her in her hug ...nothing sweety...v were just talking...
Nahiii u weeererrr shoutinggg......she speak with lot of effort...she was shaken from inside seeing her parents fighting...her tears started to come out...
Mohinder too reach near her n patting her head and said...nhi sweetheart...it was nt like that...v were just talking...chalo stop crying...u getting late for karan's b'day party...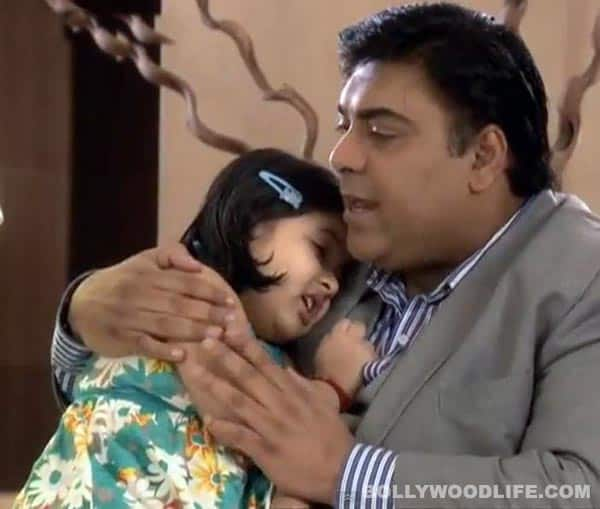 Nhi mujh nhi jana...she hugged her father tight...
Beta aisa nhi kehte...ap nhi jaoge toh karan cake kaise cut karega...woh apko miss karega n sad ho jayga...uske b'day wale din usko sad karoge...nhi nah...chalo mumma will go with u...now stop crying n give a smile.....
Mohinder just start tickling her n she can't control laughing aloud...
Flashback end...
That was first time I saw them fighting...than later it become routine between them...sometimes they used to hide it from me but I witnessed few too...
one day mom n dad had very big argument...i don't know what it was about but mom was too angry n left in car...dad didn't follow her...v both waited for her return but after 3hrs...phone rung to give most awful news of my life...my mom died in accident...i was just too shattered n I blame dad for her death...my dad was already shaken from her death and then my anger n indifference towards him pulls him towards stress and after few days his body cant handle more n he got paralysis attack...n his lower part got paralysis...as a daughter I failed...i never thought to give him pain when he love me so much...but he never answered me y he was fighting with mom n my anger never died out...i felt bad for him but my love for mom blinded me ...but when he was admitted in hospital...it just shook me to death...I cant loose him too... in my anger n pain of losing mom...but after the attack...he changed ...he used to be strict n rude sometimes...i just took as my payback for behaving bad with him...n till now after so many years things are same...m carving for his love n he being cold...
geet kept her head on maan shoulder n closed her eyes...maan keep his hand on her shoulder giving her his unspoken support as always...
she looked at him n said...maan I know u want to know about my false play of u being my bf infront of dad n sam...I cant give u proper explanation to that question...as by now u know my relation with sam is not good as I have my doubts n she being double face infront of me n dad...u know when I stay at ur place in mumbai...sam asked me about my whereabouts...n taunted me of not having boyfriend...no one can love ...my love always left me...it was nt one incidents...various time she repeated it...but then that day I don't know which devil cell of brain worked n I come up with this to show her ...to prove her wrong...
u must be thinking y m telling u all this...about my family ...past...sameera...
I ...maan...i...i like you maan...she closed her eyes...maan hand hold on geet loosen...he was shocked listening to her confession
She moved bit away from his loosen hold n looked at his face to see his reaction which show shock then bit confusion...she looked in his eyes to show her honest feeling for him....maan I don't wanna continue with this fake bf n gf thing...I like u n I wanna know u more...fall in love with u...
Would u be my boyfriend for real...?? geet asked
Maan was lost in his thoughts...how can she like someone like me...i can't fall in love...I m here from revenge but I can't hurt her too...he comes out of his thought n try to make her understand...u don't even know about my past geet...
I don't want too maan...what I said infront of dad is truth...I don't care about ur past...i want to live in present with u n think about future together...
Geet life is not simple like u think...past of person does affect his present n future...u cant b taking it so lightly...for god sake I was punished for five years...u know for which crime...i murdered someone...
Geet face lost her color. She was sitting there numbly...no reaction...thousands of thoughts running in her mind...maan n murderer...nahii maan can't b...n finally she speak...
u cant murder someone maan...i know...i trust u...u must b framed by someone...u can't commit such crime...for god sake u were medical student...u were taught to save life...u can't take someone's life...I know someone just framed u....
Maan was astonished with her trust on him...knowing him for just 2 months...she trust him so much ...so much confidence in him...he can't lie to her...he can't...
Yeah...u are right geet...i was framed...n no one other than my girlfriend...she framed me whom I used to love blindly...i took her blame...and her name is...
Note: a bad news guys...i will b inactive till 20th july and may be wont get access of net too...so what about updates than...as i promised i wont put it on hold as charm of story get lost so i m trying my best to write 1-2 updates as reserve...n it will b posted by either sweta or amna...but if nothing goes as planned then updates will b after 20th july...sorry for that