Aahil, you better get to your senses soon!

Anyway, I hope you'll enjoy it.
--------------------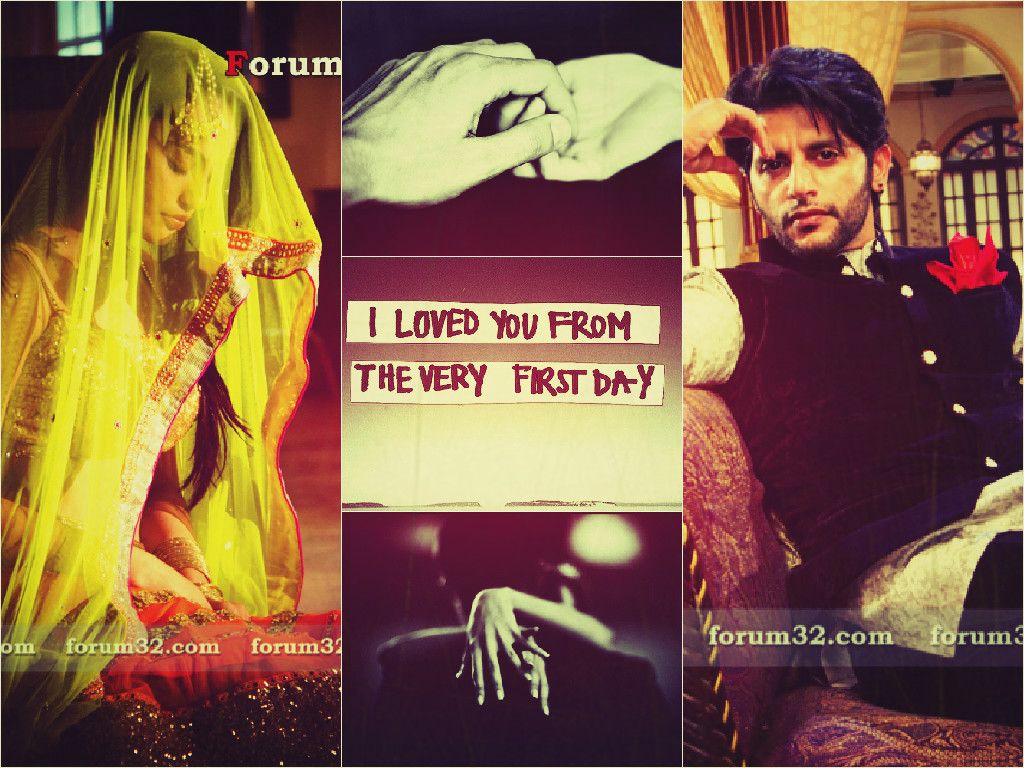 --------------------
Khud Se Hai Ya Khuda Se
Iss Pal Meri Ladaayi
Kis Mod Pe Hai Laayi Aashiqui
--------------------

Once Sanam finished her so called dance, Aahil was seated slightly unable to form any thought.

He couldn't get rid of the image of seeing other men casting heated gazes toward her - Into his Begum.

How dare they?! How dare she...'

The Nawab clenched his hands into fists and stood up in one swift motion as he saw people around him mingling slightly with each other. The tacky music was replaced with a soft melody which was playing around in the Mansion.

His dark filled eyes caught the woman he once fell in love with - perhaps still was, with a scowl on his face. He walked up to her, determined to ask questions.

He grabbed her by her arm, dragging her to an empty hallway, away from everyone else. Where only the two of them were present.

Sanam tried to free herself from his strong grip, but it was no use. Or perhaps she didn't try too hard.

"What the hell!" He hissed at her as he pinned her against a wall.

"What the hell do you think you're doing?"

Sanam raised her gaze pretended to be confused. "What's wrong? Did you not like it? Abhi toh Aapki izzat bacha ke aagyi hoon sabh ke saamne? Yahi chahte the naa?"

He grabbed her shoulders and moved his body closer to hers. "Izzat?! Don't you forget you're still my wife-"

"- Mulazim!" She interrupted, reminding him of the same words he had spoken to her. Her brown eyes were locked with his.

Aahil stared at her absorbing what he heard.

"Mulazim hoon is ghar ki!"

"You're my wife, Sanam! Don't forget you're mine. My name is attached to you."

Sanam stared into his eyes and already saw something she had missed before.

"If I was your wife then how come I became a Mulazim just yesterday? Surely you're a lot smarter than that, or so I thought? Isn't it true, Aahil Raza Ibrahim?"

Aahil couldn't put a finger on what he was feeling.

"Yes, a lot smarter to fall for your words one more time."

A small smirk appeared on her rosy lips. "Than what are you doing here?" She asked.

"How come your eyes were searching for me the whole time? How come you became all restless to see me? Clearly you're not as good as hiding your emotions than you thought you were?"

Aahil lowered his gaze slightly as his hands let go of her.

"I will not put under your schemes. Not anymore." He spoke.

"I am not forming any schemes. Someone else is pulling the strings in your life. You just don't know it yet."

Sanam continued to watch his expression he wore.

There was a long pause before her voice began to get softer.

"Not once did you ask what happened to me? Not one single time did you ever think weather this is right or wrong? Did you not want an explanation of what had happened?"

He turned around avoiding her gaze. He knew he was getting weaker by staring into her eyes. "I don't need to hear anything."

"Than what are you doing here, Aahil? Why did you have the need to ask me these questions then? Answer me."

But there were no reply from the stoic man before her.

Sanam chuckled bitterly, but her heart was never part of it. But she had to do it in order to be strong.

"Akhir, aagye aap apni buraani zindagi ki taraf!"

His muscles tensed by her words. However it did not go unnoticed by her.

"What wrong? Did it hurt? Choot Lagi?"

Aahil clenched his jaw as he turned around and pinned her against the wall one more time. He could feel her fast yet calm breath on his face.

"To tum bhi apna aasli chehra dikharahi hoon."

Sanam's expression softened. "Am I?" She whispered.

She continued to stare at him. "Am I really showing you who I am? Is this really who I am, Aahil?"

Aahil swallowed not knowing how to answer her.

She gently reached her hand forward and touched his cheek as the light stubble caressed her hand.

"Where is the Aahil who was warm and radiant? Where is the Aahil who spoke softly and loved me for who I was?"

Aahil almost lost the ability to breath. He was so close. So close to feel her breathing, so close to just give in.

He wanted to touch her.

To claim her.

To just bury his face into her smooth neck and inhale her calm scent.

His dark eyes fell on her rosy soft lips.

So close...

Sanam watched how he was leaning in. No matter how much she wanted this, she had to speak.

"You're becoming weak, my dear husband or should I say... Laad Saab?"

He opened his eyes unable to notice that he was leaning into her - almost aiming to get a taste of her.

He quickly masked the emotions by placing a flat hand on the wall. "I could finish this. I could finish this relationship in just 3 words."

"Then do it!" Sanam challenged him.

Aahil was shocked to hear the words from her.

"Finish it off. Say it, Aahil!" She said trying hard to convince herself that this was the right move to take.

"Say it?"

Aahil didn't reply. He stood simply staring into her eyes.

"The heart cannot give up, can it? The heart cannot say those words, because you still love me. You still care."

She slowly reached forward and placed a hand on his hard chest. She leaned closer into him as their breaths mingled.

God, how much he wanted to touch her just once'

"I can feel it, Aahil. This heart hasn't learned to give up either. I won't give up."

She stepped back from him no matter how much she just wanted to stay close to him.

"So, I will wait. I will wait till the day you open your eyes. I will wait till the time you realize how wrong everything is. How wrong you have been. Love is supposed to heal every wound and brokenness. And I promise you, Aahil. You will realize."

She walked away from him.

"Don't be so sure... Miss Dhabevaali." Aahil said hoping she hadn't heard the small slip from the tone.

Sanam stopped in her track as she closed her eyes by the sudden mention of the name. She raised her head, having already caught the tone in his rather deep voice.

"You can try as much as you want, Aahil. I already saw how much love you really possess. I will put my trust in our love, Mr. Jallad Jinn. I will pray to Allah, to guide you into the rightful path. Maybe you should do the same."

With that she was gone from his sight.

Aahil stood back with an unfamiliar feeling running through his veins. His hands turned into fists. His life was messed up and he didn't know who to blame.

He no longer knew what to do or who to trust.

One thing was sure; he would make sure to keep Sanam in his sight. If this was all an act, so be it. Maybe that way, he would try to get the bottom of the hurtful matter.

He needed her. He still needed her in his life. And maybe.. Just maybe he was being wrong for once...

--------------------

The End.

I hope you all enjoyed it. I would love to hear your thoughts on this one.

Much love to you all.


--------------------

"Abhi toh Aapki izzat bacha ke aagyi hoon sabh ke saamne? Yahi chahte the naa?" = I have just saved your honor in front of everyone. That's what you wanted, right?

"Mulazim hoon is ghar ki!" = I am a servant of this house.

"Akhir, aagye aap apni buraani zindagi ki taraf!" = So you came back on being your old self again.

"To tum bhi apna aasli chehra dikharahi hoon." = Even you're showing your true face as well aren't you?