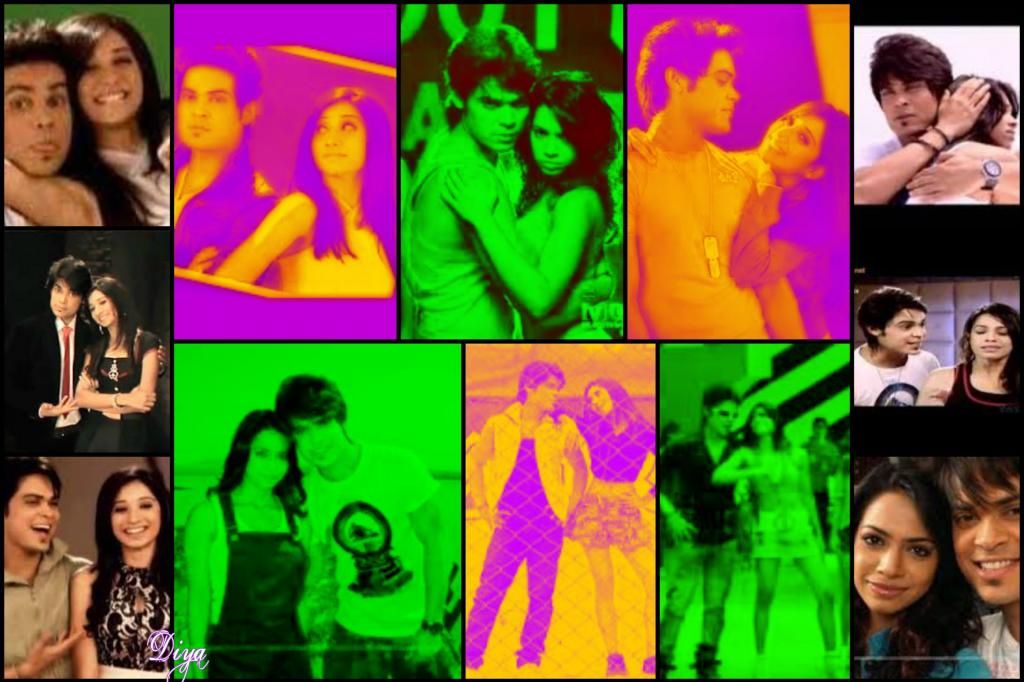 Heyya guys!
I have written a short story on the Kriyam Bond!
Hope u guys like it!
This ones dedicated to my Anmol bhai and all the Kriyam Fans!
Anmol bhai, thank u soo much for having patience all those days while I completed it !
So here u go...
________________________________________________________________________
"I said NO choti and I mean it." commanded Swayam
"come on bhai, please. U know I love dance." argued Kriya
"Choti! I said no. Dance can never help u in life, you can dance for passion but u can never make it your career option. U will be doomed in the end." explained Swayam
"Bhai, Just stop! I want to dance and I will. U are no one to stop me from dancing, get it?" shouted Kriya, her face filled with anger, her sizzling brown orbs in a verge to kill, her hands shivering with pain.
"I am your brother choti and I care for u." said Swayam, his heart trembling with pain, his eyes ready to let go those watery pearls, his mind not ready to absorb those cold hearted words..
"Brother?? Isnt a brother who understands a sister huh and u definitely didnt my amazing brother! Just because dancing made u an orphan, that doesnt mean I will not dance! And by the way, who said u are my real brother, u werent, u arent and u never will be!" shouted Kriya, her words flowing out of control, not even knowing the destruction they were creating.
"Choti.. Fine, your wish." said Swayam.
Both of them parted aways.
One burning with anger, her evil side glowing, her desire controlling her, her passion of dance rushing through. Her thoughts contained only one thing, questions. Why couldnt bhai let her dance, what was wrong with dancing, just because he never danced, just because he was banned to dance, just because he was thrown out of the house for trying to dance atleast once! It didnt mean that she couldnt dance, why was he restricting her. He knew she loved dance but why couldnt she make it her career, what was so bad in dancing, why couldnt bhai understand her. Her thoughts blinded her from seeing how much her brother cared for her, how much he loved her. Little did she realize that she was losing her reason to live, her brother..
The other with a broken heart, his heart already being stabbed into billions of pieces.. WORDS, you read them from the other side, the four letters SWORD appears, words can kill u, thats what they had done. He had showered so much love, he had trusted her to tell her who he really was, the only thing she hadnt realized by now was that he has feelings too. He couldnt keep on just understanding others, he was a human too. His feet dragged him towards the classy rehearsal hall, the place where he had shown the true Swayam Shekhawat, the place where he had shared his every sorrow, his every happiness..
______________________________________________________________________________________________________________________________________________________________________
Swayam rushed to the rehearsal hall, he needed to get those feelings out, he needed someone, he needed dance.
The tunes brushing through the hall, the music going hand in hand, his love for dance expressing itself out.. The story of his life was perfect for the song, his tragic, his life story with just a pinch of happiness and that happiness, his choti, his happiness lay lost.
His hands allowed themselves to wave along with each beat, starting from how he had touched the word 'dance' for the first time, how he had fallen in love with it, how he was orphaned due to it. His eyes covered, opening them slowly to show him a new life, a world filled with betrayers, cheats with just a tiniest ray of sunshine. His footsteps moving ahead but losing the courage, forcing them to move back. The way he had found an orphanage, the amount he had experienced this cruel world. His face covered with a mixture of grim and sweat, his eyes sunken with helplessness. For the first time in his life, a hand was drawn to him, he was permitted to live in the orphanage.
Swayam extended his hand, rolling in the front, telling any watcher how lonesome he was. The orphanage contained only orphans whose parents were dead, everyone had the same one thing in common, leaving swayam.
No one understood him, no one tried to be with him, no one tried to help him, his life's start blooming with only darkness. His legs co-ordinating with his hands, his expressions begging for love. That fine day, God listened to him, how he had sent him an angel, his Kriya, his Choti.
He twisted and turned, the tips of his toes balancing the entire body, the day he had seen a cute little angel sitting alone on the swings, how he had extended a hand of friendship towards her. Swayam's expression changed into happiness, his neck revolving with the force of his hands, his legs jumping with joy, the first time he has experience real happiness.
Who had know a little girl could change his whole life, who knew she could come as an angel in his miserable life, who knew she was the only reason for him to live.
That girl, the angel started calling him bhai, afterall no one could doubt their love for eachother, their care, they remained eachothers strengths, they struggled to stop being the others weakness. Swayam did a split, curving into a ball, showing how strong his protection could be.
His dance smoothened its way around what had happend now, what tore Swayams heart. His dance potrayed every stage of his life, the betrayal, the love, the sorrow, the joy...
A pair of beautiful brown orbs continued watching him, those orbs drizzling with tears. They met the real Swayam Shekhawat today, they had seen the story of his life through dance.
Her heart broke down with regret, the sword stabbed into his heart trying to be removed by someone. The day arriving when she would realize that her brother had a heart too, he was a human...
She couldnt stop herself from flowing along with her brother, she had never know how attached he was to dance and boy, he danced amazingly well. Those expressions, those wavy hands, those fast foot movements, those strong stunts. She walked gracefully towards him, her hands moving side by side. She held his hand against his heart, making him move with her, promising never to leave him alone. She rested her hands on his chest, and bent backwards, allowing him to lift her, showing anyone how strong their bond was.
Their eyes met, messages racing through, apologizing for those words, replies sent. Swayam gripped Kriyas waist, pulling her towards him, dashing her towards his chest, using both their palms to stop any evil, allowing her legs to rotate in motion.Turning on the toes, freeing themselves away.
They danced as one, their souls already joined, their bond getting stronger every minute. Their dance moves growing strong with pain, loss and hurt or at times loosening themselves with the happiness they recieved.
"Am sorry bhai!" whispered Kriya, her head lowered down, her hair sticky with sweat, her apologizing orbs, her heart regretting whatever she said.
"Hey, hey. Shh... Its okay." answered Swayam, cupping her face, tilting her chin up, staring at his Choti's beautiful brown orbs.
"U and me are one. Even if we are kept apart for days, even if we are forced to be against eachother, we will fight, fight for our love, fight for our bond." explained Swayam, his voice encouraging, his shining black orbs convincing her.
"Yes bhai!" agreed Kriya.
She engulfed Swayam in a big hug, his hand comforting her, her body wanting to stay there forever, they were known to be one...
_______________________________________________________________________________________________________________________________________________________________________
"Swayam Shekhawat's closest bond is his sister sir. She's the reason he's even alive." informed the hacker.
"So, that's why Swayam's alive huh? Wait and watch, u are going to die Swayam. The reason for your living is going to die... Am extremely sorry, whatever her name is but if she was destined to be Swayam's sister then she was destined to die." said someone, his voice deepened, his mind strategizing every move.
"The name is Kriya Shekhawat sir."
"Gud luck girl!" said that someone, tossing the coin in mid air...
"Whether heads or tails, u only die."