Hello Buddies...
Another new TS again...What to do cant stop my self...
A big thanx to mera billu(My_VivJaan)...Who guide me...
One more thing Its specially for my ROCKSTAR...One of the BEST FRIEND of mine...and lovely APPIJAAN...( Don't get confuse this girl is three in one...And yup...Its our forum's one of the best writer Armagadon!!!!)
Its her birthday gift...I hope like it Appijaan...
Love you a lots...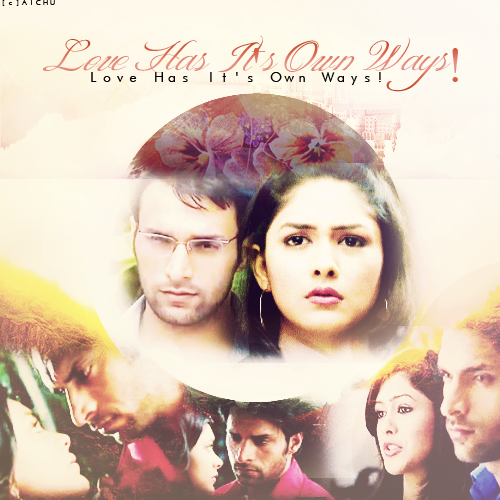 Love Has Its Own Ways...!!!
A girl came out from a door carring her bit big bag... She is wearing a simple salwar kurti her hairs are freely flowing from after shower... Her face milky white describing her beauty... She turn back locking door behind... She struggle with key as t got stuck into lock... "Shakshi beta wait!!! Move I will do it... how many times I told you just wait for me for doing this..." A voice came halting and scolding her...
Sakshi moved away little giving a big toothy smile saying "Ohh!! I m sorry aunty... Actually I was getting late na so thought to lock it by myself..." After a moment that lady handed keys to Sakshi saying "Here u go... Go safely and return home soon okay??" "Yes aunty thank you!!"
Then she walked down stairs from her chawl where she lives alone... Sakshi is 21 year old independent girl her parents died two years back in accident... Now she is all alone in this big world...
Sakshi made her way to her parlour which is only her earning way... She runs a beauty parlour with her best friend Shreetama aka Shree... Shree is her childhood friend after her parents death she is her back bone...
She make her live life again...No wonder that girl had power to make everyones happy...When a friend like her is with you ..You cant complain that you have only one...She is boon for Sakshi...Sakshi also love her so much...And so wish to do something for her...Just waiting for time...To have a chance...Inshort both love each others a lot...
Sakshi runningly climbed the stairs to reach parlour as soon as possible...As she get late today...And she her own didn't like to be late...She enter in parlour in hurry and BUMP!!! She collided with someone...And yes its Shree..
Sakshi knew what is coming up..So she stood silently...And Shree begins "So madam again you come runningly...How many time I told you not to do so...What if something happens to you...And don't start making stupid exuces about parlour...I am not going to hear you... Its not more then important from you...understand??" She scold her being little angry...
Sakshi just hear her smilingly...She loved her caring anger...Then she nodded saying "okk..Mamma...Next time nahi karungi...Promise.." she apologized and cutely hold her ears saying "sorry"...Shree didn't say anything just stood quite...Something hit Sakshi's mind...She quickly added "Oops!!! no sorry...Please..Please...please...Don't be angry"...
Shree smiles at her "How can I angry on you jaan...But next time .."Before she complete Sakshi said "Won't do that...Mamma.."Shree twist her ears saying "Stop calling me that okk...My name is .."again Sakshi complete Khann...Kya Shree wedding me abhi time hai...Abhi se apne aap ko Mrs.Khan keh kar bula rahi ho?? Mana jiju SRK jaise hai and you are crazy fan of him...But unki real surname use kiya karo ...Jab dekho tab My name is Khan...My name is khan...Kitna bura lagega mere bhai jaise jiju ko.." She tease her and laugh hard...
Shree's mouth shaped became o'..Yes!! its true she is going to marry with love of her life...Who is a perfect guy for her..As she always dream...Shree blush hearing about future hubby and hide her face in palm...This girl is shyness queen ..No wonder in that...Just by talk U can see this effect...After seeing her condition Sakshi tease her more...
Shree look her in fake anger and said.. "Aaj kal bhut sochne lagi hai tu..Me yahi bolne wali thi ke my name is Shree...Bohut Mr.aur Mrs.karne lag gayi hai...lagta hai tere liye bhi koi dhundna hi padega..."
Sakshi smiled a little "yup..agar mil jaye to mujhe bhi bata dena...Me bhi milna chahu gi world ke sabse bade paagal insaan se..."Shree hold her arms and say "Tujhe aisa lagta hai me tere liye pagal ladka dhundungi...You don't trust me..." Sakshi held her head ...
This girl is just sentiness shop...In every single talk she start crying...No matter whether it is for happiness or sadness...Tears always start rolling down from her eyes..Sakshi made her sit on chair and say "Arrey..Mene aisa kab kaha...Me to bas yahi keh rahi thi ke...Mujh jaise crazy person ko koi pagal hi accept karega...Mene ye to nahi kaha na..."Before she complete costumer come...And both start working and get busy...
Late in evening they both get free and its time to go back to home...Shree ask Sakshi to come with her to her home..But Sakshi refuse saying that she had work at home...Unwantedly she let her go home alone...
Sakshi reach at chawl but to that she have to cross the road...Now she is habituated still she is afraid ...She carefully start crossing the road...But to her bad luck as she is near the gate...A big car hit her...
Thankfully she didn't get hurt so much...Just fall on floor as the guy had applied the break at a correct time...
She scream a little...One handsome guy come out from the car...He is wearing a white shirt with black coat...Wearing a sun glass looking devilishly handsome...He ran towards Sakshi...Who is now rubbing her arms and blowing air at hand...As there is little scratch...
The guy sit beside her...He cant see her face because of her long silky hair...The guy slowly remove the hair...Sakshi shrugged as he tuched her...She quickly turned around towards him..He lost in her beauty...She is a perfect angle...In this simple attire without make up still she look so beautifull...The guy keep staring at her...
Sakshi look down and muttered "sorry..."Guy came back in reality and confusedly look at her...Why she is saying sorry...The fault is his...So why she is saying sorry...
He see her standing up but she is hissing pain...He give her hand but to her surprise she didn't hold it for help...He came infront of her...And say " look I am sorry ...Meri wajah se apko chot lag gayi..Let me help you...hold my hand and stand up..."
Sakshi think for sometime then hesitantly hold his hand...He hold her soft hand and help her to stand up...She stand up..Her leg is paining...She start walking but feel pain...He stopped her "Stop...Let me drop you at home..."Sakshi smiled and say "No...uski jarurat nahi me yahi chawl me rehti hu...Me chali jaongi..."
He nodded but then say "let me take you to hospital ...Your leg had twisted and you cant walk properly...Come I will take you..."Sakshi again smiled and say no need.. "me ghar jake balm laga lungi...Apko taklif lene ki jarur nahi hai..Thanks.."
He stare at her ...Trying to get if she is saying in anger or genuinely as all time she said with lowerd head...He said "please ...Don't be angry...I am so sorry for this..."Sakshi smiled at look at him...And he get a view of her beautifull eyes.. "Me apse gussa nahi hu..And don't say sorry ...Please..Galti meri bhi thi..Me chali jaungi..." "okk..so if you are not angry then let me help you...Aur agar aapne aise nahi kiya to me samjhunga ke aap abhi gussa hai.."
Finally Sakshi accept defeat infront of his caring demand... "ok..But aap meri help kaise karenge...Walk to mujhe hi karna hai..."He smiled and said "No don't put pressure on your leg...I will take you there in my arms...If you give me permission...You can trust me.."Sakshi refused but he insist...Finally she blushingly nodded...Don't know why but she didn't get scared with this stranger...
He slowly took her in his arms...All time Sakshi kept looking down...but he kept staring at her...Sakshi instruct him for her house...He stop at door and put her down...She muttered thanks...
She took out keys and start struggling with lock...She tried so hard.. He saw it and stop her saying I will do that...He unlocked the door...
Sakshi enter in his house...He stop her...She turned around...Asked what... " May I know your name??"He asked hesitantly... "Sakshi Aanand...Aur apka??" "Apko nahi pata??" He asked .. "mujhe kaise pata hoga.."She asked confusingly... "Oh...Yah..Apko kaise pata hoga me itna popular bhi nahi hu(he laugh a little..)Waise my name is Arjun Rawte...Friends??"
He extended his hand...Again she didn't handshake...But replied..."Ofcourse.."Then Arjun left saying bye...Sakshi offered him to come in...But he refuse saying he have work so he have to go...
Days passed Sakshi kept her routine...Everyday go to work and back home...Unknown to that someone comes everyday to see her...yup...Arjun everyday come at that place...he get to know that she is working in parlour...So sometimes goes there also...But didn't meet her...He wasn't sure about her feeling so he didn't go infront of her... But he also cant stop hisself ..He is in love with girl who just meet her day befor...
After Two Week...
Sakshi goes to parlour as usual...She just told Shree that he got new friend...She is very happy...But Shree teased her "Ohho..Pehli hi mulakat me in his arms hann??" She blushed furiously saying its nothing like that..Sakshi said "shut up Shree..Watch news...I am sure your future husband is surely giving interview of his new project as always...Keep staring at him and let me do my work..."
Her fianc is a one of the best business men of the state...Abhinav Singh...And its common about their interviews...Its love marriage... no doubt both are well known of each other and ready for marriage ...Their love life is begin...
Sakshi switch on the Tv and stop at news channels...Shree laugh as there is no interview of Abhi ...Instead of him another persons interview is going on...Sakshi give remote to her and start doing her work...When she hear fimilar voice in interview...She think its Arjun...
But then she smacked herself to think about him again...After that day they didn't meet...Her heart wish to meet him...But what can she do??She knew nothing about her...Sometime she feel he is very near and watching her...But refuse her thinking...Why she is thinking so much about him...
She start her work again but something catch her attention when reporter asked the men... "So what are you new business plan Mr.Arjun Rawte...You are on top position ...Any new deal to extend your business more??."
Sakshi hear the name Mr.Arjun and got shock ...That guy is famous Arjun Suryakant Rawte ...Who is state's top businessman...Then she remember his words... "Apko nahi pata.."That's why he said that...
She get shocked this guy who hardly meet common people ...He help her like this...So simple...So caring...From his talk she can easily say that he didn't proud of his wealth or success...Shree look Sakshi then her mind also catch attention by the name...She again start "OMG Jaan!!!Kya yeh hi tumhara friend hai??"
Sakshi nodded as she didn't forget his voice...Shree became so happy...While on the other hand Sakshi don't know how to react...May be in this days she start liking him...But now no use..He is on top and she...Arrhhh... She brush up all thoughts...and try to concentrate on work...
The day end and she went back chawl...As she is climbing stairs...She feel someone is staring on her...But she ignored and run into her room...Thinking about incident of that day..How he came into her life...How he help her without any hasitation...Even he didn't react like those rich men who just throw money at peoples for their mistakes...
Why he react like this...Even she is standing with lowered head...She could feel his intense gaze upon her...So many question comes in her mind...But then smacked herself.. "Sakshi tu kuch jyada hi soch rahi hai unke bare me...Aisa kuch nahi hai...Kaha wo aur kaha tu..."
Then she hear a knock on door...Without opening door she asked "Who is there??" A voice come your new friend...
Another shock of day...he is here ...Why??At the other side Arjun is totally lost in her ...After that days incident he all time thinking about girl...her innocent face...Beautifull eye...her simplicity..Her shyness...No wonder it's a love at first site for him...Now he is here ...He cant hold hisself...His heart so wish to meet her again ...And finally he is here...
Sakshi don't know how to react but as a friend she opened the door and smilingly say hi!!! Arjun just stare at her ...Sakshi didn't understand anything...But then Arjun comes in sense...He say hi..Nothing else...He crushed hisself...He came here but now what to talk or say...Finally he decided that he tell her that he start liking her...All time Sakshi stand quite...
Then Arjun broke the silence... "Sakshi tumse kuch baat karni thi..."Sakshi said "ohh.."Fear has rised up in her thinking why he is here and what he wanna talk...Arjun get surprise as she didn't asked him to come in...finally he his own asked "may I come in??" " No.."Arjun again surprised by this...But then she quickly added " I mean hum passwale beach pe jaake baat karte hai...You won't feel comfortable in my house.." Arjun get that now she is known by his reputation and feeling hasitate...So he said "agar in sab chizo se problem hoti to me yaha aata hi nahi Sakshi...We are friends...So ek friend apne dusre friend ke ghar aa hi sakta hai..."
Sakshi think for sometime... "okk...But phir bhi at this time I love to go there...So we can go there...Please..."She cutely demand...She turned around to go to change...But Arjun hold her wrist...Sakshi again start afraiding...Arjun sense that and quickly let her wrist...muttering sorry..Sakshi nodded... "Wo you are looking perfect ...No need to change...Chale..."
Her cheeks turned pink hearing that...She looked down and nodded...She come out from house and again start struggling with lock...Arjun smile and help her again...
The beach side is really near from there so he suggested to walk...Obviously he can spend more time with her...On the way he asked about her leg...she replied smilingly...They shared their like dislike...She is happy with new friend...But still she had fear that what if he had same feeling like her...They wont be each other in future...Both's way are different...So with heavy heart she just wish to being a friend...
They reached at beach and settled down on soft sand...Sakshi made a gape between them...While Arjun just enjoying her company...Her talks about Shree...Her friends and her madness...He is totally lost in her...Sakshi then asked "Kuch kehne wale the na aap??" "Hmm...But first stop calling me aap..."Sakshi nodded and looked down...
Arjun sit closer to her..Sakshi sense that...but then sit quietly just wish that her fear didn't come infront of her...He begins "Look Sakshi I will talk directly...Me chahta hu ke humare bich ye differences na rahe...Means tum ye mat socho that we are belong from where and what is your position and what is mine...I didn't care about that...Me bas ye janta hu ke I want to be with you...(he paused for a moment...and take a deep breath) See I never felt this before...from the day I meet you...I always come to see you..Want to talk...But afraid...But not now...I want to tell you that I love..."
Before he complete Sakshi stand up...He get shocked by her behavior...Sometimes before she is talking so freely...And now like this...Why...What happens...Sakshi say "Aisa kuch nahi hai...Aur jo aap chahte ho wo nahi ho sakta...Behtar hoga ke ab hum na miley aur ek dusre ko bhool jaye..."Saying that she run away from there...And he just stand there with broken heart...
Precap: Get ready for marriage appi...
A revealation...
Sorry for grammer mistakes and any other mistakes...
Next one will be last one...
Tell me if you want me to continue this one...
Do hit likes and share ur views...
Thanx for reading...


Edited by Arakshiya_58 - 24 September 2014 at 8:41am