finally the day has arrived
A VEry HApPY birthday to u The HEartThrob of TELEVISION- Ashish Sharma
May you have many many many many more..You have the spark that sets you apart and makes you different fron everyone else. Your smile,your eyes, your laughter, your voice, your nature infact your everything is what makes you different..You're the king of expressions,the rockstar, the charmer, an unmatchable portrayer of emotion and the ultimate dancer
lots to say but words cant define youok now herez Wishing you a day as special as you are
Happy birthday my rudy boy
Birthdays don't come everyday, so make it day that will go down in history!!!
MAY ALL YOUR WISHES COME TRUE...AND YOU GET MORE N MORE BIRTHDAYS i wish u more and more joy n happiness on ur birthday...HAVE A BLAST n KEEP ROCKING
May u achieve all success dat u want to and dat u deserve to achieve..N may u live a Looong life..Ur name just put a smile on my face each n evrytym i see u and u made my each day just wonderful everytym...U r d most genuine, humble,honest,respectable,sweet(and wat not) person i came across
U r a great i mean d best actor wid ur personified acting n u make believe every one on 2 b great actor who jz put a glance on ur acting...you are perfect as rudra
no1 else cud have done splendid job den you..you are da ''PERFECT GUY'' evry girl wantsyou are simply awsome..words fall short to praise you at times..
lovee youu a ton
your n sanaya's chemistry iz sizzling..i think you two are the cutest & most hilarious co-stars
love your ofscreen interview
Happy walaaa birthday once againloveee youuu bohottt bohottt bohottt zyada
keep rockinggg as rudra
have nothing to say more m speechless to say anything when it come to u
u r a gem of person
n u r soul of RR
u r the besttt actor
n expressions king
no1 can beat u in acting
u r truly incredible
im a hugeee fan of u n realy wish to meet u one day
wish u win jhalak
love u loadsss
Wid lots and lots of love n love
ur die-hard crazy fan samia

Someone's Birthday? Yayy Since Ashish Sharma will read this , So More than a Message , I'm writing this to you Ashish!
30th August - I share the same Date not Month *Sigh*
Many Many happy returns of the day. May God bless you with everything you desire.
Never saw you before Rangrasiya , Your acting skills made me to watch the show - You're one of my Favorite actors now
You've got Intense Eyes
You've got Killer Smile
Those Hairs - Perfection defines you.
But sometimes you need to trim your beard
And Ashish Best of Luck for Jhalak, you're doing very well. And All the best for further projects in Future.
Happy Birthday Ashish
and I wish everyday finds you Smiling- Stay Blessed!
And a Fan from Pakistan , I hope you're reading this
With Love
-Areeba Nadeem- Pakistan
Bioinfo_Chaitu
ade some posters for his birthday , dnt know if they are good or not , but i tried
trying to make a siggi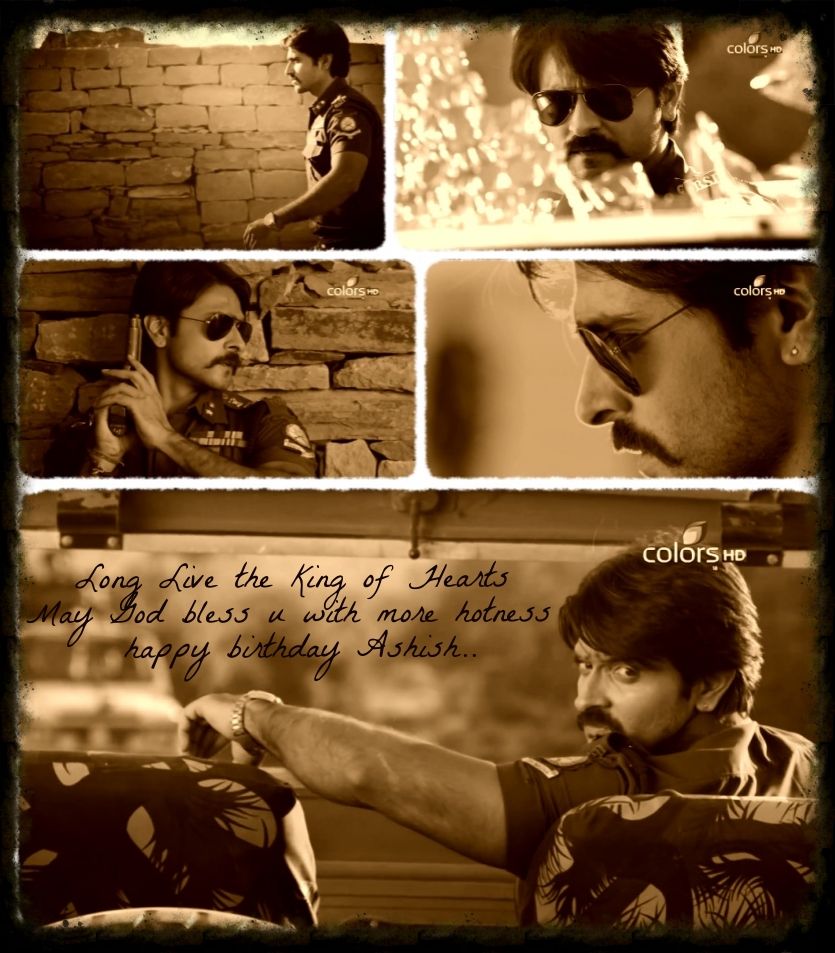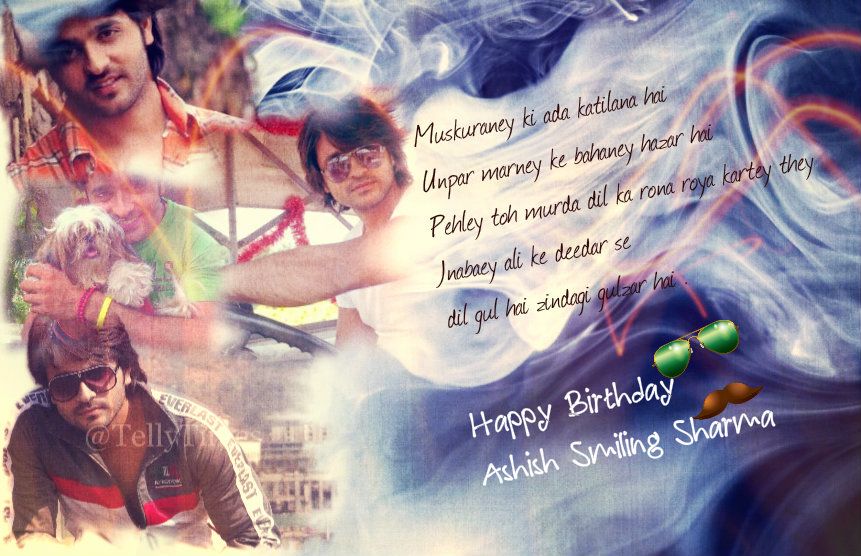 Sonal _luv
Har lamha apke hothon pe muskan rahe,
Har ghum se aap anjaan rahen,
Jiske sath mehak uthe aapki zindgi,
Hamsha aapke pass woh insan rahe.

Tamnnaon se bhari ho jindgi,
Kwahisho se bhara ho har pal,
Daaman bhi chhota lagne lage,
Itani khushiya de aapko aane wala kal.
Happy Birth Day
muahhh!! to most hansumm man on Earth..
Sonalika..
Paro_Rudra
happy birthday ashish
it's double celebration for me as today is your bday and tomorrow is my bday
you stole my heart...and my heart always keep's on thinking about you
you are very sweet..and so humble
and ur smile hayee
... ur eyes
and everything are
i love ur voice the most..so sweet
..
wishing you again many many happy return's of the day
may u be blessed abundantly throughout your life
may you get all the love and support from ur fan's..and may ur wishes come true
stay blessed and .have a blast
lastly...I love ur MR. Sharma
Baki
-wintergreen-
Ashish! A very happy birthday to you!! I had started watching Rangrasiya mainly for Sanaya but you have stunned me since Day 1. I have loved you acting and your portrayal of Rudra and no one could have done it better than you. Love your dedication and commitment both for RR and JDJ and I must tell that I adore your dancing! Also love your soft spoken and humble nature which I must say is very rare and your friendship with Sanaya. So here's wishing you a very happy birthday again
Loads and loads of love


-Abhinaya


Rudyboy07
Hi Ashish
your nature and generous heart are part of what makes you a very special person to me and so many others. I want to wish you a fantastic birthday and a year of pure happiness...Happy Birthday. Continue climbing to greater heights. You are a star!
...
Lots of love Moni
goguma
fansush
WISH U A VERY VERYHAPPY BIRTHDAY ASHISH!!!
MAY ALL UR WISHES BE FULFILLED!!
U R THE BESTEST!!
rosette80
Hey...Ashish the new millennium supersrar!!
God send a great man on earth to make it shine and make the humans on it go mad with his spark!!
Happy Birthday to A Stunning Human Being.. Adorable..Sensuous... Hottest..Irresistible.. Stylish..Ever so Handsome...An all in one rockstar..
Truly never thought i would be so crazy of a star like u...saw ur first show..loved u that time but with RR and ur sizzling chemistry with Sanaya u stole our hearts endlessly.. Touchwood
Justt soo unhappy and dumbfound at the thought of the show enfing...plzzz make it not end.. Let a miracle happen and let it continue...
Anyways...here is wishing u the ever so best wishes from our side..let ur dreams b always fulfilled and Almighty shower his gracious blessing i every way!
With loads and loads of love and prayers
Anjie
SPraba
Dear Ashish

Many happy returns of the day. God bless you with good health and all the happiness in the world.

You are very down to earth, calm and hard working individual and I wish you reach heights in your career. Your portrayal of Rudra has left many of us in awe and I have become a fan of yours for a lifetime and will continue to cheer you wherever u go. I pray all the success for RR and Jalak as well and wish that you win the trophy.

Gos bless and have a blast on your birthday

Love
Praba from Sri Lanka
dramebaaz88
Hello Mr. Sharma,
This is a birthday wish to the most beloved actor on Indian television who is turning sexy 30 and capturing many hearts worldwide. I wish you nothing but the best since you have given your fans nothing but the best of you. This is a selfish fan in me, please be healthy and happy always so you can entertain us for a long time in many avatars. And please remain humble in spite of all the good changes that will come in your life. Have a blast birthday
From dramebaaz88 / Pari, your ardent fan
ashh16
Hi Ashish
happy birthday
many many Happy Return of the day ... i wish you happiness and good health for you and your family .. and hope you have a rocking day and year ahead... loving you loads as Rudra and continue to keep rocking/dancing
lots of love
Neetu
Diya40
Hi Ashish
On your Birthday
I wish you abundant happiness & love. May all your dreams become reality . May your special day brings you an extra share of everything which makes you the happiest in the world. Happy Birthday .
... from your big fan

Geeta




nano12




Hi Ashish


Sending your way Birthday wishes for a beautiful year ahead. May your lucky stars continue to shine and make all your dreams come true. Enjoy your day with all the pleasures it has in store.

lots of love

nina