Heroic entry for Gurmeet in Geet...
According to our source, "The present track revolves around the wedding preparations of Geet (
Drashti Dhami
). There will be a scene wherein Geet and her family members go to a nearby mela. Due to certain unavoidable situations, Geet loses track of her family and is seen wandering alone. This is when a group of guys try to behave badly with her. She runs to save herself, and in the process falls into alake. And the hero, Gurmeet will make his dramatic entry then and save Geet from drowning".
Elaborating on Gurmeet's character in the show, our source states, "His name is Maan. He is basically an angry young man like character. He is disillusioned from the entire world, very silent and loves to lead a lonely life. He sees Geet in a problem situation, saves her life and leaves her without talking a word. This will be the first encounter between Geet and Maan", informs our source.
When contacted,
Gurmeet
told us, "Yes, I will be entering the show sometime next week. Iplay Maan, a guy who is a recluse".
The show has begun really well, and we wish Gurmeet all the very best for his new stint.
Reporter: Pooja Shenoy, Ranjini Nair
Author: Srividya Rajesh
Gurmeet's Burning Passion!
Gurmeet Choudharys passion for acting got him burningliterally!
Gurmeet Choudhary who plays the brooding, ruggedly handsome Maan Singh in Star One's Geet Hui Sabse Parayi, is so passionate for his acting that he didn't mind getting his tongue scalded for a good shot.
According to our source, "There's a shot where Geet (
Drashti Dhami
) challenges Maan (
Gurmeet Choudhary
)indirectly to eat chillies. Maan's ego gets hurt big time and he sits to prove that he can definitely eat more chillies than her. The catch is, Gurmeet did the stunt all by himself and ended up with a severelystinging tongue."
So is everything fine with Gurmeet? "Yes it is,"
Gurmeet
assures us with a chuckle. "There was no other option to get the scene right and I just gorged on the chillies without thinking much about it. The hell happened once the director said 'cut'. My tongue was on fire. For half an hour I couldn't regain my normalcy. I cannot explain to you in words," the actor trails off.
Apparently, he got
Debina
a little too concerned with his overzealous approach to acting. "Debina knows that at home I may laze around, not at all bothered about the chores. But when it comes to acting, she knows that I go all the way. However, after this incident she did get a bit apprehensive and told me Whatever you do, please think over and then take the decision."
Gurmeet performed the act inspite of being unwell. "We had been having night shoots continuously for a few days and my body is just reacting to the stress. But I know that I'm working in a daily soap and every second, every little gesture matters. So I did the stunt and I'm glad it looks absolutely realistic," signs off Gurmeet.
Reporter and Author: Susan Jo

Summary of Article :
Can a woman, whose husband left her for another women, believe in the constitution of marriage? Can a Man, who loves his wife madly,will have the courage to love other lady to that extent after the death of his wife? The New Show of Zee tv "Punar Vivah " is all about finding the happiness again with all the past experiences. The lead actors of the show are Gurmeet Choudhary, Kritika Sengar, Master Devyam, Baby Drishti, Chetan Pandey etc.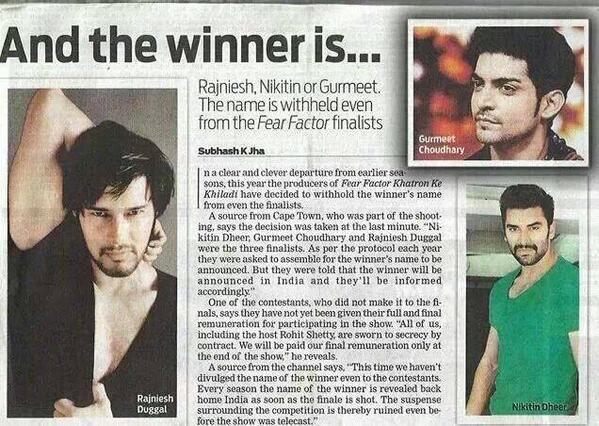 Hailing from Bihar, Gurmeet was brought up in Punjab, Kashmir, Tripura and Jabalpur as his father was in the army. Gurmeet was always keen to get into acting and was also a model before joining TV. In 2006, Gurmeet debuted as the negative character in Indian television's first 3D TV series, Mayavi, a Tamil production for Jaya TV. His next appearance on television was as Lord Ram, for Ramayan, which made Gurmeet a recognisable face in the country and his co-star Debina ended up becoming his life partner too. Star One's Geet Hui Sabse Parayi further enhanced his popularity while the current serial Punar Vviaah as well as his win on Jhalak Dikkhla Jaa have made Gurmeet one of the most desirable stars on TV.

What makes you look hot?
I think it's my eyes. Lot of people comment about them.

What your fans say - good and bad?
My fans are always commenting about my acting or my style in a particular episode while I get blasted for overworking and not taking care of my health at times.

The kind of role you would love to see yourself in?
An action oriented role where I could do some parkour perhaps.

Three things you do for looking hot?
I am very regular with my gymming regime and also make sure to have only homemade food as far as possible. I try and lead a disciplined life and also maintain different looks for the different kind of work I do so that it gives some freshness to my work.

A little bit about the role in Punar Vivaah. What makes the role interesting?
The serial brings to light the social issue that remarriage is possible. What makes my role interesting is the fact that my character has to go through this inner fight to accept the new wife by erasing the memory of the dead wife and then subsequently accepting her and falling in love.

Previous serials
Ramayan and Geet Hui Sabse Parayi
New offers
For me my next day is always a surprise. So keep guessing.

Favourite co-star
Debina, Sita in Ramayan and now my wife.

One way in which you think you can improve yourself?
There are loads of ways. Every day I feel that I'm better than yesterday

The best and the worst critical comment you got from someone from the industry?
The best comment came from Karan Johar, when he said I'm either mad or psycho or have a split personality, else how could I just transform into extremely different characters so easily.

Who are the other guys ton TV that you think are hot?
Don't get to watch TV. Apoorv Agnihotri for sure.

Do you have any fear or regret about the fact that you are completely recognized by the character you are playing?
Well, my name keeps changing every two years. But when people call me by a certain name, I understand that the person has been watching my show and that makes me feel good.

Link: http://www.hindustantimes.com/Brunch/Brunch-Stories/Hot-off-your-television-sets/Article1-988762.aspx
1.
2.
3.
4
8.Punarvivaahcompleted a Glorious 1 Year Run & actor Gurmeet Choudhary brought in his 29th birthday
The sets of Zee TV's Punarvivaah saw a double celebration recently when the primetime show completed a glorious 1 year run and the lead actor of the show, Gurmeet Choudhary who rules millions of female hearts turned 29. We chatted up with the television heart-throb.
Q. Happy Birthday, Gurmeet and heartiest congratulations on the successful 1 year run of Punarvivaah. What is the feeling like today?
A. Thank you for your wishes. It's been a great celebration on the sets with so many fans landing up - some from Europe and Pakistan too. It's a feeling of accomplishment. Punarvivaah is a show that has actually made a difference to the way people think about remarriage. It's a feeling of satisfaction when a crew member recently came over and told me that he considered and is actually getting remarried after working on the show. Scores of people write in to me telling me how the show has inspired them to give marriage a second shot after a divorce or having lost their spouse. More and more women have begun to assert their right tohappiness after a failed marriage or widowhood.
Q. What do you think has worked well for the show?
A. The show delivers a strong message without being too preachy. Right since its launch, it raised very pertinent questions as to why there is a separate set of rules for men and women when it comes to remarriage. The idea of a mother-in-law taking a vow to get her own bahu remarried after her son has deserted her for no fault of hers, appealed to fans all over. The gradual adjustments of two people who have been married in the past, their teething troubles before they slowly come together were depicted in a realistic manner and people could relate to it.
Q. How has the journey from playing Ram to playing Yash been?
A. It's been an exciting journey, without a doubt! Each role has had so many shades, layers ... I have been able to bring forth so many aspects of my own individual personality in front of the audience with each role. And the appreciation ... It's all been so overwhelming. It's the love of my fans and their blessings that have brought me to where I stand today. I hope my well wishers and fans continue to appreciate my work and shower me with affection in the coming years.
Q. How are you celebrating your birthday? Any special plans with Debina?
A. Debina had a surprise for me at midnight. She initially said that it was going to be just the two of us. And she sat in front of me and asked me to close my eyes. Within moments of my closing my eyes, so many of our friends landed up in the room ... it was a pyjama party of sorts and we all chilled and had a great time!
Q. What do you do between takes when you are on the sets? What is your bonding with your co-stars like?
A. Oh, this is something everybody will tell you on the sets. I am well known for my naps. As soon as there is a break between takes, I instantly get horizontal and catch up on some much needed sleep. I do bond well with my co-stars. When you work as a team, it is important to share a good chemistry and warm vibe with those around.
Q. Any other movie or television projects in the pipeline?
A. There are some projects in the wings. But I would rather not divulge too many details of that at this stage. I choose my projects very carefully and I am currently deliberating on a couple of them.
Q. What do you enjoy more? Acting or dancing?
A. I am an actor who dances, not a dancer who can act. I love both acting and dancing as I enjoy both the forms of expression. They both call for creativity and imagination.
Q. How do you maintain such a fit physique? Is it a strict diet or a lot of exercise?
A. It is a combination of being genetically blessed, a lot of meticulous hard work in the gym and controlling the diet too. I am glad my fans appreciate my physique!
Date:
Tuesday, February 26, 2013
Gurmeet Choudhary signs three-film deal with Vishesh Films


The actor said Mukesh Bhatt is like a godfather to him
IANS | Mumbai
May 1, 2014 Last Updated at 14:04 IST
Actor Gurmeet Choudhary, who has recently signed a three-film deal with Vishesh Films, believes Mukesh Bhatt is like a godfather to him. He says the producer is guiding him through his newmovie career.
In an interview, Gurmeet has shared how he landed up with the film deal and his transition from TV tomovies.
Excerpts:
Q. How did you land up with a three-film deal with the Bhatts?
A. I often used to bump into Mukesh Bhatt Saab at film award functions. I would greet him as a senior. I felt he was observing me. Then, at an awards function in South Africa, Ranbir Kapoor got the best actor award for films and I got the best actor award for television. Then Mukeshji told me he wants to work with me. I got a call from his office. And the rest I hope would be history.
Q. Do you have an exclusive movie contact with Mukesh Bhatt?
A. No, I can work in others' films as well. Mukeshji treats me like his own child. He is guiding me through my new movie career. I consider him my godfather. My first film with Mukeshji starts in May.I've started preparing.
Q. What kind of preparation?
A. Gymming, stunts and acting workshops... the works. I feel I am starting a new career.
Q. From playing Ram in "Ramayan" on television to the Bhatts' hero - how did this journey happen?
A. I chose to start with the home medium. I'll tell you something about myself which no one knows. Nine years ago when I left my home in Bihar at the age of 19 to come to Mumbai, I somehow got Mr. Yash Chopra's number. My dad, who was an army officer, accompanied me. We both went to meet Yashji to seek his advice and blessings. Yashji told me to start my acting career on television. He told me that's where Shah Rukh Khan started. 'And look where he is today' - Yashji's words still ring in my ears.
Q. For a 19-year old from Bhagalpur in Bihar, it couldn't have been easy to get roles?
A. It was very difficult. So many starry-eyed small-towners come to Mumbai to become a hero. Now I'm finally ready to be launched as a leading man. But let me tell you, I never took television lightly. I worked as hard on television as I will in cinema. A lot of actors take television for granted.
Q. Your family in Bihar didn't object to your choice of career?
A. They did initially. But then they gave up when they realized that this boy will do everything it takes tobecome an actor. They made the biggest mistake by naming me 'Shashi Kapoor'. Yes, that was my nickname among family and friends - Shashi Kapoor. Eventually, they supported me wholeheartedly.
Today when I see my father's pride in my achievement, I feel fulfilled. He hardly ever smiles. But when I see him smile about my career, I am the happiest son in the world. My father too started with a small role in the army and then worked his way to becoming an officer. He is my hero and role model.
Q. You started your career playing Ram in "Ramayan". Wasn't it a risk?
A. That was considered a big risk. They said any actor who plays a mythological character gets typecast. Everyone advised me against doing "Ramayan" at a time when all others were doing saas-bahu serials. But I thought, why not do something different from others? Then after doing two soaps , I moved into reality shows. So I was paving my way for a movie career.
Q. Your colleagues from television like Sushant Singh Rajput and Ayushmann Khurrana have also given embarked on a movie career?
A. Nowadays television is as important cinema. Even film producers have realized television stars are popular not just in India but abroad.
Gurmeet Chowdhary Will Be The Bhatt's First Action Hero...Has Breathtaking Stunts In His Debut Film
Now it can be told. Television star Gurmeet Chowdhary is being packaged as the first true-blue action star in Mahesh and Mukesh Bhatts' production house.
According to sources, Gurmeet will perform some of the most daring stunts ever seen in our cinema for his film for the Bhatts' Khamoshiyan.
Says a source, "Gurmeet is like a one-man army in Khamoshiyan. He will be presented as a larger-than-life invincible force. So far the heroes in Bhatts' films, Emraan Hashmi or Randeep Hooda or Shiney Ahuja were never shown to rip off their shirts in rippling glory . Gurmeet will be marketed by Vishesh Films as Bollywood's own Hugh Jackman. Elaborate stunts would be part of the narrative for the first time in a Bhatt film."
Gumeet fights shy of commenting on his looks and presentation in Khamoshiyan. "Mahesh Bhatt Saab has tweeted my picture with blood on my face. So you can guess what kind of a role I have. With the kind of physique and image that I have doing stunts comes naturally to me."
Gurmeet can't stop raving about his film's producers. "The experience of working with the Bhatts is everything I had hoped for. It's something I'd never forget. I am indebted to the Bhatts for life...just as I am indebted to Ramanand Sagarji's family for giving me my first break on television.Some things you never forget.You shouldn't forget."
Gurmeet feels his movie debut is just what the doctor ordered. "I couldn't have hoped for a better film debut for a better banner.I've shot with for Khamoshiyan for about 20 days.And I feel the same surge of excitement that I did when I started on television. Mahesh Bhatt Saab is on the sets to guide us because we're a new team. I feel blessed.Right now my complete focus is on getting it right in Khamoshiyan."
WATCH OUT: Gurmeet Chaudhary's Hot Body in His Debut Movie by Bhatts
He's a heartthrob on Indian Television. He's featured in several superhit TV shows and has won various dance reality shows. Gurmeet Chowdhary's fan following has to be seen to be believed. And now that fan following will be extended on the big screen too. Yes, Gurmeet Chowdhary is all set to debut in Bollywood as an action hero.
Gurmeet is being launched by the Bhatts...Actually, Bhatts will be presenting a hero in an action avatar for the very first time. Gurmeet will be seen performing some dare devil stunts in 'Khamoshiyan'. His role will be larger than life.
Bhatts plan to promote Gurmeet as Bollywood's Hugh Jackman. Mahesh Bhatt had also tweeted Gurmeet's picture with blood on his face...well, we are sure Gurmeet's movie career will sky rocket if this movie clicks...


Edited by Angel_Luv - 04 January 2015 at 8:38am