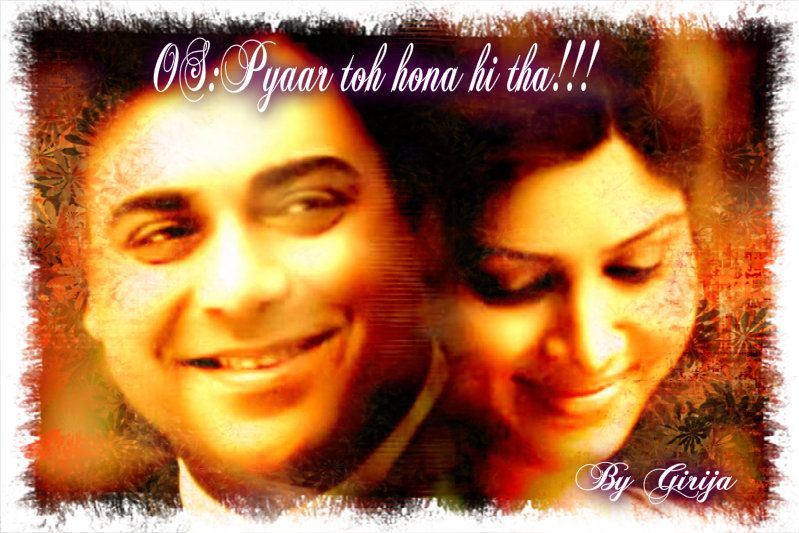 A story of two unknown persons tangled in a lifelong bond .
how it hapend ..
Where the destiny takes them ..
Well you read and tell me how It is ..
OS:Pyaar Toh Hona Hi Tha!!!
[Title credit goes to Viji aka armanz ]
A young lady was coming from departures area with an anxious face, her doe eyes were filled with tears , her face was pale because of crying. Her slim body toned perfectly, dressed up in a blue top with a netted shawl around her petite frame, a light blue jeans hovered around her curved legs . She wiped her tears searching for her name, soon she found a placard with her name showing "Miss. Priya Sharma " she went near to him . He was clad in a Armani suit , his hair was black and his chocolate eyes shining with an unknown glister , He said "welcome to India "
Thank you , how is my father she asked very anxiously . He looked at her he doesn't know how he should tell her ,she was looking so young, already she lost her mother now her father was also on death bed .
He said "he is in still ICU , he is constantly moaning your name so dad immediately called up you to come here " her tears started raining hearing his words . Taking his neatly folded hanky from his pocket handed to Priya . She took it wiped off her tears , he lead the way to their car .
Both sat in the back seat of the car , What doctors are telling , he is going to be fine na ,she asked in her choking voice . He looked at her vulnerably and nodded his head positive .
Priya trust god ,he can do miracles .she smiled a lil hearing his words , she got her strength back .
Thank you Mr.. woo ..sorry What's your name ??
The guy smiled said "Ram Kapoor "
OMG You are Amarnath uncle's son , Glad to meet you. Priya shaked her hand with him .
Ram : Do you know me Priya??
Priya: Whenever Amar uncle comes to London he used to tell about you and Natasha .
Ram smiled a bit hearing his father talks through Priya, in the mean time Ram's phone beeped .
He answered it .she could only hear one side convo
"Yes dad , I received her
No...
Sure dad ..
Okay
We may reach in 30 mins time
Ok dad .. see you soon "
Keeping the call , He asked driver to drive fast to the hospital . How much Ram tried also he wasn't able to control the panic in his face ,his forehead was filled with sweat . Priya observed him for a while . my dad is okay na ..
Ram looked at her with a faint smile .Yes ,yes but he wants to see you first .
Priya understood that something seriously was going wrong and Ram is not telling her anything, her eyes showering with tears remembering her dad and her child hood memories .
"Dadd Im here here ..she was running with her small legs his dad was running behind her , 13 years back when her mother expired he became her mother too. How many proposals came also he didn't agree for second marriage and he gave the best of the best to her , being one of the greatest businessmen in London ,he never made her feel alone . " tears trickled down from her eyes when their car jerked ,she noticed that they reached their destination , she immediately got down and ran to her dad's room , but after 5 steps she stopped as she doesn't know anything. She looked back Ram is briskly walking behind her .
This way he showed her they reached the 5th floor , the outside board showed ICU , her legs stalled ,she could see Amar uncle and Krishna aunty were standing in front of a room .Seeing Priya , Amarnath Kapoor came and hugged her .
Yes she was waiting for someone's shoulder to cry on , she cried bitterly hugging him ,asking for her dad, how is he , why suddenly it happened , what are you doing ..etc etc .
Krishna ji hardly met Priya , only once she met her when she went to London with Amarnath for a business party . Her heart was aching seeing Priya like this. Amarnath steadied her ,see Priya , you are a brave girl ,now I will take you to Sudhir ,he wants to talk with you something urgently .
He led the way to her ,soon Krishna ji dragged Ram with her to the room where Sudhir was lying lifelessly . Priya choked with emotion seeing her father attaching all tubes to his body , two salines were dripping into his veins . His chest was barely moving .
Priya went and held his hand in her's called "Dad , I came Dad , look at me once , her voice choked with the continuous cries . Sudhir opened his eyes , the glass eyes had glistered glow in his face seeing Priya in front of him, he was very happy .
Priya .. I know I may not be able to live more , she immediately placed her hands on his mouth shaking her head as No , but Sudhir asked her to let him talk and he continued
Just answer my questions . she nodded her head with a positive
Sudhir :Do you have anybody in your mind?
Priya: Means??
Sudhir :He felt breathless ,the sister again attached the oxygen mask ,he signaled Amarnath to tell Priya.
Amar: Sudhir wants to know , do you love anybody Priya , if so just call him immediately.
Priiya : I .. I don't have anyone . But why all these now .
Amar : We don't have much time and Sudhir wanted to see your marriage so...
Priya turning to Sudhir, Dad , don't worry everything is going to be fine , I love you na , kissing his back of the hand , more tears fallen on his hand, he wiped her tears .
Sudhir : Please marry Ram beta , he is my choice, his statement skipped two heartbeats at a time. Priya looked baffled , Ram equally got shock of his life .
Ram moves forward to tell something , Krishna ji blocked his way , Sudhir's feeble voice alerted them one more time ,
Sudhir :I know everything about you Ram , you are perfect choice for my Priya .
Please will you do this favour for me ,his pale pleading look can mold anyone .Ram & Priya agreed for it . Immediately Krishnaji gave rings to them , The exchanged in front of Sudhir . Amar asked them to go and get ready . They were in shock.
Priya :I can't leave dad , please uncle don't say me to leave this room ,please .
Amar :Priya , he wanted to see your marriage, this is the only thing I can do for him right now .
Priya : Before she could protest , Krihnaji took Priya and Ram from that room ,telling everything we made already just waited for you only . Ram was annoyed "why you ppl didn't tell me before "
Krishnaji : Because Sudhir uncle wants to tell by himself .
Already they arranged everything , they both got ready in bride and bridegroom wears , Both were complimenting each other . They were looking divine . Sudhir and Amar were watching from the hospital as Amar arranged live show for them , every thing perfectly done as per the rituals .
They both came to the hospital to take their parents blessings . Sudhir was super happy , Sudhir signaled Amar , he called a lawyer to his room . Sudhir asked him to read the will.
"It is telling , All his 10,000 crores property belongs to Priya and her husband Ram kapoor , until 5 years Amarnath kapoor will be their guardian ,He will take care of the business until Priya and Ram will be able to handle it and quarter from his properties going for charity trust which will be handled by Ram & Priya . This property will belongs to Ram & Priya and after that their kids will have the authority to gain this "
Ram was stunned to hear 10,000 crores ,because as he already heard from his dad that Priya is dealing the business from her graduation days .
Lawyer :Congratulations Mam & sir , with this property you are getting enemies list also , so just be careful , Mrs.Priya Ram kapoor has a life threat because of the property . That's why this secret and hurry marriage and the will also modified on your both names . So it will be strict for the enemies to have an eye on them . He greeted them again, he called media and introduced as Mr.and Mrs. Ram Kapoor . Sudhir felt relieved now , he was happy that his daughter is in safe hands . Soon doctor came Sudhir was ready for the heart surgery .They took Priya's sign . Sudhir kissed her forehead before entering the operation theater .
Amar & Krishnaji both take them to their house for gruha pravesh .by that time Priya's luggage was already placed in Ram's room . Priya slowly walked towards the bed sitting on it , she cupped her face crying bitterly . Ram who was watching all this his heart ached to see her cry , he wanted to hold her and say everything gonna be alright but he himself knows Sudhir is not going to make it at any cost . Its just a trial doctors were doing on Sudhir .
He came to her , Priya .. Priyaaa .. she looked at him with teary eyes . Get ready Priya , we will leave to hospital . She nodded her head and she removed all heavy jewellery and her dress quickly she took bath and came out of the room , she wore a white top and pink skirt which was reaching her feet ,she looked so fragile and beautiful with her wet hair , a gold chain and black beads . she was getting ready in front of the mirror ,he too got ready with in the time . Both went to the hospital still Sudhir was in theater only, after sometime doctor came out with his face down .
"I'm sorry priya we tried our best but his body is not responding to any action , he went into coma , we cannot give guarantee when he will be back "
Priya leaned on to the wall ,cried copiously burying her head in her palms .
"How much money you want doctor take all of that and save my father I beg of you please "
Everybody's heart ached to see her cry, but there was no chance of his survival . 15 days passed in this silence . Priya was sitting all most all the time with Sudhir hoping that he may open his eyes at least once but nothing had happened. The 16thday Morning he expired in early hours . She broke down completely ,Ram supported her, he manofyed her, he made her understand the things happening around her and her security problem and her employees everything in a way that soon she recovered from the grief but she was just staying with them like a statue .
Two months passed . slowly Priya got involved her self in work and involving in house matters too. All the work was on Amar ,as Ram & Priya were doing ,the burden has come down on him and she slowly started to know about Ram. She totally forgot that in what circumstances they married and how she is living with Ram in same room and same bed but the husband and wife relation ship is not there between them
One fine day Krishnaji made her understand that this is the time to move on in her life with Ram . Priya started thinking about Ram . He is handsome, good , well educated , hard working , above all he is able to understand the feelings of other person . By thinking about him a small smile curved on her lips unknowingly . Ram who was in office came by that time ...
Ohh whats that special Priya mam is smiling by herself , If you tell I will also enjoy .He teased her. Priya blushed hearing it .
Ram sat near by her "You look beautiful when you smile you know "
Priya smiled "Thank you ,hmm I wanted to talk with you "
Ram speak up , you no need permission .
Priya : errr.. woo.. I'm ..
Ram : smiled ..OMG the great businesswoman Priya is stammering what is it lady common spit up .
Priya : woo ..Its about our marriage saying this she sighed .
Ram face changed hearing it .
Priya : she felt tug in her heart seeing his face . She doesn't know what it is but she was expecting him to say Yes .
Ram :Turned her side "Priya I know how our marriage happened , I know my mom and dad must be pestering you to start a new life with me . I totally agree their point of you but umm you know .. I just want to tell something imp about my life . "
Priya : go on Ram , I'm all ears .she smiled at him
Ram: I'm already in love with Komal .
Priya : Heart broke into 100 pieces, but she waited for him to complete
Ram: I love her like anything , she is my class mate in college , we fell in love in fact she is the one who proposed to me , she did all hungama that she will die if I wont accept her love . When everything was going smoothly as for all the lovers . My dad's company had huge losses in fact crores loss . Still I haven't left her hand , but she left me saying that I'm not a worthful candidate and I don't know how to satisfy a female even though she has given me so many chances a slight tear trickled down on his cheek remembering his bitter memories .
Priya kept her hand on his hand squeezed it with assurance . from that time onwards I have decided that I don't want to marry and I don't want to give any space to any women as they will give me tears at the last .
Priya looked confused .
At that time Priya , Sudhir uncle saved us and he has given this life and he only encouraged me that he too had a two love failures than only he got beautiful Shipra aunty as his wife .
Priya smiled hearing it as she very well knows about the love stories and her mother used to tease father with these . So when uncle asked you to marry I wanted to tell you all these but that's not the right time so I avoided and from past few days I wanted to tell you about this and start my life fresh with you . But I didn't get time and moreover I don't know how much you want to continue this relationship "
Priya's heart feel light and she was jumping with joy inside ,she don't know why but she loves that he wants to start fresh life with her .
Priya : Ram , till now I have seen many men in my life infact my relatives also wanted to marry me just because of my money . not as a girl . My father gives me always the best thing .
And I proudly saying now :He has given me the best husband and best family "
Initially I was angry with my father why he is arranged this marriage in hurry burry but after his death , I came to know , if he wouldn't have married me to you , I wont get a mother like your mother and father like Amar uncle a friend like you in my bad days .
Even I want to take this relationship further . But it should be with full acknowledgement that we both fell in love first . Ram smiled listening her and both decided to go for a dinner date as to celebrate their starting of the relationship .
In the date Ram came to know Priya is just 24 years and she has done her MBA from a prestigious university and she born and brought up in London , she is more of interested in modern dresses only . She loves to spend some time with kids in orphanage ,loves to go for trekking so many he came to know .
Priya came to know he is 30 years old , he is very much interested in business , he likes Indian wear and he loves to see his mom in sarees and he would like to see Priya also in saree once . He wants to be very successful that who has rejected his love should know the value of a relationship as well as how the man Is .
Priya assured him that she will regret one day losing you But I'm happy that she left you .
Ram scrunched his eyes at her .
Priya : errr otherwise I will miss this handsome man as my hubby na . she bit her lower lip ,he smiled as well as blushed hearing her compliment . sorry
Ram : why sorry ???
Priya : wo.. umm I shouldn't tell like that .
Ram :But I love the way you said it . there is a sweet eye lock for brief seconds .
They went to their room , Now both were feeling awkward to sleep in the same bed , they peacefully slept all these days but this is something else that they are feeling lil bit discomfort . Ram was waiting for Priya to come .When she entered with her night suit she was being cautious about her looks and she found his gaze on her . She blushed seeing him .
Ram : hayee hayee .. OMG priya you are blushing .
Priya : Nooo .. she slept on her side covering the quilt upto her neck, both gazed each other for sometime than they drifted off to sleep .
The days were passing like that ,their friendship grew stronger day by day . Their smiles will echo in the Kapoor Mansion .Amar & Krishnaji were happy seeing their bond . Both wanted to confess their love but some or other was disturbing them . Amar warned both of them not to go outside without security as they have threats.
Ram woke up to find Priya's side is empty . he called her "Priya ..Priyaaa :"
He was astonished to see she is coming to their room , she claded in baby pink colour saree . Her wet curly hair laid by her left side , her hair partition filled with maang , her neck adorned with black beads and a gold chain ,her slender arms covered with golden bangles ,her hands clasping tea tray , her anklets making zill zill sound with her each step , he was too mesmerised by seeing her beauty . She was a beautiful woman and this saree was complimenting her beauty even more . He slipped from the bed , without blinking his eyes he walked near to her ,she kept the tray aside wished him "Good morning " He wished back before saying anything she bent down to touch his legs .
"Heyyy .. what is this Priya " he jumped back
Priya: wo...Its my birthday .. so bless me ..
Ram : Priyaaa .. I'm so extremely sorry "Many more happy returns of the day " why didn't you tell me .
Priya: Even I too forgot , morning uncle wished me than I remembered so
Ram : smiled at her . he leaned on her , she know he is dangerously close to her body , she is feeling goosebumps all over her body . his hot breath trickling her .He kissed on her forehead "Happy birthday princess " he soon left to freshen up
Priya touched her forehead with her fingers ,closing her eyes she gulped the emotions running through her . Ram was smitten by her beauty he was unable to take his eyes off from her .
Priya also knows this very well , first time she wore the saree and she was feeling discomfort while carrying that moreover she was turning like a tomato whenever she sees his gaze on her .
Both went to temple , when they were getting in to the car ,Ram heard a bullet sound . Priya's shriek ,he wanted to go to her side , fortunately someone was shooting from this side and Ram was shocked to see his driver is aiming at the other direction .
Sir you please be here , but Priya Ram voice trailed off . before that driver alarmed other guards they came to Priya's side . Luckily they were saved . Priya was unconscious .
Ram is calling her nonstop .But she is not giving response . he made her lie on back seat asked the driver to leave to the hospital .
Driver : sir , mam is afraid of these shots . she might be unconscious ,you just sprinkle some water she will come to senses saying this , he moved out of the car .Ram sprinkled some water and slapped lightly on her cheeks . she opened her eyes .
"Ram are you okay , checking him from top to bottom , you not get hurt na ,If anything happens to you I cant live ,her tears were trickling down ,Ram made her cool down telling nothing happened to him.
I'm afraid that something happened to you .
Priya hugged him tightly , Its their first hug . I was scared .. I lost my parents ,I don't wanna loose you Ram .I cannot live in this world with you by my side. Please don't leave me . her tears made his shirt wet . Ram asked driver to drive home .
Both felt a pang in their heart feeling of loosing each other . They could not stay a single second with the thought .
Ram: Priyaaa
Priya: Rammm
You first
No ..ladies first ..
Priya: no no its okay ,, you tell .. her lips were trembling .
Ram was stepping towards her she was stepping backwards . His intense gaze was killing her . Her cheeks turned up in to bright red colour .
Ram :Tell ,what you wanted to tell
Priya nodding her head Nooo ..
Her back hit with the white wall ,the coldness rushed into her body . before she moved up ,he blocked her with his hands either side of the wall , caging her in his hands .
He looked at her . she was looking utterly beautiful with pinkish shade on her cheeks as well as pink colour saree on her body .
Ram:Did I ever tell you you are the most beautiful woman in the world .
Priya : hearing him ,her breath got heavy .she lowered her eyes . Now his hands were touching her edges .
His forehead is kissing her's.
Priya : leave me , I want to change .
Ram: Hmm first take my gift than I will leave you .
Priya : looked up at him found he is smiling at her .
Ram: take your gift from my coat pocket . she took it and found a beautiful box . She opened it ,her eyes glistered seeing a solitaire in it .
She gazed at him .
"Priya will you accept me as your best half " I want to walk with you till my legs give up , I want to sleep with you till the endless nights in our life , I want to share my every lil secrets of my life , I want to live my life with you , I want to have kids with you ..
She blushed hearing it . If you agree for this agreement , I want to make love to you .
She rooted in her spot hearing it . Her hands were trembled , she gave the gift to him , he was disappointed , when she held her finger in front of him , his happiness is no boundaries . He slid the ring in her finger , kissed her hand . 1000 jolts shook her feeling his touch . He hugged her ,kissing her forehead , eyes , nose , than cheeks . she gulped down a lump when he stopped on her lips .
He whispered "I LOVE YOU" from the bottom of my heart , before her reply his strong lips latched on her smooth lips , her hands went numb by this action , his hands were crawling in her curly hair ,angling her face into him , her lips were smooth ,soft , very tender , he probed his tongue to meet with her mate , she opened her lips accepting him ,her delicate tongue dancing with its mate now , he fused her more into him . His one hand slipped on her back , covered her hip curve in his hand , he squeezed it, earned a low delicious moan from her . They both parted for some air . She looked at him panting heavily . "I LOVE YOU " she confessed dreamily . His desire full looks scanning her body , she very well knew what he was up to , she shivered like a dry leaf before she could escape from him , he swept off from the ground made her lie down on the bed . His hands were tracing her timid pathways . She was controlling herself from stopping her moans . He breathed heavily .
Priya ...I want you he murmured in her ear ..
Equally I too want you Ram ...
They slipped into their birthday suits , Priya was flinching from his every touch she was moaning his name with pleasure. He was enjoying her moans ,He was taking his own time on her chest area , ravishing her thoroughly , enjoying her trembles whenever he was sucking her , she was in love with him , and he was filling her love with him .He made sure the foreplay went well . He nibbled her earlobe whispering shall I go further ,she closed her eyes with acceptance . He slowly thrust himself in her , she gasped with pain , easy easy Priya you will definitely love it once you feel it, he kissed away her tears . he widened her legs , slipped himself in her cave touching her deep folds . both felt the zenith in the love making . They drifted off to sleep in each other arms .
Amar & Krishnaji arranged a huge birthday party for her . When the knocked their door in the evening . Ram & Priya got up with a start . They heard the knock again, this time Priya flustered.
Ram do something ... Ok you go to changing room and wear the saree mean while I will dress up and open the door .
Priya : I don't know how to wear sareee
Ram rolled his eyes at her , than who did this ..showing the crumpled saree on the floor .
Ber cheeks turned crimson red , woo .. aunty helped me ... again they heard the knock
Ram : Priya go and wear something comfortable ..
He got up and weaing his dress .
What happened why you are not moving , Ram asked concernly .
Priya : how I will get up like this ..
Ram : How I will means ??? He smiled at her what she was referring too . He walked towards her , is there anything you have to hide from me , I have seen every inch of you and tonight I want to taste the very inch of you be ready for that, telling this he went to open the door , she rushed to changing room with bed sheet .
They asked what they were doing , he said Priya is afraid of the morning's incident so she slept with her I too slept ..They told Ram ..come soon and they went to downstairs .
Priya showered with hot water , she checked in the life size mirror , almost each and every where Ram love bites were marked . She blushed and felt complete women in right sense .
She wore simple kurthi and came out, by the time Ram was talking in the phone . He asked her to get ready soon , all are waiting for us in downstairs . she wore an anarkali dress . she so wanted to wear saree but if aunty finds out this marks she cant answer her so she wore anarkali dress .
Their life was smoothly going with their chats , love , bantering , cute knok jhoks , Ram was not wasting even one night also with her . she was equally enjoying with him .
One year passed by .. Priya's London company has got some problem and she has to go immediately to attend it . Ram was in Delhi for some work . so he could not accompany her.
She went with Amaranth , and before Ram's arrival they solved successfully and they came to know that Ram got the best entrepreneur award for this year .They wanted to celebrate it.
Before his arrival everything should be in perfect place . Priya called their branch GM and events manager in London, she explained what they need to do .
Mr .Rakesh hope I have clarified to you .
Rakesh :Yes mam ..
Priya :turning to events manager . I forgot your name , you are newly joined na .
Rakesh : Err yes mam , she is newly joined in our company ,previously she worked in Praise company .
Priya: I think I asked question to her
Rakesh :sorry mam , she is my wife , she is new so ..
Priya : smiled at him .. Ok Mrs' Rakesh , I want everything in correct place .My husband should feel thrilled .
Mrs. Rakesh :smiled at her .. sure mam .. both left
Priya was in all smiles imaging Ram's astonished face .
Ram entered the office , Rain of rose flower petals welcomed him , everybody clapped and congratulated him ... he was super surprised and in each of is step he was receiving some or other gift .
Finally when he entered the stage , His wife is smilingly addressing about him and invited him to speak few words about his achievement .
Ram: Good evening ladies and gentle men , hmm so what I should tell about my success , I can tell in one line .. Behind every man's victory there is women , and behind my victory my wife Priya is there so I'm dedicating this gift to her ,come my love he called her , when she joined her , he side hugged ,and kissed her on her cheek . she is the women she changed my life in to blissful and beautiful one .
Mr. and Mrs :Rakesh has to arrange dinner for them,Mrs. Rakesh had tears in her eyes .
After the ceremony few of company loyal employees were there . Priya is very much happy and lively as well as Ram also , everybody was wondering seeing the amazing couple .
Priya dragged Ram introduced him to the company new joined candidates .
Priya : Ram you know na Rakesh he joined 3 years back in this company very loyal to us and he has experience in business .
Rakesh : But unfortunately I lost everything sir.
Ram : shaking his hand with him , see Mr.Rakesh ,I too faced same thing but slowly I built up my career again and at that time only I came to know who will value us .I thought I loved a girl like crazy but she left me when I was in need . than I understood its just attraction . so chill man just enjoy the party .
Priya was introducing all the members whenever she is trying to introduce Mrs.Rakesh she is escaping but this time she successfully caught up her .
Introduced Ram ...she is Mrs. Rakesh .
Ram forwarded his hand "nice to meet you Komal "
Mrs. Rakesh shivered feeling him near . she thought she will live happily with Rakesh but after marriage they lost everything and Rakesh is very adamant in her matter he was not leaving her nor giving divorce so she is cling on to him .and seeing Ram and Priya together she came to know what she lost .
Priya : Komal means ..
Ram : ha that Komal only ..
Priya : Okay .. nice to meet you Komal . Ram already told about you . feel free yaar past is past .. chill saying this Ram & Priya left from there
Ram was super happy that Komal knows his value by now . and being with Priya he hasn't even remembered her anytime . he realized he has loved only one girl and that is Priya only at the same night he confessed to Priya and they both enjoyed in their own love land .
After 4 years , Ram is playing with a 3 year chubby girl in his hands . when Priya served them with parantha , both were squaeled with joy . yes the lil girl is Peehu , their love symbol . Ram finished his break fast and cleaned Peehu's face . he kissed her forehead . Priya walked towards him with wobbly steps.He kissed her lips lightly . bending down kissed her 7 months bump . biding bye to them he went to office .
THE END ..
From writer :
Viro and readers , Neel requested me to write an OS on your bday as a gift ,I really don' t have any thought while writing this with one concept I wrote .Hope it was not boring .. waiting for your comments . sorry for any mistakes ..
Once again a very happy birthday girl . Viro its Neel order I shouldnot call you personally until this OS posted so I'm calling you late today .. Sorry and love you , God bless you with health and wealth . all the very best for your exams .