Happy birthday Aakanksha. may god bless you. many many happy returns of the day. your fanns miss you a lot. megha was someone who will always be remembered. loads of love.
your fan
Sukriti

***HAPPY BIRTHDAY AAKANKSHA***
Your birthday is a time to
dream of a bright new future
that brings into your life
all the things you desire!
Wishing you a very happy Birthday
Enjoy your special day with love ones

Happy birthday Aakanksha. May God bless you with lots & lots of happiness & success. We adore you for your simplicity & the way you are. You are commendably amazing! Hope you have a fun filled day ahead with your near and dear ones. Wish you all the very best your future. Keep rocking!

This birthday wish is dedicated to my favorite actress who won our heart as Megha Vyaas and Megha Bhatnagar.
Megha Vyas-The supermom. You are an epitome of grace, dignity courage and strength.
Mirchi Madam- This is the avtaar that we have all loved and cherished.
Megha Bhatnagar- The name is so soothing. And conjoures up the image of the most beautiful and vintage actress on Indian television. Aakansha Singh - for me , is ' Traditional Indian Beauty ' . Akku- You have brought everlasting sweetness into my life. Here's wishing you your special day brings you all that you have wished for. Wish you a very happy birthday. God bless you. Want to see you casting your magical spell on all of us. And enthralling us with your magnetic screen appeal, and acting chops. Loads of love and best wishes

Hello Aakanksha , Lots of Love to you.
Firstly , i would like to thank you for portraying the role of Megha in Na Bole Tum .. You brought the essence of simplicity and made the monotonous screens lively through your flawless performance throughout the show. I wish you all the good luck for your future projects . May all your dreams come true and may you achieve all your goals . Just stay the way you are , we love you for that .

a very very happy birthday 2 u Aakanksha Singh. May your birthday and everyday be filled with the warmth of sunshine, the happiness of smiles , the sounds of laughter , the feeling of love and the sharing of good cheer.

Happy birthday Aakanksha.Wish u a many many happy returns of the day.May bless u lots of success & achievement yr. U r very pretty girl . tum humesha yu hi muskurati raho.You are also a very superb actress aur hum asha karte ha ki tum hume yu hi entertain karti rhogi.god bless you.


Every Day is likes celebrations. It gives more pleasure & memorable moments. Today is One of that day.its our lovely akku's birthday feeling wowww...
Life dose not provide Warranties & Guarantees. It only provides Possibilities & Opportunities, Don't miss them, Make most of it.
and u utilized it very honestly and superbly...Am ur fan beacause u r present in my heart now a days we all r missing u sooo much...am always thinking about ur new show with kunal..We want u backk at any cost
but toaday is very important 4 all Aakanksha' lovers its her birthday..i will celebrate ur birthday with my family and some freinds..
Aakanksha singh simply beautifull and elegant..luv u sooo much...
Hum app ki yaad main udas hain, Bas app say milnay ki ass hay,...
lastly;
I heartily wish you: A million smiles; A hearty laughter; An eternal joy; And a daily dose of humour! Happy Birthday! May everything you want become a reality, May this day be the happiest day for you! Happy Birthday!
luv u sooo much aakanksha
many best wishes from me and my family...God bless u always ameen..



Dear Aakanksha,
Birthdays are a new start; fresh beginnings, a time to start new endeavors with new goals. Move forward with fresh confidence and courage. You are a special person, may you have an amazing today and year.Happy Birthday to a person that is charming, talented and witty and reminds me a lot of myself.My Birthday wish for you is that you continue to love life and never stop dreaming. May beauty and happiness surround you not only on your special day, but always.Words alone are not enough to express how happy I am you are celebrating another year of your life! My wish for you on your birthday is you are and will always be happy and healthy! Don't every change.Have a wonderful happy, healthy birthday and many more to come. Happy Birthday!
As Megha you became an inspiration,you took a huge risk to play a mother on screen at such a young age and you succeeded.I wish you'll at the best and keep rocking Aakanksha.I just want to say come back soon.
Your biggest fan,
Ariana Grande.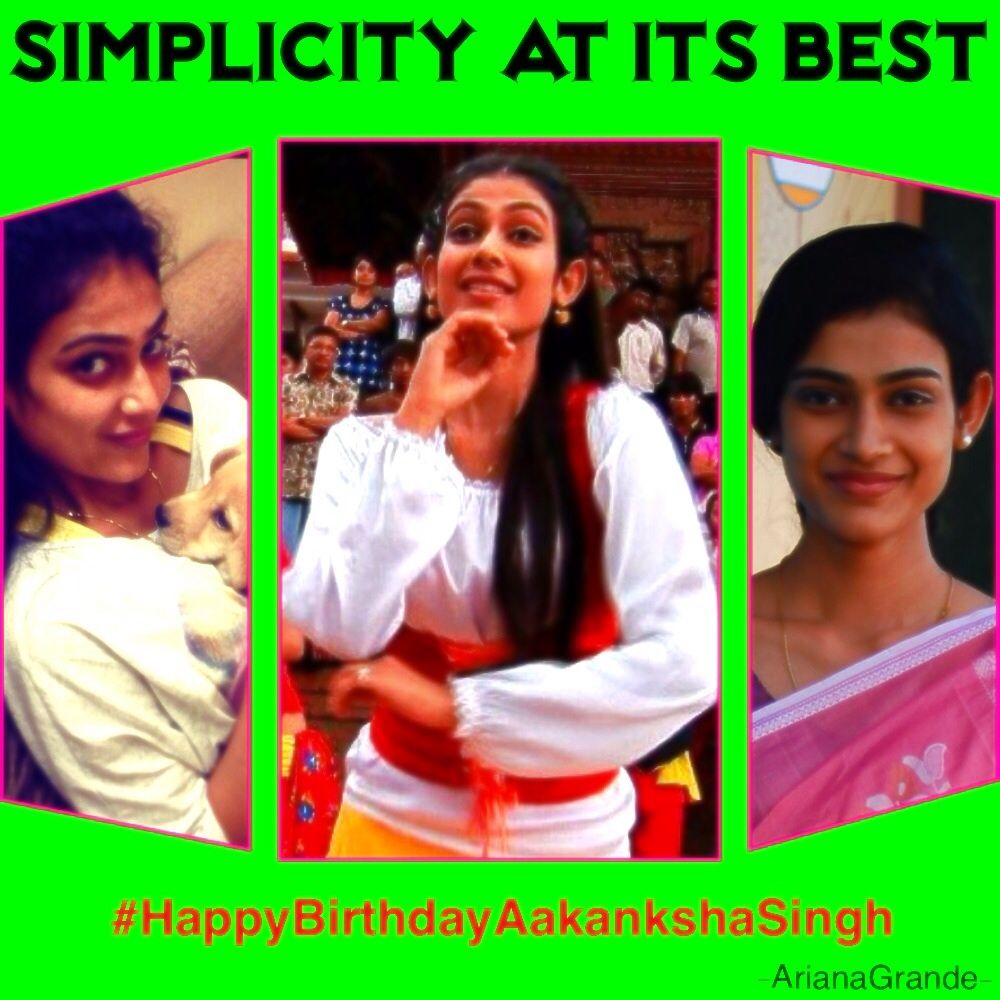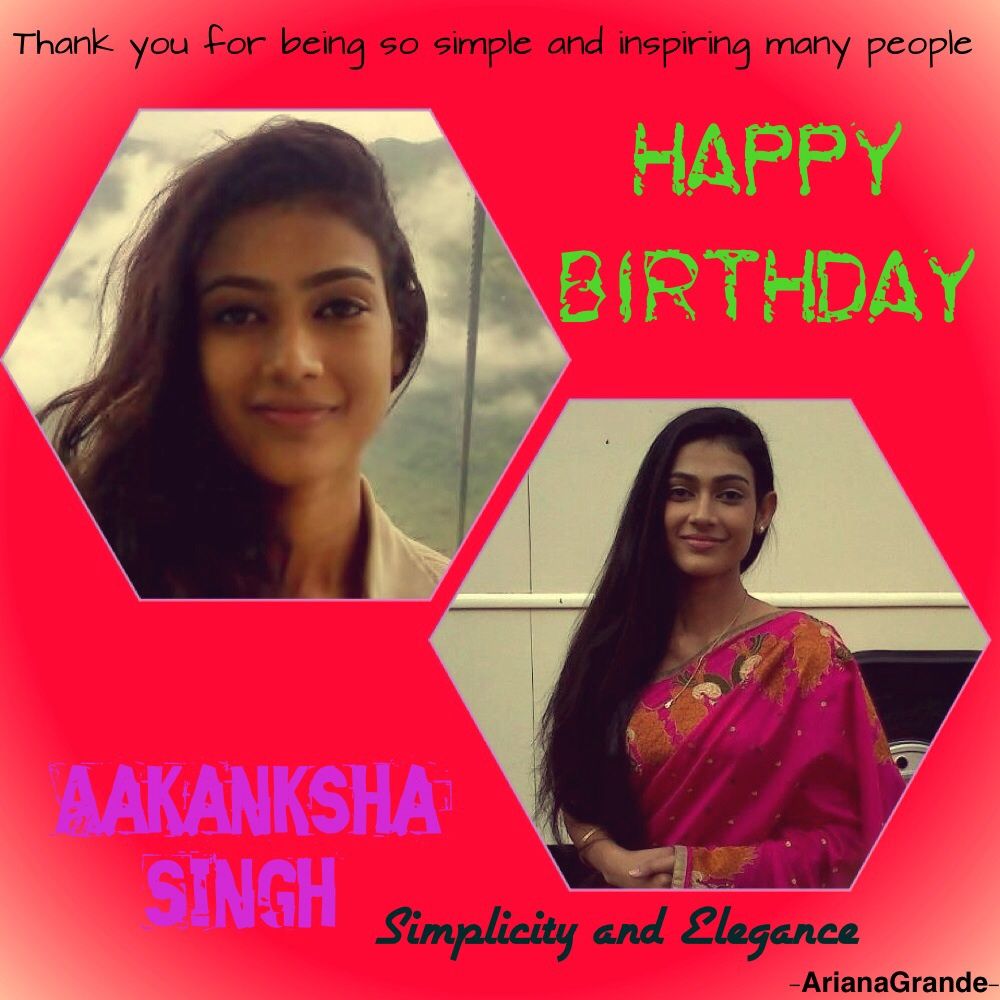 Wishing you very very happy birthday , may you get all the happiness , love you deserve , badly waiting for your rocking come back , please come back soon , lots of love