When Antara was voted out, she sang...
Jeena Yahaan - MP3
Antara was back for the finale, she sang a group Woh Pehli Baar and Saaki Saaki, then Right Here Right Now with Karunya and Meenal!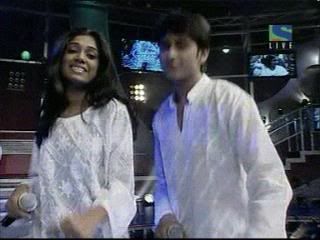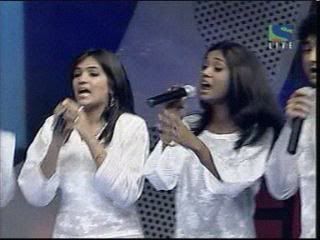 Right Here Right Now - MP3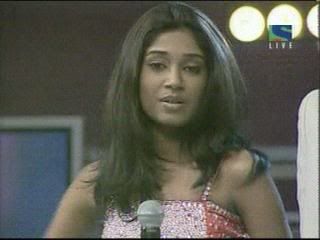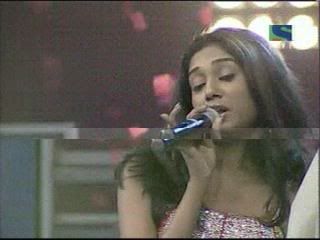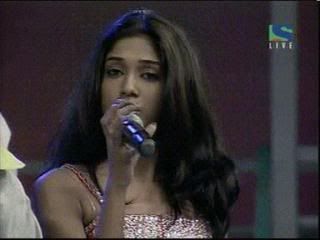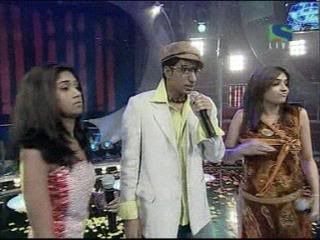 Then Antara sang Jawaani Jaaneman solo...
Jawaani Jaaneman - MP3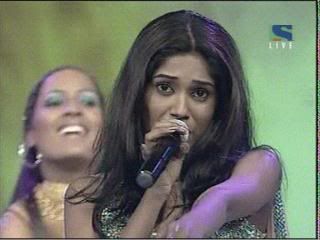 In the II2 concert, Antara sang Woh Pehli Baar, Salaam Namaste, and Saaki Saaki. Antara and the other girls sang Agar Tum Miljao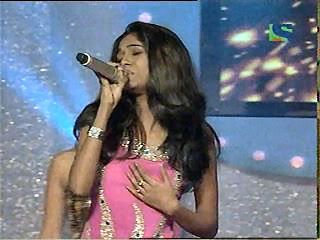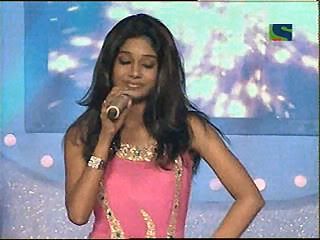 Now, let's see some more of Antara's solo pictures, shall we?
Liked them? Now let's take a look at GROUP pictures!
Wasn't that fun? Now let's read this FC Survey (thanks to Zee for the questions
)



First of all, guess who? It's Sumesh, of course!!

1) What did you think when you first saw Antara?
Her simplicity & style of singing is just attracted me.... She was singing Duma dum mast kalandar...after that she become so emotional when Anu started against her...Though he didnt support her then thankfully sonu & Farha gave her chance...She was like crying & the way she run to towards her parents & all..It was like unforgettable moment for me...Then itself I though thsi gal got something which will make her go TOP....
2) When did you become Antara's fan?
I become her fan in audition round itself while she sung duma dum mast kalandar...I prayed that somehw she come to TOP 28...When I heard her nayee nayee batein then it become pakkka that she will come to TOP 3...Even when she asked abt X factor I feel like she gonna come to TOP 2 like amit sana too...

3) What are your top 3 most favorite of Antara's performances?
Morni bagama & Zarra zaraa is just superb performances..In singingwise though tere bina scores is in third place I liked her Ruki Ruki Rangeelare & Mere hathon mein songs as better performances than that ...Tu rutta tho is a new song for me & that song is the one I sung maximum till now...Bheri piya is also a good performance too..but she could have done better too & I felt she shoudl have selected some other song too like silsila yeh chahat kka from devdaas...

4) What do you like most about Antara?
Ofcourse the confidence & the way she carries herself in stage other than her singing....

5) Do you like her look before or after the makeover?
Ofcourse I like both....But after makeover she become like an angel which is a fact...

7) Describe Antara in 3 words
Confident Stylish & Sureeli

8) What is Antara's greatest strength and her greatest weakness?
Her Confidence & Positive Attitude is her strength..Sometimes she become so emotional which others take in a wrong way...But for me she is just perfect....She is simple & got a lods of stage presence & a sweettttttttttttt voice....

9) What song would you have liked Antara to sing that she didnt sing in Indian Idol 2?
Still I feel her shaadi song was a wrong choice...I would like her to sing Tare hai Baraati song from Virasat for shaadi gala...Since she is comfortable with sunidhi, shreya songs & even sung duma dum mast kalandar & morni with different voice I really felt she could have select Sabkki baratein aayi song too...Bheri piya is also not a good choice as She could have done better if she selected Silsila yeh chahat kka song & am sure she wont ever come to bottom 3 that gala....

10) If Antara was reading your survey, what message would u give her?
She dont need any of my message...Becoz she is mature than her age itself to take good decisions...Her motto in life is B+ too which is cleary seen in her farewell speech..I have only one thing to say is that am just crazy for her & I want her to come with a bang soon.....


1) What did you think when you first saw Antara? She is hot ..
2) When did you become Antara's fan? after i saw her first time she is singin..
3)what are your top 3 most favorite of Antara's performances?
Mere Hatho me No No Churiyan hen
4) What do you like most about Antara? She is Simple..
5) Do you like her look before or after the makeover?both
7) Describe Antara in 3 words .. She is luvly ..
8) What is Antara's greatest strength and her greatest weakness?
donno sorry
9) What song would you have liked Antara to sing that she didnt sing in Indian Idol 2? Mere Haath me Tera Haath ho ( fanaa )
10) If Antara was reading your survey, what message would u give her?U r a gud singer keep strugling ..
1.diamond in the rough...
2.when she sang kaisi paheli
3.a.ruki ruki thi zindagi......b.zara zara behaktha hai.....c.morni baga main...d.bairi piya bada bedardi....(cant decide
)
4.really everything
5.after
7.sweet,talented and gorgeous
8.greatest strength-talent.weekness-emotional
9.chalo tumko le chalen,hum un fizaon main......
10.jhalakh dikhlaja...we are all there for you forever,watching you every step and wishing you all the very best....
1) What did you think when you first saw Antara?
well i first saw her while she was givng her audition nd sony was showing the real life of the IIcontestants where i noticed her & thout wat a girl she is who frm a small town nd i my self cud prayed plss god make dat girl dreams cum true..

2) When did you become Antara's fan?
actually after her audition round i had impressed by her performance nd her voice quality which was luvlyy nd her theater round "kaise pheli" made me a fan of her..nd after dat her piano round hatke confidence perfomance("rangeela") forced me to become a true & great fan of her
...it was an absolutely mind blowing
i was jus like wow to hear dat her swt & melodius voice..apart frm dat her make over had left lot of impression not only 4 me, for all those who belived dat small town girls can do nothing & cannot be look gud..
bt she did it..

3) What are your top 3 most favorite of Antara's performances?
of coz i luved all of her preformances since she is my idol..never get bored to hearing nd watchng her performances
but if ur asking most fav top 3 of her den i wuld like to choose 1 st morni bagama..wow its myy mos fav by her (which has shown her versatility of singing, absolutly an amazing, superb, luvly performance by her)
2ndly..i'll go for Rangeela.. as it was da 1st performance by her which had proved dat she has an unbeliveble talent of singing & made all of us to beleive dat she has a perfect play back voice to become a play back singer..
3rdlyyyy i'll go for zara zara thoug im very fond her ruki ruki as it was totally rocking performance by her

4) What do you like most about Antara?
thr is no doubt dat i like everything abt her as she was a total package with mix of beauty nd brain. but mostly i like abt her is her confidence level as we all kno frm da very begining also she is very confidence nd composed singer which i jus luv abt her..

5) Do you like her look before or after the makeover?
yea i liked her looks b4 make over nd after make over also.. as evry knows she is a very very pretty girl..but make over brought her a new look which made her not less den a rock star..
oops yea as we all kno she has become a pariskii modell...

7) Describe Antara in 3 words
confident, talented & innocent

8) What is Antara's greatest strength and her greatest weakness?
Ummmm her greatest strenght is her confidence level which is very high inspite of being a small town girl she never get hesitated to face the truth unlike other new comers nd dat was da spirit
.. but her weakness point is dat she cries a lot
,.. she is very very emotional..

9) What song would you have liked Antara to sing that she didnt sing in Indian Idol 2?
Ummm it wud be "kaj ra re" from da movie bunty aur bubbly..
coz i jus luv dat song nd wished to hear it form antu

10) If Antara was reading your survey, what message would u give her?
awwwwwwww Antuuuuuu darling i jussssssss luv u as ur a swthrttt nd myyyyy mos fav idol.. so many ppl out thr who r totally fida on u & ur swt & melodius voice .. ..ur fans like me jus want to hear more frm u..soo pls make all of us proud by making something big.. here wishing u all the success in everything u doo..
may god make all of ur dreams cum true
Weren't those answers great? Let's see what's been going on with Antara after II2:
Bappi Lahiri loved Antara's voice She was Lata Mangeshkar's favorite Shreya Ghoshal wished her good luck Was offered contract with Anu Malik but rejected it
Doing many stage shows in Mumbai from April 30 onwards!
Want more of Antara? Let's go through some of the II2 chats!


ipshi.777(Its Antara's cousin) asks hi antara remember me its mona(ipshita mitra). i just wanted to ask u that how did u feel when u were announced the contestant with the highest no. of vote??? anyways tanu didi aamii jaantaam kii tumi highest votes paabe.u sang very well
Celebrity says I was too stunned. I knew I would be among the top three, but I didn;t think I would top. I thought people would vote based on region, and in my village, there would be few people who could afford to vote for me. But I was wrong!

sumeshsnair (Its Sumesh LOL)
asks ANTARA & SAGAR ALL the best....tell me whom do u both think as biggest threat among gals & guys?
Celebrity says Sagar: Karunya Antara: I think everybody could be a threat -- It all depends on who performs well on a particular day.

whiz2kids2002 asks antra what is the real sceret behind your great achivment
Celebrity says My love for music, nothing else! I eat, drink and sleep music. I wanted to become a doctor, but couldn't do that because of financial reasons. From then on, I was determined to make a mark in music.
======================


'I'm not in love with Antara' (Panna out chat)

mona_saini asks ANTRA WHO WOULD U LIKE TO DATE IN GUYS ON THE II2. WHO DO U THINK IS THE HOTTEST?
indianidol says Panna!!!!!! But he's out now


mashy25 asks wen is ur bday antara?n whom among da guys do u like the most??
indianidol says July 10. I think Amey is a very nice and mature person.

asthamathur21 asks Antara who is ypur favourite contestant among all contestants and why??
indianidol says As singers, I like Amey and Karunya. I'm a little confused as to who I like more, but I think Amey brings a little more feel to the song. But then, Karunya is still very young and has a lot of time to catch up.

smartalec asks hi antara, why do u cry so much for other contestants...it seems like a drama...plz do not overact like this..u r here just to sing not show ur acting skills
indianidol says It's just that I get attached to people very easily, and yes, I am a very, very emotional person.

smartalec asks Hi panna, i'm sorry u were voted out dude...now tht u can no longer win this competetion ..who do u think is most desrving candidate to win this year's Indian Idol..????????
indianidol says Antara Mitra

sonaahana asks Hi Antara, Did you always want to be a singer?Who taught you?How did you decide that your career was singing?
indianidol says Yes, I've always wanted to be a singer. My father is a music teacher and I learnt the basic Saregampa from him. When I was 10, I went to learn classical music from Shobana Mukherjee. Mine is a music-oriented family. Music has always been part of our life. Papa thought I was quite good at music, and told me to consider music as a career.

sonyaee asks Antara, who is your favorite singer and why?
indianidol says Ashaji. Because she's the most versatile female singer in India. She's perfect and she's my inspiration.


sonyaee asks antara, why only two girls left in II2? Do you think viewers prefer male contestants and why?
indianidol says Yes, they do. More women watch Indian Idol. When I watched idol 1, I always voted for Rahul Vaidya and Amit Sanaa, but barely voted for Prajakta or Aditi. Women watch more TV, vote more and tend to vote for male contestants

monamine asks Antara: since Minni asked Meenal who is the hottest guy among Indian idol contestant n didnt ask u I want to ask you that same question
indianidol says Panna!!!

========================


Amey has no time for a Valentine bash!(Monali out chat)

deepeshgarg_eca asks hi meenal congrats u safe i have voted for u i want to ask u that u think a girl cant make indian idol
idol says Surely, why not? It's true that in the last three weeks, girls have been getting voted out. But I think Antara and I can give a good fight to the guys.

========================


'Meenal is just a good friend' (Amey Ravi chat)

Megha_Amey asks hi ravi, itz sad that once u sang really well and got voted out, my question for u is, now that u are out..who do u think is the most deserving for the 4 males and 2 females for the idol title?
celebrity says Amey Date! Among girls, I think both Meenal and Antara are equally good.

sonyaee asks Hi Amey, how are you? If you could sing a song sung by another II2 contestant, which one would it be and why? Thanks!
celebrity says I'd like to sing Tere Bina, which Antara sang in the Retro Round. I love that Lataji song, and had I been a girl, I would have sung that!


=========================
Antara Karunya chat(After Antara out)


madhy asks antara..who is ur fav judge aomong the indian idol judges?
karunya says It has to be Sonuji... he is always so straightforward with the singers about their performance.

sandy.sharmaa asks hi antra i think this tym ur exit was obvious coz last tym u said indias janta should vote wid brains.... that was so rude.... these people gave u so much love and respect and so really hurt us... so thats y u r out today.... my advice for u is next ti
karunya says I did not mean that they should vote with their brains. It just came out that way. What I meant was that they should listen to the singing and then vote, and not based on the overall performance. Because sometimes a contestant may sing very well, but their stage performance may not be up to the mark.

smartalec_06 asks Hi antara, what was your best and worst moment on Indian Idol???
karunya says My best moment was when I was selected in the Top 28. And my worst moment was when I lost my voice for a while and could not practise.

sp_iniocl asks ANTARA JI, HERE IS SAPNA AGAIN WANT TO ASK U THAT WHAT IS YOUR AIM IN LIFE AND WHAT WILL U DO FOR IT. AND PLEASE SAY SOME WORDS TO YOUR FANS ABOUT THE WAY OF LIVING LIFE.

karunya says Hi Sapna. My aim in life is to be a really good singer and I will try very hard to make my dreams come true. I say that everyone should be confident in themselves.

smartalec_06 asks Hell Antara, U came from a small village how did you find life in Mumbai??
karunya says It was very good. In my village, life comes to a halt by 9 pm. But in Mumbai things start only then. There is pace and movement in Mumbai life and I love that.

deepa1021 asks Antara, what are your future plans?
karunya says I want to sing, sing, sing... be it playback or for albums.

gorgeousgal_1 asks antra whats ur moto in life??
karunya says My motto in life is just like my blood group: B+

smartalec_06 asks Hi Antara, you are a very beautiful girl would you like to work in movies if you are given a chance??
karunya says Yesh, of course I would like to. :) But I should get a good offer, a good role.

sonyaee asks Hi Antara, which Bollywood actress would you like to playback sing for?
karunya says I would like to sing for Kajol, Ash, Preity and Rani.

sonyaee asks ~~~Antara, We Ur Fans want to See u Win a FilmFare Award in Upcoming Future and We know u can Do it!! , Ur Bestest Fans Karishma N Sumesh~~~
karunya says Singing is my life and I will work hard to achieve my dreams. Thank you for your confidence in me. :)

smartalec_06 asks Hi Antara...i'm anjali frm and my friend karishma from US who is one of your biggest fan wants to know which contestant on Indian Idol are you closest with? Name one?
karunya says Hi Anjali, I closest to Neha, Panna, Karunya and Meenal
Want even more of Antara? Check out these links!




http://www.antaramitra.com
Antara's official forum
http://en.wikipedia.org/wiki/Antara_Mitra
http://today.answers.com/topic/antara-mitra


ANTARA FAN CLUB #1 :
http://www.india-forums.com/forum_posts.asp?TID=162016
ANTARA FAN CLUB #2 :
http://www.india-forums.com/forum_posts.asp?TID=255043
ANTARA FAN CLUB #3 :

">http://www.india-forums.com/forum_posts.asp?TID=288415
ANTARA FAN CLUB #4 :

http://www.india-forums.com/forum_posts.asp?TID=301453
ANTARA FAN CLUB #5 :

http://www.india-forums.com/forum_posts.asp?TID=314002
ANTARA FAN CLUB #6 :

">http://www.india-forums.com/forum_posts.asp?TID=323728
ANTARA FAN CLUB #7 :

http://www.india-forums.com/forum_posts.asp?TID=336843">http://www.india-forums.com/forum_posts.asp?TID=336843
ANTARA FAN CLUB #8 :

http://www.india-forums.com/forum_posts.asp?TID=347874">http://www.india-forums.com/forum_posts.asp?TID=347874
ANTARA FAN CLUB #9 :

http://www.india-forums.com/forum_posts.asp?TID=356067">http://www.india-forums.com/forum_posts.asp?TID=356067
ANTARA FAN CLUB #10 :

http://www.india-forums.com/forum_posts.asp?TID=358503">http://www.india-forums.com/forum_posts.asp?TID=358503
ANTARA FAN CLUB #11 :

http://www.india-forums.com/forum_posts.asp?TID=369405">http://www.india-forums.com/forum_posts.asp?TID=369405
ANTARA FAN CLUB #12 :
http://www.india-forums.com/forum_posts.asp?TID=382048">http://www.india-forums.com/forum_posts.asp?TID=382048
ANTARA FAN CLUB #13 :
http://www.india-forums.com/forum_posts.asp?TID=392544">http://www.india-forums.com/forum_posts.asp?TID=392544
ANTARA Celebrity FAN CLUB :

http://www.india-forums.com/forum_posts.asp?TID=261807">http://www.india-forums.com/forum_posts.asp?TID=261807


If that wasn't enough Antara fun for you, check out these tributes!


A TRIBUTE TO ANTARA MITRA VIDEO:

http://www.badongo.com/vid.php?file=A+Tribute+To+Antara+Mira +__2006-03-11_Project1.wmv&d=1
ANTARA MITRA SLIDE SHOW:
http://img93.imageshack.us/slideshow/player.php?id=img93%2F2 281%2F1142322573tf9.smil