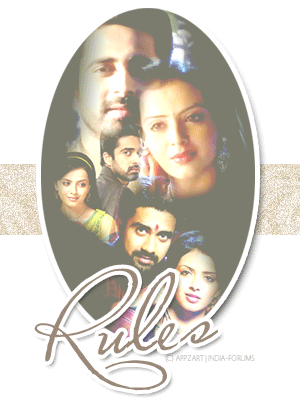 [CENTER]


[CENTER][SIZE=4]Rules and Regulations for all Appreciation
Threads in the IPKKND-EBP Forum
Hello IPKKND-EBPians,
Dedicated Appreciation threads (ATs) for
an actor/actress/couple of the show will
be subject to specific rules here
onwards. These rules will apply to all
current ATs in the forum and any new
ATs created in the future.
Rules:
[Credit for Rules: -Deepzz- /jyoti06 - Zee
Tv Forums]
1. The word "Appreciate" in itself means to
have a highly favorable opinion of
someone or something. You are supposed
to appraise the value of the work of the
actors and express them in positive light.
A thread where all the fans of the Actor/
Character/Couple gather to discuss what
they liked.
2. In an essence Constructive criticism/
Positive Outlook towards Actors/
Characters/Jodi must prevail in these
threads.
3. Members must understand discussions
are restricted in ATs. ATs are safe zones
for the Actor/Jodi fans to exchange
information without being subject to
negativity. You have the main forum to
present opinions which calls for
discussions and debates. All discussions
related to actor's performance, looks,
style and personality can be confined to
ATs and keep the discussion of story
tracks to a minimum, when they do not
directly relate to the actor/character of
this AT , in particular when they imply
stating negative opinions. However we
do allow minimum chatting in ATs,
provided it is related to this AT alone.
4. Please refrain from bringing and
discussing other general topics of the
forum into the AT.
5. Please refrain from any negative/
bashful/insulting comments against any
actor/jodi/characters. If members of an
AT are caught discussing other actors/
couples negatively, then AT will be held
liable for it and may be subject to
warnings & eventual closure/Ban as
follows.
6. Admins/Monitors of the AT (Those who
are opening the AT will be called the
Admins/Monitors) will report the
troublemakers or problematic members
of the AT to the DT in a timely manner,
so that the AT/other genuine fans are not
penalized. Here the Admins have a big
responsibility and so we believe them to
be totally unbiased as the whole
responsibility of a AT is on them.
Lastly - When an AT reaches 150 pages,
hit the report button and add this "AT
reached 150 Pages", the DT will close it as
we can not have two ATs open at the
same time.
Admins of the CC - One member of the AT
along with the IPKKND-EBP
DT ( minuu and munnihyderabad )- When
the AT is about to end, please wait until
one of the AT admins create the next. If
the assigned admin for a certain AT isn't
around, drop in a quick PM to one of the
Dev Team members (minuu or
munnihyderabad) to open the next AT,
any other ATs which are made by any
other members will be closed without
further notice
If the DT sees more than 3 people
breaking the AT rules constantly for a
week, the effects of violations will kick
start, which go as follows:
First Violation - Warning Note
2nd - Another Warning Note
3rd - Another Warning Note
4th - Close the AT for 24 hrs (1 Day)
5th - Close AT for 72 hrs (3 Days)
6th - Close AT for 1 week (7 Days)
7th - Get rid of AT completely from the
IPKKND-EBP Forum/Shift it to Celebrity
Fan Club Forum
Having said that, please do not assume
that every report submitted by opposite
fan group will be entertained. We will go
through the reports and only if we find
the report valid based on above rules,
then we will speak to the Admins of the
AT and action will be taken accordingly
as stated above.
List of Current ATs in the Forum:
1. Avinash Sachdev [Shlok] AT
2. Shrenu Parikh [Astha] AT
3.Shlok & Astha [Avinash & Shrenu] Jodi AT
NOTE: All AT admins are required to post a
link to this rules thread in each of their
appreciation threads for members to be
aware of the rules at all times.
If anyone has any questions/queries/
concerns regarding the AT Rules
imposed in the forum, feel free to PM me
one of the IPKKND-EBP DT members,
either myself asharkibiwi or Munni
(munnihyderabad ).</font>

Regards,



Edited by Asharkibiwi - 26 May 2014 at 12:56am