Tanya
Happpyyy Happyyy Birthdayyy Owwl Ooppsss Sanjooo
I hope you have a great day and a great year ahead full of all the success and happiness in the world...may god bless you with all that you have ever desired and may all your dreams come true...may you get more than you have wished.
It's been almost a yr we met in DD AT n m lucky to met you there But It's coz of JDJ i got to know you more
You been an awesome, Trustworthy, Lovely and really Understanding friend anyone will love to have. Thanks for being there whenever i needed you n jhelofying my mood swings
It's been gr8 to know you, just be the way you are always
Once again Wish you a Verryyy Happy Wala Birthdayyy OWL
Have a fabulous day ahead Love you *Hugsss *
Trisha
Meri certifified ullu...
remember kuch din phele FB i told u i will take revenge of all the "Phut(s)" "Hurr(s)" "chuuu(s)"u do to me on status...le leliya revengewa... now everyone knows u are a ULLU...
i know u want kill all of us right now
... but murder karne se phele n jail jane se phele... happy wala birthday toh wish karne de meri ullu...
"Happy Birthday Ullu... i mean Sanju"
tu meri one of best IF kamini friend hai...
bas aur nhi likhna... m feeling lazy...
have a blast today... enjoy like hell...
hmmm oh haan... yeh birthday thread will be opened late at night...
i will be in deep sleep
... so official wala wish will be done subha ko...
Happy Birthday Once Again!!!!!!!
Aishwarya
Happy birthday Sanju. Have a rocking day and an awesome year ahead. Have a party, dance hard, go crazy. Enjoy life, be happy and continue to give me great advices and thanks for accepting my friend request happy birthday sweets

Rimsha
Thinking of you with love on your birthday and wishing you everything that brings you happiness today and always...Birthdays come and go each year,Today is yours, so don't you fear.Conversations fill the air,I have joined you since i care..."My heart for you will never break. My smile for you will never fade. My love for you will never end. love you baby. MuahhhZ...
Sona
Sanjana, one of the most sensible, mature and balanced people I have met on India forums. When ever I feel overwhelmed about anything related to ifey I came to you to put me back in my senses. You are always trutheful and honest in the most sincere way which is one quality I absolutely adore about you. I have come to trust your sense of judgement more than my own. You never fail to give me apt advice regarding any matter. Happy Birthday, wishing you loads of success and happiness!
Tamu
Wishing my friend a beautiful day Hopes and dreams I'm sending your way May all be good and all come true On this very special day for you!
I have three wishes for you on your birthday. First, I wish that you have a day that you'll remember forever with a smile. And second, I wish that such days keep coming in every single day.And third I hope you will give some rest to your owl wala eyes.
Deepa
Happy birthday sanju Have a great day, u been a lovely, loyal friend, God bless you, enjoy your day, be happy
May your birthday and every day be filled with the warmth of sunshine, the happiness of smiles, the sounds of laughter, the feeling of love and the sharing of good cheer.


Asha


We met by chance in DDAT a year back ,it was by my luck we became friends,best friends and now a bestest friend who can I share anything even it personal ,I can fight,I can crib.Thank you for all the small and big help which you done for me...proud to be your friend
, You are an amazing person with straight forward nature. May God give you all his love and warmth in every step of yours.
Wishing you a very Happy Birthday
God bless you
Neha
On your birthday may all that you asked from God be granted to you hundred fold! Happy Birthday to my sweetest friend Sanju. Always keep smiling the way you do! Have an amazing day and an even more special year ahead. May God Bless you.

Arti

Another year gone Sanju aka Owl? Don't worry
you are only one day older than
yesterday. So chill... have fun
and have a great birthday.
Ok ok Serious wala wishes for you
May ALLAH give u lots
of such joys &
happy moments.
May U live long &
live happy. May worries,
thoughts,angers &
bad lucks remain
away 4m u.
I wish u good luck.
A nice & lovely life 2
come. Bright &
joyful future & all
the goods that U
can ever wish or think off.
I wish, may ur dreams come true
& all sad
thoughts off.
AMEEN.

RU
T
oday is the birthday of one of the people whom I love and admire the most
My love for you, I wish to extend.
Experiences filled, with joy and laughter,
Special memories, I shall recall after.
From the beginning, you made me smile,
Accepted me, without any trial.
Never judged or jumped to conclusions,
Exciting friendship; random infusions.
I cannot ask, for anything more,
So many things, I simply adore.
Hope this birthday never ends,
In my heart, time transcends.
Happy Birthday...''BF/Sajan/Kamini Sanju ''
I just want you to get all happiness in life, because you deserves it.
wishing you a wonderful, super duper, zabardast, extra bariya, extra special ekdum mast ndhinchak bole to ekdum jhakaas,
Big Tigh
t Hugs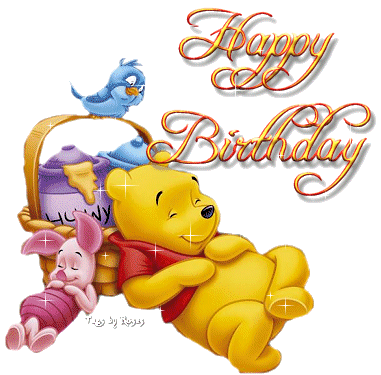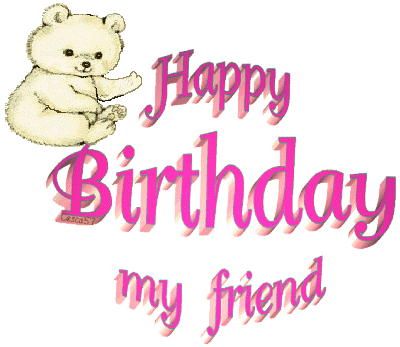 -------------___________-----------
Now Gifts
------------_____________----------------
________--------------________
------------------______________------------------
Dedicating you my fav Poem
*************
You're my honeybunch, sugar plum
Pumpy-umpy-umpkin
You're my sweetie pie
You're my cuppycake, gumdrop
Snoogums, boogums, you're
The apple of my eye
And I love you so
And I want you to know
That I'm always be right here
And I want to sing
Sweet songs to you
Because you are so dear...
____________---------------------------------____________


Mannu


Phoolon ne Amrit ka jaam bheja hai,
Sooraj ne gagan se Salam bheja hai,Mubarak ho Aapko Naya Janam Din,
Tahe-Dil se Humne ye Paigaam bheja hai !
HAPPY BIRTHDAY, SANJANA
Reni
Dear Sanju,
I suck at writing and dont think I am very expressive so I apologize in advance for this crappy birthday message... But this message comes straight from the bottom of my heart... so bear with my short and simple birthday wish
Sanju, I am glad I have come across you. You have been a true friend to me and I cherish the friendship we share. On this special day of your birthday would like to let you know that you are very special to me and I love you a lot.
I know we met because of DD and became friends coz of her but we will remain friends for life. Please don't ever change coz I love you just the way you are. Happy Birthday Sanju... Love you baby...Have a blast :)

Loads of love and good wishes
Reni