Happy birth day Sumit...God bless u...
Celebrate the best-ever birthday today, but don't forget to celebrate each and every
day, along with the happiness that each day brings.
You are a man of many talents
you could draw anyone with ease
you created and the end result
was a gift so sure to please
One and half year of fun times
I can not believe they now are gone
I miss you more than words can say
I miss your smile I miss your way
a heart of gold beneath the haze
I hope you know how thankful
I was to have you on my TV
I waited another 365 days, just to say...HAPPY Birthday Sumit !!!!
May your birthday and every day be filled with the warmth of sunshine, the happiness of smiles, the sounds of laughter, the feeling of love and the sharing of good cheer.
Here are some shayari's
Dil Ki Dhadkan Ko Dhadka Gaya Koi
Mere Khawabon Ko Mehka Gaya Koi
Hum Tu Anjanay Raston Pay Chal Rahay Thay
Achanak Hi Pyaar Ka Matlab Seekha Gaya Koi...
Zindagi Ne Kai Sawalat Badal Dale,
Waqt Ne Mere Haalaat Badal Dale,
Main to Aaj bi wahi hun Jo mai kal tha,
Bas mere liye apno ne Apne Khyalat badal dale..
Hea are sm msgs:
Pure heart people have a wonderful smile...That makes even his enemy to feel guilty for being his enemy...So catch the world with your smile...
Good looks catches the eyes but good character catches the heart...
You are blessed with both...
Don't let the world change your smile..Change the world with your smile...
Life journey starts with full bag of LUCK and an empty bag of EXPERIENCE, Goal is to fill the bag of EXPERIENCE before the bag of LUCK gets empty...
3 very very simple tips to play safe in the game of Life..
Don't make promises when you are Happy..
Don't reply when you are Angry..
Don't decide when you are sad...
Success is our own shadow... Don't try to catch it, Walk your own way & it will follow you... Remember, Shadow follows you only wen you walk towards light...
Love u alot SV...
A very happy birthday to you ...have awesome day full of love , masti and joy ..
God Bless you with many more success n good health ..Tina ( Nana101)
Tum jiyo hajaro sal, sal ke din ho pachad hajar
Jeevet shardaha shatam
mrs. Nutan Pathak
I wish you luck, happiness and riches today, tomorrow and beyond.
As you look back on yesterday, may your memories be warm ones. As you celebrate today, may your heart be filled with happiness and joy. As you look ahead to tomorrow, may your deepest hopes and dreams come true for you!
I wish you to celebrate all the wonderful things that make you so special, not just on your special day, but on every day of the year!
I wish that for every extra candle on your cake, you receive an extra reason to smile. Happy Birthday to you!
Wishing you happiness
To welcome each morning,
Wishing you laughter
To make your heart sing.
Wishing you friendship
Sharing and caring,
And all of the joy
The birthday can bring!
There couldn't be a better day
To take a chance to say,
That you are wished a joy and luck-
Be happy everyday.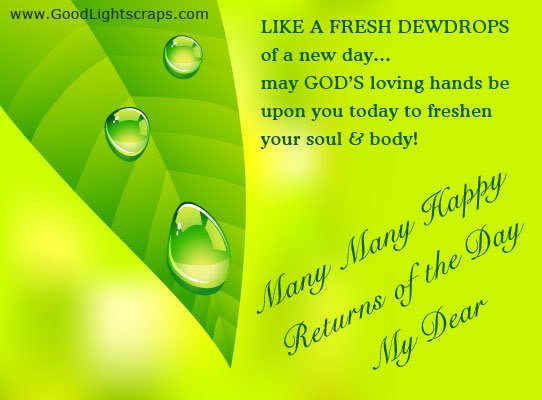 Happy birthday!! Wishing you a wonderful year ahead!
all your birthday wishes and dreams come true.
happy b'dayy sumit
God bless u...pls come back soon
all the best