[THIS IS A MEMBERS ONLY POST]
The Author of this post have chosen to restrict the content of this Post to members only.
[NOCOPY]
COPYRIGHTED WORK
I DON'T ALLOW ANYBODY TO COPY MY WORK, AFTER THEIR SECOND WEDDING BELONGS TO ME. I DO NOT GIVE MY PERMISSION FOR ANYBODY TO COPY AND PASTE MY WORK ANYWHERE. ALL RIGHTS ARE RESERVED BY THE AUTOR ALONE SO THINK BEFORE YOU STEAL MY WORK BECAUSE THIS WILL HAVE LEGAL CONSEQUENCES FOR YOU AND I BRING YOU TO COURT.
Arnav: black
Khushi: red
Krani: green
Hira: blue
Chapter 53 ( THE NEW BEGINNING ) part 2
After a while when both were able to speak Khushi remember what she wanted to ask and while they hugged all sweaty from love making she decided to ask...emm...the name outside the room...hmmm?...I mean why is your name on the door?...you mean Singh Raizada?...yes...well it's because this is our very private room and whenever we are here in Lucknow we will be here...she moved her head up...sorry, what?...what do you mean with this?...she saw in his eyes that he didn't want to talk about this but she didn't want to give up...tell me, Arnavji...he put this bold face on and spoke...only if you call me Arnav from now on...she became shy...are you blushing?...nnnooo...yes, of course you are...
I can't call you this in front of others...ok, then how about...you call me Arnav whenever we are alone...she nodded slow...ok, so I need to answer now this question I think...well, this hotel belong to me...but last time there wasn't a name on the door...it's because I buy it before we went to Delhi...but why?...well this room has special meaning for me...this is the place where I first had you...the place where I spent my first night with you after more than one year...both became silent for some time, deep in memories...I came to you for money...shhh...don't drag this night into something dirty, Khushi...in this night I became my love back...it was never about money...and I know for you it wasn't too all about money...and we spent our first night with Aarav here...he looked around while Khushi placed her chin on his chest...
I didn't want that someone else enter this room after we left...there was a time where I thought...I thought...she saw desperation in his eyes and he stopped to talk...this is our room and will stay forever...he touched her back with his fingertips...I am going to get Aarav...you can order food for us, ok?...but do you need to drive to Viraf?...I can come with you...oh, no...he is going to bring him here...and then drive again away...he has some urgent work to do...he say this ironical...both laugh...ok...come we need to shower again Arnavji...what?...we are sweaty...I mean how did you just call me...he kissed her hungry...I mean Arnav...she smiles on his lips saying his name in the way he wanted to hear.
After nearly eight hours traveling with train and time in bed with her husband, Khushi feel totally powerless but deep satisfied and happy. She waited that Arnav come up with Aarav so that they enjoy the dinner together and sleep. She was so happy when he entered the room and gave her Aarav in her arms. They enjoyed the dinner together as small family listening to Aarav's baby talk. Both analyze every movement, every reaction and even every noise Aarav gave from him and discuss which of his features what from whom.
Arnav decided that Aarav got his sweetness from Khushi and he talked a lot, just like her. Khushi found Aarav has definitely his temper from Arnav. Arnav found Aarav has his crazy ideas like fart into Sheetals hand from Khushi, which brought Khushi's old temper out because she never farted in someone's hand. Arnav burst out by her passionate speech and Khushi followed him few seconds later her face red by the embarrassment. It was one beautiful night and nothing like the last night they spent here in this room.
The small family snuggled together, and spent their night happy like never before feeling complete.
The next day came fast and Viraf and Anjali came for breakfast to hotel. Anjali was formally glowing in the moment she greeted her brother and Arnav looked at her with his scanned eyes. They took Aarav again with them and Arnav kissed Khushi immediately they left...where are they going?...I think to Viraf's house...I thought Di is here too...I mean she is here in hotel...yeah, actually she should be...but I think they are often in his house or he is here with her...you know...Khushi's eyes widen light...I mean, you know that they...that they...she played nervous with her sari...yeah I know...and you are not angry?...he pulled her into his arms..
Actually...no...but why?...I mean...this is Di...yeah she is and she is grown up, or?...but you are her brother...he grinned...yes I am...and your husband...Khushi looked irritated to him and try to find out if he hide something from her but his eyes were totally honest...ok, ok...I see my wife need explanation...I can tell you just so much...I trust him...he proved this already...and I know Anjali and Aarav are safe with him...but how?...he placed his finger on her lips...and now make yourself ready for one small trip...she wanted to say more but he kissed her tender and extremely careful. He show her his full love...you want to know one more reason why I am not this tempered overprotective brother, Mrs. Singh Raizada?...do you want to know my personal theory about this?...she opened her eyes and looked up into his...I think it's my wife and our extreme hot lovemaking...it is so bombastic that I feel totally calm, satisfied and this warm feeling of love for this special person named Khushi Singh Raizada widespread inside my heart and let me forget everything around...
One hour later they reached the house of Krani and Hira. Khushi was totally surprised but the two precious friends waited already for her outside and didn't let her ask him any question which run through her head. They spent few hours together with them and Arnav use this time also to listen carefully about their memories and past together. It was one good possibility for him to assemble things which he knows from Khushi and from Krani and Hira together.
In the moment they wanted to leave, Krani pulled Khushi into her bedroom and spoke to her whispering...Khushi...are you ok?...Khushi smiled...yes, Krani...you don't need to worry...Krani breathed relieved out...good...if you have anything to say...just tell...you know we are there for you...Khushi sprung formally into her arms and hugged her firm...I know...and I thank Devi Meiya every day for you and Hira...don't worry Krani...I am very happy...
Outside the bedroom Hira stood with Arnav alone and this brought memories back to Arnav...so you married her, haan?...emmm...yes...you was there, remember...yes, I was there...your luck she was smiling from one ear to other...Arnav grinned...yeah, I try daily to keep her smiling like on our wedding...Hira grinned. She grinned and Arnav saw it...just keep working, Raizada...sure...both look around and waited that Khushi and Krani come again outside and when Arnav thought the silence became embarrassing, Hira spoke...my sister became one amazing offer...I think that's great...yeah, her story Arranged Marriage is going to be published soon...and this worldwide...he nodded...I am impressed...congratulation...Hira smiles and shook her head.
Thank you...her voice was so silent but he could heart it...you don't need to thank me...Khushi wanted to see you guys too...you belong formally to our family...no, I don't thank you for this...I thank you for my sister...she have no idea...but I know that this is your work...so thanx...Arnav grinned again and fixed his eyes on the door, waiting for his wife to come out and stay absolutely mum. No, you're welcome or something else left his mouth. Just silence. But her next words broke it again...but this doesn't change anything, buddy...I am still going to kill you if you hurt Khushi again...
Arnav and Khushi drove to the next place and Khushi open her mouth in one perfect O when they reached the hospital where she was so often. This time it was different she knows. Aarav wasn't inside, waiting that they investigate him or for her to come from Arnav. She walked step to step, feeling Arnav's hands on her upper arm and was happy that he supported her in this moment.
All bad memories came back and she wanted to turn around and walk away. Just as far as she could but Arnav pull her into his hug and kiss her hair...it's ok...I am here...she pressed her head into his neck holding herself on his collar...why are we here?...he touched her back and soothe her with his warm fingers...shhh...it's ok...I am here...come...he didn't answer her question, just pull her behind him inside the building and through the corridors.
He didn't stop till they reached the room 126 and took one key out of his pocket to open the door while Khushi read the name which stood under the room number.
AARAV SINGH RAIZADA
PRIVATE
She saw to him but he couldn't see her shocked face because she stood behind him. The door was finally open and she followed him inside. Everything was same and even the same bed stood still there. Khushi walked to bed and touched the written letters of her son on it...what is this, Arnavji?...why is Aarav's name still here?...he was silent and somehow far away, deep in his thoughts. He didn't look at her nor even answered her question. He walked to her and pulled her behind him to one other room. They walked through few corridors till they reached one other room which Khushi recognized as Mrs. Malhotra's office.
Again he used the key to open the door and walked in but just when he wanted to close the door behind them it was Mrs. Malhotra who spoke behind them...oh, Mr. Singh Raizada...he opened the door so that she can come inside. She saw Khushi...Khushi, nice to see you again...her head turn from Khushi to Arnav...I am very happy to see you again...how is Aarav?...he is fine, Mrs. Malhotra...good, your husband keep me current about his health...Khushi saw again surprised to Arnav. She realized that there was so much what she doesn't know about him and thousand questions formed inside her head while she heard them speaking.
Sentences like...thanx for money...for new equipment...free treatment for all women and children...free obstetrics for all women...she closed her eyes and waited that they finish. She was surprised to hear that Arnav have close and intensive contact to Mrs. Malhotra and knows detailed what all happened in this hospital. As Khushi understood, this place wasn't only hospital anymore but one center for woman and children where everyone who need, get free treatment.
Her heart swelled by the realization what her husband afforded and she couldn't wait to talk about this with him and as her Devi Meiya listen to her wishes Mrs. Malhotra left the office soon joking that Arnav can destroy this room again if he wanted because this room is his personal office from now on.
Khushi look to him surprised...what did she just say?...he was silent...Arnavji?...why did she say this?...emmm...he looked around and refuse to look into her eyes for a while but then walk to her and took her hand in his to lead her to the next wall in the room and pinned her there...do you remember how I asked you last time on this wall when we stood, if Aarav was my son?...Khushi nodded feeling that this conversation means a lot to him...I forgot to say something to you in the moment you told me he is my son...he cupped her face...I reacted totally wrong, I know...it's time to replace this memory...he leaned down nearer to her...thank you...thank you for our son...for love you gave me...thank you for allowing me to touch you and make our own wonder names Aarav...thank you for...thank you for everything...he leaned his forehead on hers...I love you...
They stood there for a while. Khushi having tears of happiness in her eyes, hearing finally this words from him and Arnav overwhelmed by his own feelings and being able to spoke them out what he usual can't do. He knows this was important and he need to forget his usual behavior playing cold whole time. Both knows this is the way everything should happen, this is the way he should react when he find out about Aarav and he did everything to replace his bad reaction. They kissed, she pinned by him on the same wall they stood last time. He placed his palm on the same wall he hit last time with his fist to support himself and pressed her more between him and this special wall.
One hour later they left the center and she finally manage to ask him whatever she wanted to know while he drive through full Lucknow streets...tell me about hospital...how does it come you have one office there?...he waited few seconds and then answer...I buy it...what?...the word broke out from her...when?...how?...why?...I buy it last time I was here...you know this one week...she nodded...room 126...it's the place I found out about Aarav for the very first time...Mrs. Malhotras office...the place I find out from you he is our son...she nodded again and ask...but why buying?...I mean...as I understood...it's now a center...free treatment...why and who pay this?...me...
I mean we...we both...he took her hand in his and place one kiss on it while his face look to front...no woman should go through same situation like you...and every child should be threated without problems and without one desperate mother who need to sell herself for their treatment...she feels tears running down her cheeks. She understood now everything and the proud on her husband was enormous. Even he doesn't talk a lot about his feelings she knows now how big his heart was. Once she admired his care for his Di and wondered how cruel he could be to her at the same time, but what he did right now show him in different light. The care which she wished so much once she saw him with his Di was finally given by him and this brought tears into her eyes. She took his hand up which held her own and place one kiss on the back of it. He saw to her and both looked at each other for few seconds which seemed like eternity.
And then he halted and Khushi moved her eyes to front just to be surprised again. They were in the same street where she lived at last. The small building with few flats was still on the same place and it seems like the time stopped since she left. It was late afternoon and workers walked back to their homes from hard working day. Wife's prepared dinner for entire family and kids play on the streets waiting for the moment dinner was ready.
Few weeks ago she was one part of this all, one part of this community and she realized how lonely she actually was. Well Ishitaji was always there for her but she still had her own family and friends while Khushi tried hard to keep anonym to protect her and Aarav from Shiyam. Shiyam! What happened to Shiyam? She noticed that she still have no idea even she asked Arnavji few times but he refused to talk about him. His only statement was that she doesn't need to worry about him ever again. And that's it. He never talked about him anymore. It was like Shiyam was somewhere far away. Farer than any bad dream or memory. He was simply obliterated and Khushi couldn't deny the feeling of being relieved about this.
They leave the car and walk hand in hand slowly to the flat. Khushi saw her few familiar faces and greeted them. She remembered how some of them try to build friendly relation to her but she held as much as she could back and lived her life quite lonely and now she feel this light feeling without any fear inside, Shiyam could find her, so she spoke with few of them for the very first time since she lived here but the weird part of this all is that they even spoke to Arnav, knowing his full name and even that she was his wife. As much Khushi was again curious and surprised she didn't get any chance to ask again because Ishitaji open her door and cried in excitement to see Khushi here.
It was one beautiful afternoon full of funny talk and memories. Ishitaji was like one mother to Khushi and show this whole time by hugging her, making her favorite food and pamper her like only one mother could do with her daughter. Khushi remarked that Ishitaji didn't look like before to Arnav and she remarked enormous changes in behavior towards her husband. In fact she behave to him like she behaved to Khushi and this feels simply good but the moment she was speechless, absolutely speechless was when Ishitaji thanked Arnav again and again.
All Khushi could understand was that Arnav helped her in something and Khushi was more than curious to find out why. She only had the chance when they entered her old flat and she looked around just to find everything like it was when she left. She walked into the small room and was surprised because she didn't find any dust. She saw back and found him walking inside the room with one bag. Her eyebrow curled up and her eyes questioned him...I brought some clothes with us, because we are going to stay here for tonight...she was surprised and excited at the same time but she didn't show it. It was somehow strange to have him here, inside this room. There was a time when she wished so much to see him, entering this room and that he tell her how much he wanted her, and that he wanted her back, but everything before were dreams and imaginations while this right now and here was very much real, and this was strange.
He placed the bag and took few things out while Ishitaji knock on the door and gave them dinner which she prepared for them and in the moment she walked through the door Khushi saw one good chance to ask him...what happened between you both?...Arnav grinned but didn't look into her eyes...and why did she thank you whole time?...ah, nothing special...forget it...hungry?...and with this simple hungry he deflected her but as soon they end their dinner she asked again...tell me now...I want to know...what happen?...what do you mean?...I mean Ishitaji...nothing special...not even worth to talk about it...but Ishitaji feel different...
Ok...he sighed...I repaired her oven...repaired?...and in the moment Khushi said repaired the realization hit her...wait...you was here?...when?...you know...I told you already...you was here too?...he nodded and looked down on the food, they ate on the floor like Khushi use to do when she was alone...in this one week...why? Her question was now so silent that he asked himself if she really said something but when she asked again he knew she wanted to know...I wanted to be close to you...you must know, I thought I lost you forever...in the moment you told the doctor about your delivery I thought you would never forgive me for this all what I did to you...I was so sure because I will never forgive myself...he stopped and his face became painful. She touched his cheek with her palm and saw how firm his face became and his eyes show one dark side on him which she very well knows.
The rest of the night was very silent. Arnav wanted to spend the entire night here and Khushi was ok with this. They dressed unusual to other two nights in their pajamas and lay on the mattress. Khushi giggled when they cuddle into each other...what?...why are you laughing?...the big ASR, with me, sleeping on the mattress in one room flat...in worst part of Lucknow...he leaned up on his elbow his eyes darker as night boring deep into hers. She continue to giggle not noticing his dark mood...this is so middleclass Mr. Singh Raizada...she giggled till the unpleasant silence arouse between them and she try to find out what was wrong but he spoke before she could ask...I would live the rest of my life here on this place, selling Jalebi on streets with this to heavy vehicle like you did to survive and sleeping here on this mattress, just to be by your side Mrs. Singh Raizada...
And this was everything what happened in this night. He spooned her and hugged her firm into the sleep. No s*x in this night or other things which newlyweds usual do in the darkness. Khushi never thought to spend such beautiful night with her handsome husband and for her it was sure this is one of the most beautiful nights with him till now.
The next days and nights in Lucknow were full of passion, lust, love, happiness, discoveries, new memories, and, and, and. Both enjoyed the days together as small family and nights as lovers. She spent even few hours alone with Ishitaji, Krani and Hira while Arnav met Aman for work. One of the best moments was when Arnav took Khushi out for dinner and he surprised her totally by the place where they should eat. It was the same hall where they met for the very, very first time. The moment she fell into his arms was never forget and when she enter the hall with him, pictures of this special event came into her mind. He said again and again that this was the moment someone pushed her down into his arms to show him his destiny and to hear something like this from big ASR amazed her again and again.
The last night came before their flight back to Delhi and the hotel room was full of candles. It was very romantic decorated with all the lights and one table for two in the middle of the room. He was already waiting for her to come out from bathroom and when he turned around he saw her in one red transparent sari which he bought for her.
Don't you think it's too open...she looked down on herself feeling embarrassed about small top which look like bikini...no...you are beautiful...and your sigh belong to me only...Mrs. Singh Raizada...he walked to her and lead her to the table. One present lay on her place and she looked at this curious...what's this?...something what Arnav want to gift to Khushi...again?...but you don't need to...he stopped her...shhh...open please...with shaking fingers she opened the box and what lay inside make her eyes wet immediately...do you like it?...but how?...this one was meant for you from beginning...I shouldn't do what I did this day...her fingertips touched the jewelry set. The same jewelry set she saw in RM and like it because it was so simple. It broke her heart when he gifted this to Lavanya and his hurtful words pricked her heart then.
Thank you...no, thank you...for everything. She stood up and took place on his lap to kiss him and show her happiness...I love you Arnavji...he kissed her back...I love you too Khushi...
Hamesha...
Hamesha...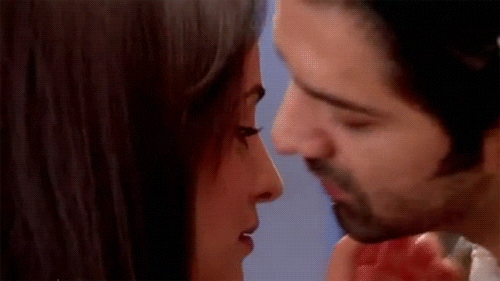 THIS IS THE LONGEST CHAPTER I EVER WROTE
AND IT'S THE LAST ONE
TELL ME HOW DID YOU FIND IT
AND TELL ME IF YOU WANT ONE EPILOGUE
I CAN ALLREADY SAY:
IF I WRITE ONE, IT WILL BE LONG
ALL PICTURES ARE FROM GOOGLE
CREDIT GOES TO MAKERS


Edited by ZANADI - 06 May 2014 at 1:31am