[THIS IS A MEMBERS ONLY POST]
The Author of this post have chosen to restrict the content of this Post to members only.
[NOCOPY]
COPYRIGHTED WORK
I DON'T ALLOW ANYBODY TO COPY MY WORK, AFTER THEIR SECOND WEDDING BELONGS TO ME. I DO NOT GIVE MY PERMISSION FOR ANYBODY TO COPY AND PASTE MY WORK ANYWHERE. ALL RIGHTS ARE RESERVED BY THE AUTOR ALONE SO THINK BEFORE YOU STEAL MY WORK BECAUSE THIS WILL HAVE LEGAL CONSEQUENCES FOR YOU AND I BRING YOU TO COURT.
ZANA
NOTE: WE HAVE NEW RULES HERE ON IF OR MAYBE THEY ARE OLD, I AM NOT REALLY SURE.
YOU CAN READ THEM HERE http://www.india-forums.com/forum_posts.asp?TID=3923042
I KNOW YOU ACTUALLY DON'T SPAM GUYS BUT FROM NOW ON WHENEVER I OPEN NEW THREAD IT WILL BE TOGETHER WITH THE UPDATE. IT'S ACTUALLY LITTLE COMPLICATED FOR ME TO CREATE NEW THREAD AND UPDATE AT THE SAME TIME, BUT I WILL TRY MY BEST SO YOU GUYS ARE NOT ATTEMPTED TO WRITE UPDATE SOON. YOU ARE FREE TO WRITE ME PM OR SCRAP ME WHENEVER YOU WANT AND I WILL TRY MY BEST TO ANSWER ASAP.
I DON'T LIKE TO SAY MY READERS WHAT THEY SHOULD WRITE IN THEIR COMMENTS AND WHAT NOT BUT SINCE WE ARE ON THIS FORUMS I PLEASE YOU THAT WE TRY TO FOLLOW THE RULES. JUST GO TO SIDE AND READ WHAT THEY ALLOW AND WHAT NOT.
THANK YOU AND BIG HUG
ZANADI
Arnav: black
Khushi: red
NK: blue
Sheetal: pink
Viraf:green
Anjali: violet
Chapter 48 ( THE RIGHT WAY )
NK and Sheetal danced slowly over the ballroom. NK was still surprised when she took his hand and told him that she want to speak with him. She pulled him behind her and now they danced already to third song but she still didn't start to speak. His hands rested on her hips where she placed them and her hands on his shoulders. He could feel her fingers in his hair few times but she removed them fast before he could react and then she wait for some time and did it again. He was slowly frustrated because he waited that she start to speak and she keep silent.
His eyes looked around and he remarked that Di was dancing with Viraf and he gave them one concerned glance...if Nannav see this...I don't think he would like it...what?...her eyes fixed on his lips...Di and your brother...Sheetal turn around and look on the dance floor. There were a lot of dancing couples and between them her brother and Di dancing tight embraced. One bright smile form on her lips after she remarked how tight they danced and she turned back to NK and pressed herself more on him...who are you?...her father?...no, I am her cousin...and when Nannav is not here it's my job to take care of her...oohhh...I feel somehow...NK looked down to her...oh...my head is paining...Sheetal?...his face was concerned...everything ok?...I don't know...I think I need some fresh air...the room is turning around...NK put her arm around his shoulders and directed her to next door. While they walk Sheetal looked back to Anjali and show her thumb up. Thank God NK didn't remarked this and in the next moment Sheetal was playing again her part of not being so well.
Anjali danced with Viraf and feel his eyes on her. Actually she was angry on him and she decided to discuss this with him, now...what was this with my brother?...he was silent and didn't reply on her question for few minutes. Anjali observed his face and try to read from his facial expression. And finally he decided to speak...do you really think I will play this hide game forever?...don't you think we wasted already enough time?...I wanted to tell him...I think I gave you already enough time, Anjali...this is not easy for me...I am still not divorced, Viraf...my brothers business is very important to him...what if press find out that his still not divorced sister is about to...she stopped before she spoke this sentence to end. It was little difficult for her to spoke her feelings out.
One sexy smile form on his lips...I would like to kiss you, Anjali...like I did it yesterday night...she feels the heat on her face as reaction on his words...I want to kiss you on other places too...stop...she whispers...someone could hear you...I like to see you blushing, Anjali...she closed her eyes. The way he spoke her name again and again out and in this special tone let her get goosebumps all over her body. What's wrong with you?...enough of all this nonsense...I am still married with Shiyam...his voice get deeper...and I will change this very soon, Anjali...there was it again. He spoke her name in this special way out.
And I don't like that you even think on him...I am going to change this too...her face became angry a little...oh, now Mr. Kapoor want to control now even my thoughts...he laugh loud...yes, Mrs. Kapoor...I am who I am...we are going to marry...and you are going to wear my name with proud...everyone will know whose wife you are...to whom you belong...her lips open slowly and she try to free herself but his hands hold her firm and they circled slowly on the dance floor. She looked around if someone remark how near they both actually dance but the lights were turned off and only few colored lights were now on and drenched the room in colors. He leaned down to speak into her ear so no one could hear what he spoke...I want you in my life...in my house...in Lucknow...this should happen years ago...and what would your family say when they hear that you marry one divorced, handicapped woman whose family's history is stained with scandal?...after all, they make already clear that they don't want one girl in their family whose parent's killed themselves...stop dreaming Viraf...
He circled her around and let her collide with his hard chest. His arms roamed around her and she was totally caught in his clasp. Her arms were under his so that she couldn't even push him away...since we are separated I don't have a lot of contact with my... so called family...the only person which I accept and care for is Sheetal...so you see the head of this Kapoor family will not have nothing against this alliance...in fact he is very eager to get you in his family circle...or other places...Viraf!...it was still dark around them but she could see his eyes wander down to her lips. It seems like he was planning to kiss her and she hoped that he did not fulfill his intent.
He close his eyes and his lips wander again to her ear...I am going to marry you and fulfill our destiny...I want you back, Anjali...and I do everything for this...she breathed sharp in...I want you back in Lucknow...in my house...as my wife...even he said this now for second time she feels like hearing this for the very first time. The reaction of her body was same like last time he said this words. He continue...I want children...she feels small stich in her heart...baby's, Anjali...she winced by his words...and you can only visit you family when the time is right...she looked up and moved away a little her upper body from his chest. Her eyes shoot daggers on him.
You want to hold me away from my family?...he grinned amused...no...absolutely not...but I have to work and I want my wife at home when I come back from my hard work...I want to eat her food...I want to play with my kids...and I want to give her my full attention...and whenever I can I will take free time and we can visit them...but you will not go alone or live with them even you have one husband...wherever I am...you are there too...and wherever you are...I am there too...this is the most important rule...rule?...he moves his chin up and looked down into her eyes.
Yes rule, Anjali...her eyebrow welled up...what kind of rules do you have except this one?...oh, there are a lot...let me hear...sure...you will never again talk about your handicap or whatever you think this is...I need you strong and not self-pitying...and I will definitely not pack you in cotton wool...as much I am the head of our family you are the heart...she closed her eyes with this words. Anjali wanted to stop to dance but he held her still in his hug. She saw to side trying hard to remove his hands from her. She could hear his voice again...what's wrong?...which of my sentences did you not like?...she pressed her lips to a thin line before she spoke...you blackmail me now for days and spend every night in my room...am I some cheap woman?...you come back and try to take what you want not even asking me what I want...and now you even plan our life without me...I mean without hearing what I want...he looked amused...good, what do you want?...she looked up and was silent trying hard to find something what she want but nothing came in her mind.
She didn't find nothing even she danced silent with him one whole song. In one moment he was distracted and she could free herself but he could manage to hold her sari. Anjali stood there not able to go away from him. She could feel how he came nearer to her from behind. She was angry about his assault over her feelings, nerves and life. And even if she didn't want she could hear his voice again...tomorrow is the day Anjali...I am going to speak with your brother...no more games...she turned around indignant...I know my brother...he will not allow this...his mouth corner moves up and he look damn hot...he will...don't worry...he will not...never...believe me, he will...I have something or should I say someone whom he search desperate...Anjali widened her eyes.
Khushi couldn't think straight anymore. All she could realize are his lips on hers. It feels so good. So right. Yes, she needed this. Sheetal was right. Why should girls not take what they want? But Khushi was Khushi and shyness and innocence are her nature. Part of her character. He could feel her hesitate and that's why he stopped to kiss her. She walked few steps backwards to get some fresh air and try to think clear. Even she could feel his dark eyes on her she didn't have strength to look up.
She walked to the next side of room still trying hard to calm her feelings. How much she wanted past few weeks to come so close to him. How much she wanted to kiss him last one year. How much she wanted to hear this words from him, since she met him. And that he spoke them out now let her shyness and fear get over her and control her totally. Sheetals words run through her head...take what you want too...but how could Khushi Kumari Gupta take what she wants? She turned around and looked at him. Big tears run down her face...I want you...I want you more than anything in this world...come back to me...and take me back...I promise I give my best to make you happy...he spoke standing in her old room which was drenched in darkness. She could see his face but the desperation in his voice was what touched her heart. Maybe Khushi Kumari Gupta couldn't take what she wants but it was sure that Khushi Kumari Gupta Singh Raizada could. Yes this was sure for Khushi.
She didn't want him for her security. She didn't want him for money or his name. She didn't even want him for family which she want so desperate or for her small baby Aarav. No, she decided that she wanted him just for herself. Because Khushi want Arnav! Just once she wanted to do something for herself. She met him to help Babuji so that he doesn't need to give papers of his sweet shop away. Then she worked for him to support her family and to pay her debts for destroying his car. She married him to let Payal's marriage happen. Just once she wanted to put herself on the first place.
She runs formally into his arms. Her hair fell over them and hide their faces from world outside.It was her who kissed him and he gave her his lips to do what she wanted. He wears her to the bed and placed her there not stopping to kiss her. Both let their frustration, desperation and desire free. Both missed each other so much and were not able to stop to kiss hungrily. She fisted his hair and pulled him closer to her lips. His hands roamed to her hair and he drew her too more into the kiss.
And in the exact second where Khushi played with the thought to undress him from his jacket he stopped and took place next to her on her old bed. He put his arm under her head and pulled her more to him. His hand moved down so that he could hug her closer to his body... I was often here after you left ...her eyes widened by his words and the unpleasant silence arose between them...and I slept here...in this bed...he kissed her now softer. Khushi didn't know what to say after he told her what he did during her absence. The unpleasant silence turned into pleasant one.
I am not going to let you go...not again...she closed her eyes and remember how he let her go more than one year ago. In fact he sent her away. She didn't want to think on this, really, but in the moment she opened her eyes she realize that her thoughts went again in this direction. Even she was craving now for weeks to do this all with him she still feels this fear inside herself. She needed to be sure that something like this will never happen again. If he reject her ever again she was sure she will not be able to survive this pain again.
Enough Khushi she told to herself and her eyes moved up to look into his. She saw how he thoroughly observed her face and knew immediately that he knows in which direction her thoughts went.
Arnav saw it. Her feelings. She was an open book for him. He saw the same feelings in her eyes last time they slept with each other on the way back to Delhi. He wants her more than anything and actually he was ready to show her this in his own special way but now he knows that his way was not always the right one. He knows that the things which he wanted to do so desperate with her are not possible anymore. First he had to remove this fear and doubts in his intentions. He should show her how much serious he is about their future. He stood up and walked outside the room leaving her alone behind. He took his phone out and called the person with whom he wanted to talk.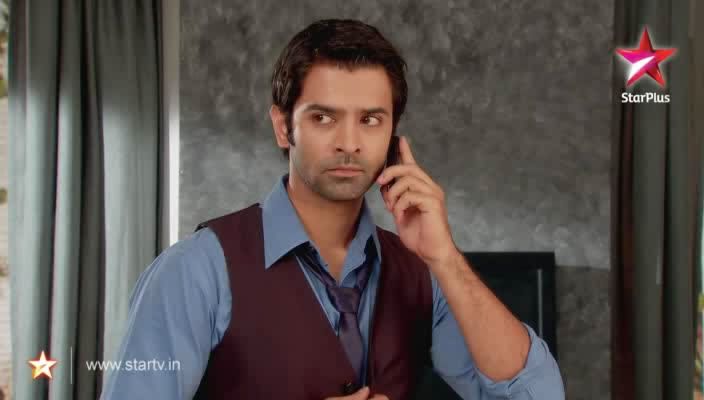 Khushi laid there and was shocked. What was that? She finally opened to him and now he stood up and walked out. What did she did wrong? Is he angry? And why? The place beside her was empty and this intensified the feeling of loneliness. Just in the moment when her eyes wanted to well up with tears he hear how he came in and walk to bed. He touched her shoulder and spoke...Khushi?...she turned slowly around. One question roamed again and again through her head, will he refuse her again? She looked up unsure and prepared herself for rejection in his eyes but what she saw was something totally different. His eyes were full of love and tenderness. He moves his hand up and touched her cheek soft with his fingers. Then he helped her up and took her in his arms. She leaned her head on his chest feeling his strong hands holding her. He left the house with her and drive away. Khushi thought he wanted to drive back to RM and she leaned into the seat not strong enough anymore to think or fight or anything else. She just let everything happen. She closed her eyes and opened them first when she feels how he stopped the car. She was surprised when she saw where they were. He was already outside and opened her door to help her outside. They were at Mr. Raj's house.
He took her hand and pulled her behind him to door. The door got open and Garima walked outside. She stood there and greeted them. Arnav was reserved while Khushi and Garima hug each other. She asked them to come in but Arnav refused. He saw with this special glance to Khushi and spoke...I brought Khushi here because I want her to be with her family when I come to propose for her hand...Khushi and Garima breathed both sharp in...I am coming tomorrow with my family...I hope this don't create any problems?...Garima nodded no speechless...if you want I can give you more time but I would be very happy if you allow me to come tomorrow to propose for your daughter, Khushi...he saw now direct to Khushi and she retorted his glance.
Garima smiles polite, giving him the answer already with her smile and walked inside the house leaving Khushi and Arnav behind to bid goodbye. Arnav took Khushi's hand again and pull her into the hug and spoke...this time I will make everything in the right way...but it doesn't mean I will accept one no, Khushi...he hug her desperate and kiss her forehead before he turned around and drove away.
NEXT UPDATE TERI DEEWANI


Edited by ZANADI - 07 March 2014 at 5:00am