11. Learn to do rangoli dance.




The moment she woke up and saw him next to her, she reached for her dupatta... ah this little flutter of fabric in iss pyaar ko kya naam doon, what was it really.

Dupatta
by DurgaS
Sarsar karta hawa mein jaise mast magan ud jaaye
Piya ko dekh, sudh budh khoye, man gagan choo jaaye
Baar baar ye saraahe unko, aur kareeb le jaaye
Ek hi jhalak mein pehchane unko, albela, matwala dupatta
Jaate huye ko rokne ke liye, dhoondhe kayee bahaane
Kabhi file, kabhi ghadi ya aur koyi kadi, jis se bhi ho jakad jaaye
Gaadi jaise dost ho iska, baar baar isee se ulajh jaaye
Door na jaana piya se, kehta sharaarti, natkhat dupatta
Piya ke haath se sar par odhli, apna haq jataaye
Yehi hai jeevan sangini kehte, piya ke paas ud jaaye
Kabhi parda, kabhi saadi bankar piya ko yaad dilaye
Anchaahe vivaah mein bhi naache, sayana, prasanna dupatta
Prem ke gulaab khilne lagey, mausam rangbirangi ho jaaye
Na samshay, na sankoch, na koyi rok, haq se haath mein jaaye
Alhad premiyon ko paas laane ka saadhan ye ban jaaye
Sharm se jhuki palkon ko dekh mand mand muskaaye dupatta
Kavach yehi, raksha yehi, sammaan ka hai chinha yehi
Do premiyon ke beech mein judey, prem ka hai bandhan yehi
Apni sangini ke suraksha ka ban jaata hai vachan yehi
Iss prem kahani ka hai ek eham kirdaar ye dupatta
Translation:
Swaying about, swooning, it flies in the air
Watching the beloved, losing senses, the heart touches the sky
Again and again, caresses him, takes one more close
Recognising him in one sight, innocent, drowsy dupatta
To stop someone from going, searches for many excuses
Sometimes file, sometimes watch or some other link, to whichever it can catch on
The car as if, is its friend, gets entangled to it again and again
Don't go away from your beloved, says the prankful, naughty dupatta
From the hands of the beloved, adorned the head with it, displaying its right
She is your life partner, saying so flies away to the beloved
Sometimes as curtain, sometimes as saree, it reminds the beloved
Dances in the unwanted wedding too, is the wise, satisfied dupatta
The roses of love are blooming, the aura becomes colourful
No doubts, no hesitation, nor any halt, with right it goes into the hand
To bring the young lovers close, it becomes the means
Watching the bashful eyelids go downwards, the dupatta gives out a mild smile
It's the shield, the protection, the symbol of respect
It is the bonding of love connecting two lovers
It becomes the promise for protection of his partner
An essential character of this love story is this dupatta
* * *
"Touch of Love"
By
ArshiHamesha
Arnav and Khushi ,both have been affected by a mere TOUCH of Love. A butterfly has indeed succeeded in spreading colors in his colorless life and he can't resist or having fear embracing or touching it either.
That was a day when after marrying a girl who he thinks has betrayed his trust and LOVE, he was standing in front of both the families just to save an unborn life and to save her sister's shaky relationship. Today both families who went through a lot that night and questioned them for their unexplainable actions, have not only accepted the relation with full heart... but also makes him realise the worth of it!!!
Khushi is the girl whom he just wanted to hate, destroy and punish within six months contract which was only the intricacy and entangled condition not only for him but also for her too. The relationship which he claimed will have no name from his side "patni ka darja nahin doonga"[I won't accept you my wife]... today he is not even shirking or thinking of denying any willing and demanding responsibilities towards it and anything which is associated with it. That shows how this relation is slowly weakening his defenses against the very same girl and he is accepting her.He came so far with it. He is the one who on "pag phere" had left her alone but today Destiny is bringing him to the same doors with his wife and he has surprisingly no qualms, reluctance or objection about it!!!
When he closes the door and turns, there is no annoyance ,no hesitation, no regret, no questions on why she made that decision without telling him because Naniji's words had made him see through "yeh bhi to apna ghar chod ke yaahan aayi hai" [After all she came after leaving her home to be with you]... and the guilt within that he had gratuitously made her go through on the wedding night and all reels through him... and this is where his journey begins "guilt and knowing that what she went through"... He is agreed wih all the norms without making a big fuss about it.
Other side The touch of love is springing colors in her visage too regardless of pain and hate. Love is blooming in her heart, in her eyes and the irritating fight which she started is making even her to rest her defenses.Now she wants him to accept that love which is in his heart and touch those emotions which he is hiding beneath that Touch!!!
"Reason lost the battle, and all I could do was surrender and accept I was in love." - Paulo Coelho [Thnx to shara's gift, I read "Zahir"]
The sweet journey ,where he gets uneasy by extra unseen and unheard attention and anticipation conveyed through Buaji's phone call, Khushi's endless and non-stop chatting and singing which he is very much into that moment. It seems he went back to old times where he used to go for vacation with his mother and sister to his Naniji's house.His soul is playing freely and he is liking it being light and free.
They were recounting and retracing each of their car journeys together so far in a fun loving way with mild smiles. These shadows of old times where each time he asked her to leave "get out" when he couldn't handle the effect and seeping love of her in his armored shell which some how she had the key not only to open it but also had a courage to live in it too.
The moment He tries the same to throw her out, she entangles him in his own web, then a realization wears the cloak of acceptance. Today he proves it to her and made her belief stronger than ever, things are changing and you are here to stay for forever, each time you will try to "step out" of this relation without a fight or complaint... i'll "hold you back"... He is losing all the reasons against this lost battle. His gestures made her ecstatic "This sweet journey with you with all of your attention is must to keep" All he was showing her his surrender against her Love, "Fadak padta hai...pyar se, mohabbat se, Ishq se"... She wants him to embrace it and he wants that from her too.
Since first time till now this was the most sweetest journey ever. Lets go back to the beginning of this journey where the first thing that Khushi had seen of this man behind the mask of ASR, was his love for plants. The day when she had come to give him the files at RM first time in his presence... That was her first glimpse of Arnav and she has always respected that "virtue" of his and that was the first thing she did by "selling her bangles to buy him plants on Lavanya's behalf"... a selfless and an innocent act which got the desired and deep effect on him that day...
Here is Anjali's words which are seeping in her "aap khulke pyar karaingi to Chotey apne saamne eik deewar khadi kar lainge... aap ko unke hi tareeke se pyar jatana hoga" [If u will show your love openly, Chote will stand a wall in between... u have to make him the touch of Love in his own way] - Khushi never took notice of the words before when Anjali gave a glimpse of Arnav and showed her the window to look at him at different angle, but that's what happened today, unintentionally a small gesture of her love according to his way which touched him, made him feel cared, loved, felt and above all needed and center of her attention. He reflects All that gratitude through eyes... by resting his defenses again... The touch which made both shaky the day one in Sheesh Mahal is shaping their heart to feel it, to indulge in it and to set free themselves to embrace it.
"There's not a single passing day that I don't think of you. In my heart you will forever stay as long as you love me too." Unknown
Mother's blessings in different ways, from all across is ready to embrace his visage to embrace his freedom to Love and to be Loved and above all to embrace the PURITY of it through his Khushi for his Khushi.
Indeed... "Never touch a butterfly's wings with your finger"
A H A R M O N Y A T L A S T

by

HORIZON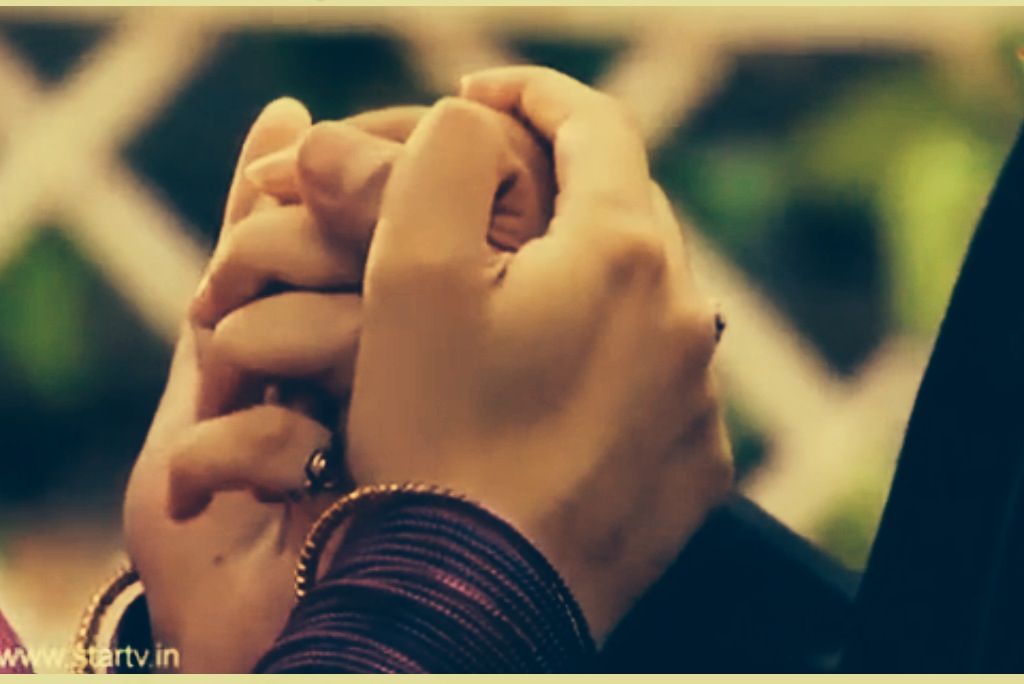 He coerced her into a marriage with the only rationale of his conscious mind being making her unobtainable to Shyam so that the latter has no choice but to stick with his wife, Anjali. His feigned attempts to shun her physically and emotionally lingered for a while... but it didn't last long... thanks to his over inquisitive family... he was extricated from that predicament. She had to be brought in... into his vicinity. The girl resorted to her inherent theatrics in a hope to frustrate Arnavji to the core so that he would spill the beans.
Her deliberately vexatious regressive name calling... her attempts to turn his drab interior into a tinsel town... to dab him in the colors of her religious beliefs, her caper with his food...all boomeranged and only bestowed them with few more titillating moments. The festival of colors... an eternal love saga on the stage...both of which wouldn't even have been part of his prior panorama ..but now ended up compelling him to concede his inner most secrets! He never expected her to follow any wifely responsibilities.. when she tried to overplay that, the only thing he could mutter was "damn the kartavya".. ... you are my wife.. mine.. just be by my side... that's all what I have married you for... he seemed to say..
He couldn't help but fall a bit more for her for every prank she played.. every ploy she crafted. The amplitude of her intended annoyance couldn't cross over the threshold and thaw his inside freeze but she only made further inroads into his heart. Near and farther.. love or hate..some where he accepted her presence is cardinal for him!
For most mortal humans, love and selfishness always seem to coexist. Isn't love an extremely selfish emotional dependency on something/someone? That way asr always was very human. Ever since she fell in his arms as if from heavens, the coordinates of his constellations have changed radically, permanently. She became the center of his universe.. his thoughts and actions orbited around her... he couldn't get her out of his system. He may have brought her into his life theorizing her to be a home wrecker, he may not have come to grips with his anger... his hurt... that clogged his judgment. But after all these days, there seems a consensus that her presence around him is his vital force... love, hate, walk, sleep, breath, exist... every action or lack of it of his echoed that... and he seemed to reach that tranquility... a peace of mind that she is with him!
As they entered the Gupta household, a colorful rangoli welcomed them. Rangoli traditionally is believed to symbolize acceptance and coexistence among different life forms... a small step towards achieving natural synchrony. As ASR and Khushi cross the rangoli, they seem to long to find that elusive synchrony in their love life. It may still be a while to achieve that. But for now, love her or hate her.. she belonged to him...and only to him..amidst all the pain, hurt and hate... a fact that he could be in harmony with!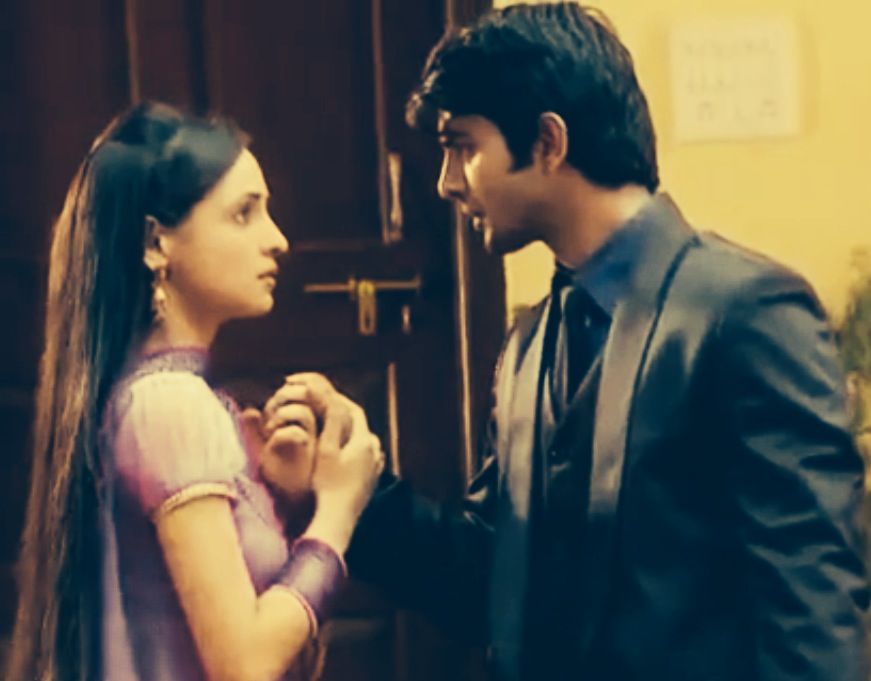 IPK banner credit Risha_ipkknd, Rules poster and Roses edit by ArshiHamesha, dupatta edit by indi52