Sreedhar Pillai @sri50
#IdhuKathirvelanKadhal
- 2.75/5. Predictable romcom made 2 fit into the family entertainer template. Song placement does not gel & too long
#IdhuKathirvelanKadhal - 2.75/5. Udhayanidhi has improved his style of acting and now fits in 2 the boy next door image. Nayan is fab.
http://www.moviecrow.com/News/3800/ithu-kathirvelan-kadhal-review----clean-fun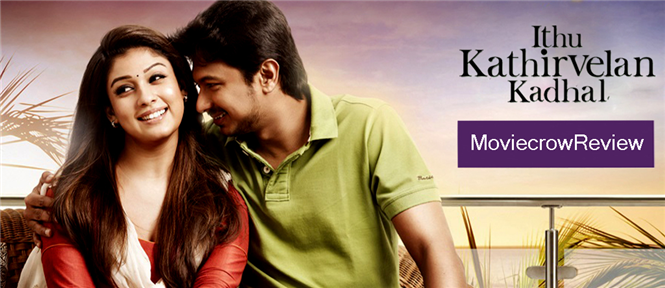 Ithu Kathirvelan Kadhal Review - Clean fun
The second film is the litmus test for most directors who have tasted success in their debut vehicle. S.R.Prabhakaran hit the bull's eye with the commercially successful Sundarapandiyan. This  time he teams up with Udhayanidhi Stalin who too has to prove that OKOK was no flash in the pan. What does the director actor has in store for us?
Plot:
Kadhirvelan (Udhayanidhi) travels to Coimbatore to set things right in his sister s life. A staunch Hanuman devotee who is disinterested in girls he however falls for Pavithra s (Nayanthara) beauty. There are multiple stumbling blocks for him to overcome if he has to win his lady love. His brother in law is at war with Pavithra s father, Pavithra is almost in love with someone else and then there is his father himself for whom love is an unholy word that is not even to be whispered in their house. How he overcomes these with the help of his ever dependable buddy played by Santhanam is the long story of Idhu Kadhirvelan Kadhal(IKK) in short for you.
Cast
UdhayanidhiStalin continues from where he left off in OKOK. There is a certain innocent charm about him. He is reasonably good in the emotional sequences too. The dance sequences are something that he needs to take care off. It is not that he is not agile but it seems that he is too keen to prove that he is a good dancer. This consciousness that is absent in the other scenes comes to the forefront in the song sequences. IKK is one of Santhanam s better outings in recent times. His timing is in good shape and he has managed to walk the thin line between being too subdued and going overboard really well. Nayanthara carries off her role with ease and she does look like a million bucks. The supporting cast has done a neat job
Songs
If you can excuse the deja vu feeling about Harris Jeyaraj s tunes they are definitely breezy. So is their picturisation. But nothing is right about their placement. Looks like the makers might have conducted an opinion poll regarding the placement of songs and then placed them exactly opposite to what the results should have conveyed.
IKK has a fair dose of comedy. But unlike OKOK this is essentially a family drama. The supposedly serious problems in the way of Kadhirvelan easily weed out for him to succeed. While the maker has obviously wanted a light hearted treatment, more than one instance of quite a grim situation turning into fun by either a silly revelation or a dumb act might stick out for a section of the audience. That said the climax portion is something that you least expect and really cracks you up. Unlike most movies which show mostly the suburban places when the story is set in Madurai or Coimbatore, IKK neatly presents the more modern spots in these two cities. As the scheming friend of Pavithra whose only aim is to bed her Sundar s characterization lacks credibility. Will someone so calculated to achieve his wishes be so carefree that he blurts out so loudly his perverted opinion about women to a friend, in a crowded restaurant, in such a way that almost everyone around there can hear him?
Bottomline
A fairly entertaining family drama that is worth a watch thanks to some clean fun sans vulgarity and violence.
Rating

2.75/5
http://www.indiaglitz.com/idhu-kathirvelan-kadhal-tamil-movie-review-17122
Idhu Kathirvelan Kadhal - The usual ROMCOM with a dose of family and sentiment
After making a debut with one of the most happening directors and a comedian who sizzles, Udhay will be facing the litmus test of entering the league of mainstream actors. Directed by Prabhakaran of Sundarapandiyan fame, this family entertainer juxtaposes with romance and a rightful mix of comedy through the layers of the plot, so does it take you on a high this Valentine 's Day? Read more!
Who is this Kathirvel:
Walking into the theatres you are certain to compare this movie with OKOK, however as the movie traverses over time there are certain scenes that might remind you of OKOK, although not the entire lot. Udhay is Kathirvel a complete Hanuman devotee who doesn't look up to women for anything and yes right from his childhood, and there is no particular reason for this.
To make family amends he reaches Coimbatore and revives his friendship with Mayil aka Santhanam. The chemistry between the duos deserves a special mention as they go about cracking rib tickling jokes, and santhanam plays yet again a familiar role of a friend in need. And enter Nayan as Pavithra and boy! Does she looks like a million bucks and even pretty than ever playing the chirpy Coimbatore gal. The plot unveils slowly with Udhay shedding the image of a Hanuman devotee after falling heads over heels for Nayan.
Spinning in a number of tales into this movie, the director tries to bring about a lot of sub plots: The little misunderstanding between Udhay's sister and her husband, a little dispute between neighbors, a father's unyielding trust on his family and so on. However, the director takes up each of these subplots in a rather entertaining style, kudos to him.
Through the first half its Udhay's umpteenth attempt in winning Nayan's hand with Santhanam's foray of one liners on love philosophy. Will Kathirvel's impeccable love for Pavithra win amidst all odds? Well, that's to watch and find out!
Whats good and whats not:
Udhay has improvised a lot no doubt, and kudos to the costume designer for belting out some colorful costumes that really go well on him. His dancing skills are finetuned, but there is a lot of room to improve and he should really work on dialogue delivery, all said his acting skills as a boy next door is commendable. Nayanthara looks gorgeous as Pavithra a straight forward gal and it's indeed a hatrick for her. Santhanam pelts a volley of witty punch dialogues on love and that looks just spot on coinciding with Valentine's day. He indeed is the comedian of this time without a doubt and the scene in the TV showroom brings the floor down.
The rest of the cast serve their purpose, Saranya as the dutiful mom, Chaya singh, Sunder, Bharath all delivering what was intended. There are some light hearted scenes that surely will cherish you, like the one with Saranya trying to make up for his sons absence:Surely director's special.
The movie as a whole is quite lengthy spanning for more than 2.5 hours and one could surely feel the drag. The songs apart from Mele Mele, Vizhiye are average and hugely reminiscent of OKOK numbers. Though there are quite a number of relishing moments, the screenplay is mediocre, the scenes apart from Santhanam-Udhay-Nayan has nothing big to offer. Prabhakaran's story telling is sweet with an emotional climax, however does not spring you the WOW factor.
Take of your OKOK glasses and watch this movie, for it's a clean family entertainer and a perfect outing for a Saturday evening.
Verdict : Combo offer of Udhay-Nayan-Santhanam misses the six, but not the boundary!
Rating - 3/5


Edited by __VJ__ - 14 February 2014 at 5:56am