About Vasant Panchami?
Vasant Panchami, sometimes referred to as Basant Panchami or Shree Panchami, is a Hindu festival celebrating Saraswati, the goddess of knowledge, music and art. It is celebrated every year of the Indian month Magh (January-February), the first day of spring.
Vasant means, "the spring season". This is the great spring festival, falling on the fifth day of the month of Magh, the first day of spring.



Vasant Panchami is the festival dedicated to Saraswati, the goddess of learning. (Deepavali is dedicated to Lakshmi, goddess of wealth, and Navaratri Durga is dedicated primarily to Kali, goddess of strength, might and power)
"May Goddess Saraswati,
who is fair like the jasmine-colored moon,
and whose pure white garland is like frosty dew drops;
who is adorned in radiant white attire,
on whose beautiful arm rests the veena,
and whose throne is a white lotus;
who is surrounded and respected by the Gods, protect me.
May you fully remove my lethargy, sluggishness, n ignorance." Happy Basant Panchami/Saraswati Pooja!
Magh Sud 5 (5th day of the bright fortnight of the lunar month of Magh) is the day of Vasant Panchami. Hindus all over the world celebrate this festival with great enthusiasm. This Panchami is also known as Saraswati Day. It is believed that this day is Saraswati's birthday. Temples are full of activities on this day.
Yellow colour is given special importance on this day. On Vasant Panchami, Saraswati is dressed in yellow garments and worshipped (with Puja, Havan etc.). Men and women try to wear yellow clothes on this day. Sweetmeats of yellowish hues are exchanged with relations and friends
Some people feed Brahmanas on this day. Pitri-Tarpan (ancestor worship) is done on this day. The god of love (Kamdev) is also worshipped on this day.
Children are taught their first words on this day (as an auspicious beginning to learning). Schools, colleges etc., (places of learning) organise special worship of Saraswati.
Pandit Madan Mohan Malviya laid the foundations of Kashi Hindu Vishwa Vidyalaya on Vasant Panchami. This has become a world famous top class academic institution.
Here is some special meetha from us on this day,wear something yellow and enjoy patangbaji...and celebrate life...
sweet safforn rice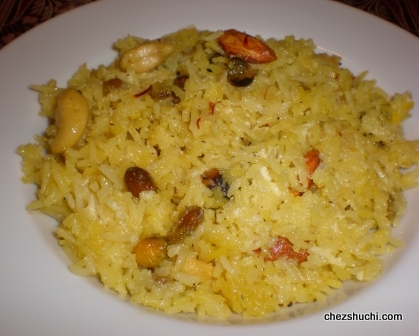 besan ke laddoo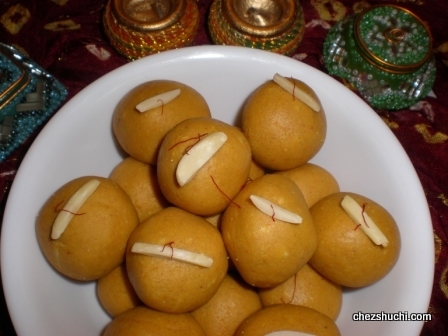 ghujiya!


Edited by poonamgarg - 03 February 2014 at 8:45am