Hi Friends
me ishhh back for umm a week
I am kinda on a break from IF, from studying, from everything...but ahem, i was just a little bit bored at 2am...so can I bug my dear CFC friends pretty please?
So this time's
is none other than...the adorable, the bubbly, the funny, the person w/ the cutest laugh and dimple...yeshh yeshhh...its time to rock n roll to the beat of the dhol...or umm its time to disco? we can do either one of them hai na? nahin nahin..i wont run away and start dancing right now i would if it wasn't so late at night *sigh*...j/k
So iss celebrity ka Kya Kehna? She is one of the finest and the very Best of Bollywood! She is our sweetheart...
Preity Zinta!!
In 1998, the then 24 year old, Preity started her career w/ a supporting role in Dil Se where she gave a brilliant performance and was amazingly noticed given her small part in the movie. Oh and does anyone remember her in the Perks ad running in the cricket stadium?
That was her very first ad! Wow, its her looks or her charm that just get her to be noticed immediately.
She then did Soldier w/ Bobby Deol. Apparently, she had signed to do this movie before Dil se, but it just happened that Dil se released first. It should have been a career set back for her...but not for our amazing Preity!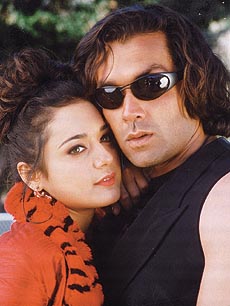 Soldier Soldier meethi baatein bolkar
dil ko chura le gaya

Preity Preity itni pyaari dikhti
ki hum uspar fidaaa hogayee
She did a couple of movies in b/w where the movies didn't really do great on the BO. But in 2000 she did the movie Kya Kehna. Here she played the role of an unmarried girl who gets pregnant. The film deals w/ the way she faces the society and her family during such times. I think she put up a remarkable performance and was truly recognized as a truly talented actress after this movie.
Do notice the trend here...she kept changing her hairstyle right from the start! She also kept experimenting w/ different roles every time!! She did not stick to the usual romantic hindi drama but was brave enough to go for unusual roles. Again this is a mark of a smart and talented actor!
She was next seen in the movies Har dil jo pyaar karega, Mission Kashmir, and Chori Chori Chupke Chupke. Who can forget the rocking songs and our amazing Preity from these movies?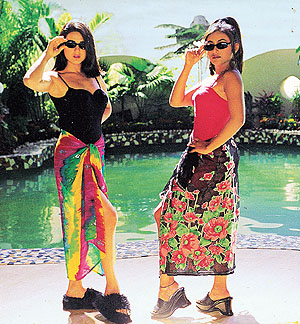 Piya Piya oh Piya Piya
Piya Piya oh Piya

na jaane kyun dil dhadke
preity ko dekhar hai dhadke
usne kaisa humpar yeh jadoo kardala!!

Piya Piya...
Her chemistry w/ Rani was well noticed here in Har dil jo pyaar karega. They gel well on screen...but they are not the best of friends off screen. Oh well, at least we see them as sisters or friends on screen.


Bumbro bumbro, shyam rang bumbro
Bumbro bumbro, shyam rang bumbro
Aaye ho kis bagiya se, oh oh tum
Bumbro bumbro, shyam rang bumbro
Bumbro bumbro, shyam rang bumbro
Chori Chori Chupke Chupke was yet another movie w/ Salman, Rani and Preity. Here Preity played the part of a surrogate mother. She did a good job in this movie.
Chori Chori Chupke Chupke,
Dil Preity le gayee loot ke...
Chori Chori Chupke Chupke...
Next came for Preity a huge milestone in her career...or atleast I think it was a milestone. Her role in Dil Chahta hai was amazing! She looked fab in the movie as well as shared a good rapport w/ Amir! The movie was so great and Preity just made it better.
Jaane kyun log pyaar karte hai
Jaane kyun woh kisi pe marte hai
Jaane kyunn Jaane kyun..

She did a few movies after this...the most memorable one was her villanous role in Armaan she put up a great performance in the movie w/ great actors like Anil kapoor and Amitabh Bachchan!
Now came 2003 and from that time till to-date she has been doing the best and I mean the best movies! Her performance is up to the mark in all the movies. She gives her best to the movies and we see that while watching her excellent movies!
Koi...mil gaya, Kal Ho na Ho, Lakshya, Veer Zaara, Salaam Namaste....in all these movies we see one of our finest actors...Preity!
In this movie she played the role of a journalist...and simply rocked as one! Her chemistry w/ Hrithik was again well appreciated after Mission Kashmir and Koi...mil gaya!
Agar hum kahein
ke hume tumse mohabbat hai
Humariiiiii bas yehi chahat hai
toh kya kahogi
She did a wonderful job of playing a simple girl in KHNH!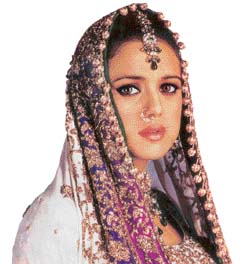 Our beautiful Preity looked ek dum pretty even when she played an old age role in Veer Zaara. She excelled in her performance here as well.
Hehe, our Saif got Preity preggie once again afer Kya Kehna in Salaam Namaster
Preity and Saif are good buddies off screen and it showed in their work as well. Wonderful movie, wonderful Preity!
aati hain woh aaise chal ke jaise jannat mein rehti hain
dekhti hain sabko aaise jaise sabko woh sehti hain
par gusse mein jo aaye aur ankhein woh dikhlaye
ladte ladte galti se muskaaye
my dil goes mmmmmm....
my dil goes mmmmmm....
And finally we come to one of the biggies of this year...Kabhi Alvida Na Kehna. I saw this movie just recently and trust me it is one of her finest performances ever! She has played the role w/ all the elegance and all the charm. She looks the best as well as offers the role what it demands.
Where's the party tonight?
Now what do we have to look forward to for our Preity? Jaan-e-man (w/ Salman and Akshay Kumar) and Jhoom barabar Jhoom w/ Abhishek!! Jaan-e-mann is supposed to release this year...while Jhoom Barabar Jhoom will be some time next year.
So ahem ahem...thak thak...time for ...for u to leave?!?! nahinnnnnn lol, its time for the amazing questions...aapki saaza...j/k please answer them and create a good discussion here.
1. Do you feel Preity has grown as an actor? How?
2. Do you agree w/ the point that Preity is experimenting w/ her looks and roles every time?
3. How would you rate her as an actor on a scale of 10 (0 being the lowest)?
4. Which movie had her best performance so far? Why?
5. Who in bollywood would you pair up Preity w/ to go out on a date?
6. Did you see KANK? What did you think of her performance in this movie?
Thats it folks...its 330am now..and me all done for the night
Good night...adious...take care.
Main aisi kyun hoon...main aisi kyun hoon?
(jawab ke liye...milte hai next time...same place...ur one and only CFC!!
)
Lots of love,
khair
CFC Dev Team
************************************************************ **

To continue your support for Preity, please join her fan club!


Edited by sweet_kp - 29 August 2006 at 4:45pm