Originally posted by cinthiann1758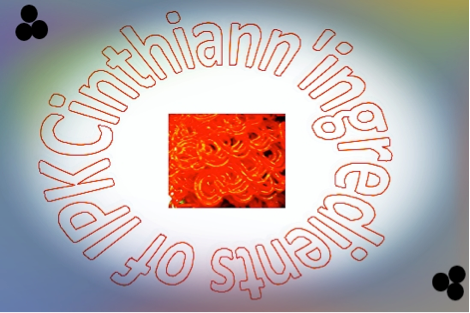 *All pictures credited to uploader and google images
Episode 229
All Night Long
She has waited all night long for him to come home so she can feed him dinner and then she too will eat. Even Naniji has called him and told him Khushi is waiting for him before she eats. Frustratingly he says that he has lots of work and Khushi should eat without him. Naniji tells him that it is out of affection that Khushi is waiting for him and he again tells her that he will be late with work and Khushi should eat. Nani hangs up the phone aggravated at her grandson's attitude and tells Khushi it is okay for her to eat. But Khushi refuses she will wait for her husband. The discussion at the dinner table ihad been about the new and improved "husband" Arnav. The family members told Anjali that she had missed Arnav wearing Khushi's red shirt.
He is a changed man.
Hmmm, is he?
Khushi's idea has backfired. He is not falling for any of it. She says it is her stomach that cares and not him. She pines for the flavor of the food, lifting the covers and smelling the wonderful aroma of the delicious food. Maybe if she has just a little...
Yum...yum...yum.
By the time he comes home she has eaten all the food. What the?
He comes in and he is tired, hungry and wants nothing to do with her drama. He looks all the food has been eaten. She says, as she burps guiltily, that she will make him fresh HOT food and she goes off to the kitchen. He says for her to wait he will order the food. Aww, perhaps he is thinking no need to put her through all this trouble? And then he realizes no one will deliver at this hour.
He is sitting waiting, feels a little funny, gets up and goes to change. When he comes back to the table all freshened up and in his night wear his head starts to spin and he becomes foggy. I am sure he is diaphoretic too. Pouring himself a glass of water he calls for Khushi.
She brings out the fresh, hot food and says wait she must taste if it's perfect for him. She wants to aggravate this man!
By the time she is ready to serve him he is out cold.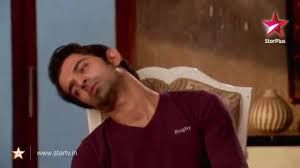 Hypoglycemia has taken over!
Khushi freaks out rubbing his hands and calling his name loud enough that the entire Raizada family comes to the rescue.
Mami goes into her drama Khushi is trying to kill Arnav. Nani shushes her.
They sprinkle water on his face, he asks for his medicine. Medicine? Sometimes I dislike when the nurse comes out in me...give the man some sugar fast!!! Thank the heavens Khushi remembered! You take the medicine before the meal, when you are awake, and put something in your stomach.
They bring him to bed; it looks like his sister has fed him by hand. Everyone leaves husband and wife; Khushi will take care of him, her guilt meter is way too high and she will stay up and watch him all night long! Anjali tries to pacify her letting her know it wasn't her fault but Khushi's guilt has taken over. She feels terrible. She closes their door.
Arnav tries to get out of bed and Khushi runs to him. She will get anything he wants. She places her hand on his shoulder and the stubborn man slides it off.
How much pain should this girl bear for you, Mr. Arnav Singh Raizada?
They banter back and forth how he will sleep on the sofa; she refuses to let him by blackmailing him with telling Di.
Ahhh, the power of the almighty Di! His heart is not dead. She has got him there. He obeys.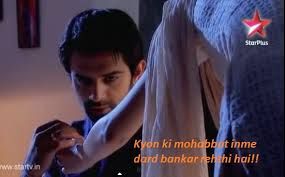 He leans back in the bed and tries to not let her help him but she insists the lioness is protecting her mate! He has to give in. Oh, how I would love just a peek inside his mind right now.
So very vulnerable.
So very tired.
So very tired of playing the game.
But he will never let her know...he will never be defeated!!!
All night long she paces back and forth.
All night long she watches over him.
All night long she does not give in to sleep making sure her husband is okay.
All night long her heartstrings have been plucked and pulled.
All night long she has wrung her hands with worry.
She pulls over the sofa right next to his bedside and sits like his guardian angel, getting up if he moves, fixing his head position and his covers.
He may need her at any moment. So she sits on that sofa waiting with worry...sitting, sitting, watching, watching, until finally she nods off.
They both wake at the very same moment. That happens to John and me. He opens his eyes and I know. It is a strong connection between husband and wife, soul mates.
We just feel their essence.
He tries to move and she jumps up. Just a minute she says. She will get the water he wants. He tells her a bit nastily he will get it, he doesn't need her help. Deep down, Arnav you long for it! She tells him not to drink lying down and sure enough he chokes. Didn't she tell him to be careful? She asks him to look up and places her hand under his chin and he looks up into the face of his angel and is lost for the longest Rabba Vey moment.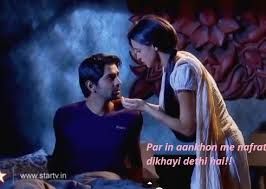 She finally realizes and abruptly lets go of his face while still in the moment and then gets off from leaning on the bed. They are both in an uncomfortable, restless moment then and she asks if he would like some more water. This seems to break the spell. She helps him to lay back down with some resistance from him but he finally gives in allowing his wife to take care of him.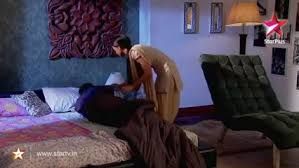 She covers him with his blanket and places his hands on his chest.
He goes back to sleep as she worries for him again all night long.
Morning has broken and his eyes open up to hazel eyes boring into him questioning if he is okay? He startles and sits up like a rocket. She fires a zillion questions about his health at him and if she can do anything for him. He jumps out of bed maybe to get away from this pagal wife of his or is it that all this caring scares the living day lights out of him? As he gets up he slips on some oil on the floor and falls flat on his back.
Khushi is aghast.
All night long she was worried and had taken great care of him
but now...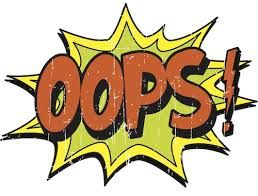 After he fainted, Khushi felt guilty and her caring ways scared him. For the first time he realized that she was not pretending but was really concerned for her husband. And he too in his heart of hearts wanted her near him since he was not feeling well. She was his healer, his guardian angel. No wonder his heart gave in to her. Its really sad that the two want each other so much but were trapped in the net of hatred woven by them.