Schedule
No upcoming shows.
KKNOCK KNOCK is a Hindi adaptation of the super successful and award-winning play SLEUTH by Anthony Shaffer. It's rare to come across the genre of suspense and mystery in Hindi theatre and Pankaj B Singh deserves a pat on his back for being able to package the play well with great performances by Hasan Zaidi and Rajesh Khera.

The story is set in Rajwade's mansion. Rajwade (Rajesh Khera) is an immensely successful mystery writer. Rajwade is fascinated by games and game-playing. He lures his wife's lover, Ajay Talwalkar (Hasan Zaidi) to his house and convinces him to stage a robbery of her jewellery. This in turn sets off a chain of events that leaves the audience trying to decipher where Rajwade's imagination ends and reality begins.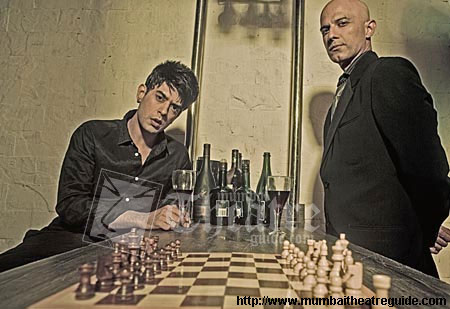 Rajesh Khera is good in parts. Initially he is a little over the top and one can see the effort he is trying to put in order to cope with the potential of the character but he gets better in the second half of the play. On the other hand, Hasan Zaidi who makes his theatre debut with this play, pleasantly surprises. He essays the role of Ajay Talwalkar and also doubles up as Kasada, the Haryanvi police inspector. With his portrayal of two extreme characters, he proves his acting abilities and overshadows Rajesh Khera's performance.

The scenes are crisp and engaging. The scene where Ajay Talwalkar makes his entry as the police inspector is worth a watch. The chemistry between the two actors is incredible. It's amusing to see how Rajwade's character overpowers timid Ajay Talwalkar's in the first half and how tables turn in the second half when Ajay Talwalkar plays a clever game and Rajwade is seen losing at his own game. The play offers great comic relief in between the scenes and the combination of suspense and comedy is always a treat to watch. The dialogues are witty and the play scores high points for the script. The set-up of thehaveli is beautiful with the study, living area, bedroom and the bar. The music of the play is quite appropriate as it is used as a helpful tool to build up the suspense sequences.

The play has its intense moments but on the flipside, the mystery moments get fairly predictable and the play drags a bit. Nevertheless, the play is thoroughly enjoyable and with its elements of suspense and mystery, something different to watch out for.