The stage is getting set.. #rangrasiya #newshow #comingsoon on #colorstv #jaipur #sexyweather
Sonia is Colors Head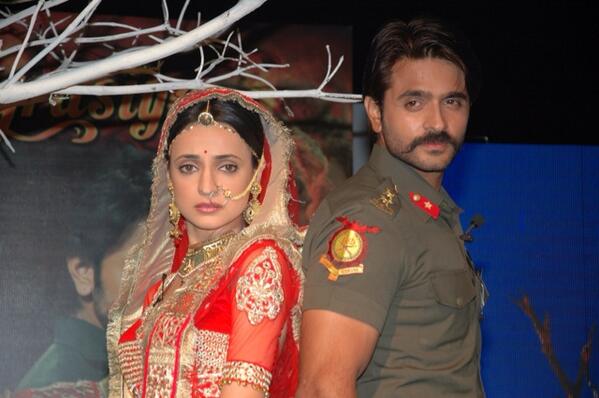 awww awww that adorable smile!! shooo shy n cute!! awww awww this one Sanaya is just adorableee!! awww awww god i love this girl!
well i actually felt very bad for Paro in this specific shot... she looks so innocent n felt bad that she is at gun point! look at that frightened little face!
awww cute together..
rest
. Newspaper Article - on RangRasiya
Sanaya's interview -
I suffered a
language barrier
Swapna Sarita Mohanty
swapna.mohanty@dainikbhaskargroup.com


Sanaya Irani is a popular television actress best known for her role in the serial Iss Pyaar Ko Kya Naam Doon. After Hrs caught up with her as she promoted her upcoming soap Rangrasiya.

Sanaya Irani who has also shown her face in Bollywood, has played various lead roles in television shows like Miley Jab Hum Tum, and Chhanchhan and also participated in reality shows. In a candid conversation with After Hrs, she complained about wearing the traditional lehenga choli in this frosty climate, difficulties in speaking Rajasthani and falling in love with the local cuisine. "Me and Mohit (Sehgal) were preparing for Nach Baliye when I was offered to play Paro, the female lead in Rangrasiya," revealed Irani.

Mentioning that she has never come to Rajasthan befor, Irani said, "This is my first shoot here. My makeup was given a touch up every five minutes as I was sweating even in this chilly weather." When asked about female characters in daily soaps that convey bad messages, Irani protested by saying, "It's the society that fails to accept the truth. People are ashamed to see things on the small screen that happen in real life."

Talking about Rajasthani food, she said, "Being a food lover, how I could avoid the delicious stuff of Rajasthan? I did not get a chance to go to any dhaba in Jaisalmer during the shoot but was served chicken curry, prepared the local way, at my hotel room. I must accept it was yummy."

She faced difficulty while rehearsing her dialogues. Irani complained, "I suffered a language barrier during rehearsal. Few Rajasthani words were too difficult for me to pronounce while some bounced over my head."



Published Date: Dec 20, 2013
Othello
revisited
A
Sanaya Irani and Ashish Sharma
The new soap attempts at describing love in a different way. Team Rangrasiya gets candid with After Hrs
Dalbeer Singh Negi/DNA
Swapna Sarita Mohanty

swapna.mohanty@dainikbhaskargroup.com

t a press conference held at Hotel Taj Jaimahal Palace, Colours launched their upcoming soap Rangrasiya. Shot in the harsh, rugged desert terrains and rann of Jaisalmer and the dunes of Jodhpur, Rangrasiya redefines hate while exploring the mystique of love. Breaking away from the cult of conventional soaps, Rangrasiya, a venture by Nautanki films, negates all known perceptions of love. Directed by Siddharth Sen Gupta of Balika Vadhu fame, the new venture is expected to hit the silver screen on December 30.

Rangrasiya is a story of love ignited by intense hatred. The lead characters are Paro and Rudra. Paro, a simple village girl, fantasizes love as a hope, while for army officer Rudra; love is purely need-based.

The team behind Rangrasiya shared their feelings. Prashant Bhatt, Weekday Programming Head-Colours said, "We wish to unravel a narrative that captures every emotion including love, hate, joy, sadness, pain, guilt, bitterness, hope, aspiration and vengeance. Hope our viewers will enjoy this unconventional love story." Firing at the glass wall kept on stage, Ashish Sharma aka Rudra, entered the press conference. He said, "For portraying Rudra, my keyword was

intense. He is a rebel in every aspect of the word." Sanaya Irani, who plays Paro said, "It wasn't really easy portraying her. I took it up as a challenge." The soap also casts noted actors like Sadiya Siddiqui, Tarun Khanna, Ananya Khare and Neha Narang in supporting characters. n

Published Date: Dec 20, 2013
Credit :kukiiesarun
Well considering that Sanaya is in GPA representing Rangrasiya i will put those snaps/videos up here too!
Sanaya's performance Promo 1 Video

Sanaya only (now this is not me advertising my work
. but am just posting cz its San lol. cz i am not likely to make anything else anytime soon anyway
)
Credit: Pooja & Sonia :)

here is some info from pooja who is working the same hotel where sanaya staying right now in Jaipur for Show promotion-

They are going to enact a small part from the show. Sanaya was wearing a grey color jacket and a black lower she had tide up her hair with a clutch. Looked friendly as she was talking to him by addressing him tu. Looks cute. Then she went back to her room along with the mike. I called her in her room and told that the bell boy is coming to her room to collect the mike she said oh ya i have come along with the mike. She has gone to change for the press conference. Saurab Tiwari and Abhinav Shukla are also here.
In the day time Ashish was shooting, while riding on the Bullet Bike and the reporters were clicking photographs. He was in an army dress.
i m sure both of them will rock off screen too.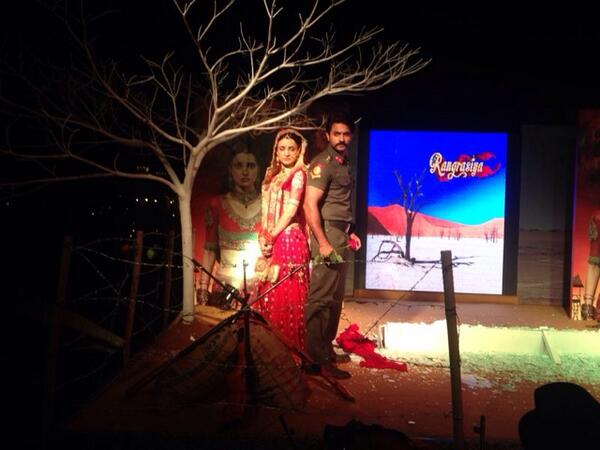 http://www.business-standard.com/article/news-ians/sanaya-positive-about-on-screen-chemistry-with-ashish-113122000034_1.html
http://chennaionline.com/Bollywood/Cine-Buzz/20134020024037/Sanaya-positive-about-on-screen-chemistry-with-Ashish.col
http://savedelete.com/sanaya-positive-about-on-screen-chemistry-with-ashish.html
http://www.newstrackindia.com/newsdetails/2013/12/20/7--Sanaya-positive-about-on-screen-chemistry-with-Ashish-.html
http://www.vancouverdesi.com/bollywood/sanaya-positive-about-on-screen-chemistry-with-ashish/684289/
http://zeenews.india.com/entertainment/idiotbox/rangrasiya-sanaya-irani-positive-about-on-screen-chemistry-with-ashish_148018.html
http://post.jagran.com/sanaya-irani-positive-about-onscreen-chemistry-with-ashish-1387519552
http://www.apunkachoice.com/content/article/sid100017772-actress_sanaya_irani_talks_about_her_new_tv_show_rangrasiya/
http://www.vancouverdesi.com/bollywood/sanaya-positive-about-on-screen-chemistry-with-ashish/684289/
http://zeenews.india.com/entertainment/idiotbox/new-show-on-rangrasiya-to-go-on-air_148019.html
http://www.vancouverdesi.com/bollywood/new-show-on-guns-and-roses-to-go-on-air/684204/
http://timesofindia.indiatimes.com/entertainment/tv/news/Bigg-Boss-Dont-like-Tanishaa-anymore/articleshow/27672775.cms
http://www.pardaphash.com/news/rab-se-sohna-isshq-fame-ashish-sharma-finds-it-difficult-to-enter-filmdom/727188.html
http://www.bestmediainfo.com/2013/12/colors-strengthens-its-fiction-line-up-with-two-new-offerings-beintehaa-and-rangrasiya/
http://www.indiantelevision.com/headlines/y2k13/dec/dec87.php
http://scrutinybykhimaanshu.blogspot.com.au/
http://manipalworldnews.com/2013/12/20/jaipur-ashish-sharma-believes-its-difficult-to-enter-film-industry/
http://entertainment.onepakistan.com.pk/news/tv/77406-new-show-on-guns-and-roses-to-go-on-air.html
http://www.bignewsnetwork.com/index.php/sid/219206651/scat/701ee96610c884a6
http://www.bignewsnetwork.com/index.php/sid/219206651/scat/701ee96610c884a6
http://www.thisismyindia.com/rajasthan/news.html
http://news.webindia123.com/news/Articles/Entertainment/20131220/2306172.html
http://www.tellychakkar.com/tv/tv-news/colors-set-redefine-love-rangrasiya-featuring-sanaya-irani-and-ashish-sharma

http://www.televisionpost.com/television/colors-content-strategy-post-bigg-boss-and-24/ | TelevisionPost.com

http://timesofindia.indiatimes.com/entertainment/tv/news/Ashish-Sharma-believes-its-difficult-to-enter-film-industry/articleshow/27676826.cms



Edited by princessunara - 21 December 2013 at 8:18am