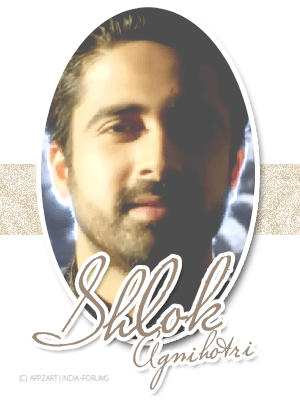 Shlok is a 24 year old rich boy who works in the family business. He is absolutely devoted to his father. Shlok believes women to be inferior to men. He hates his mother and is bitter due to a tragic past. Shlok speaks very little and rarely smiles.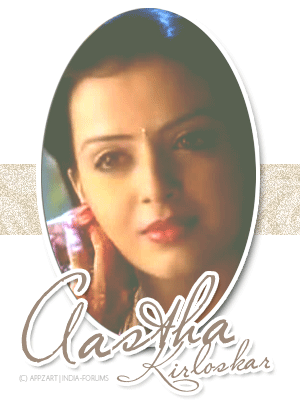 Astha is a 23 year old middle-class girl. Some of the characteristics to describe her would be sweet, spunky, lively & optimistic. She belongs to a progressive household that considers men & women to be equal. At times, a bit haphazard & disorganized, Astha has a tendency to tell white lies.

STORY SO FAR
Aastha starts to work for shlok, she got d contract for his parents niranjan agnihotri & anjai agnihotri's wedding anniversery planning..once she got late n office,on d way to her home a autowala aatacked her ..but shlok saved her from him.from then she starts to feel for him .later they went to kohlapur for bussines tour...there they share a cute moments. but shlok gets angry on her for reminding him his first love swati. on shlok's parents anniversary day , much to everyone's surprise he announced his wedding with aastha..she gets angry and left their..later shlok with his parents came to her house asking her for shlok. aastha's mom is not intrested in dis wedding coz anjali's behaviour with aastha remind her past marriage and cruel saas.
but shlok made aastha confess her love for him .and d marriage preperation started .they share lots of cute moments...anjali tried her best to break this marriage by sending unknown lettrs and broken mangalsutra,bangles to aastha's home. aastha questioned shlok about this. furious shlok bring aasta n a mandir and married her there. but their parents was not ready to accept their wedding. with everyone's blessing they again got married before d family with full rituals. anjali told them to sleep separately until satyanarayan pooja s done.
finally d day came ,suhaagraath..worstnight in aastha's life. on their suhaagraath shlok show his true face to aastha. he revealed her that he never , never loved her, he married her just to take revenge from him for insulting his father in a award function...aastha was shell shocked and she breaks down...from then he s behaving rudely with her and aastha hates him...here starts their love-hate story...
will aastha get her old shlok back ?...will shlok regret for whatever he did with aastha.?.can he win aastha's heart again ?...can aastha forgive him ?...can she love him again?..can love happen twice ?...
[CENTER]

/CENTER]
Previous AT Links
Shlok & Aastha Love AT. 1 Love Ki Suruwat
Shlok-Astha AT# 2
Shlok-Aastha AT#3|| khwaab wo pyaara aisa hai toota ...



Edited by Asharkibiwi - 19 December 2013 at 5:11am