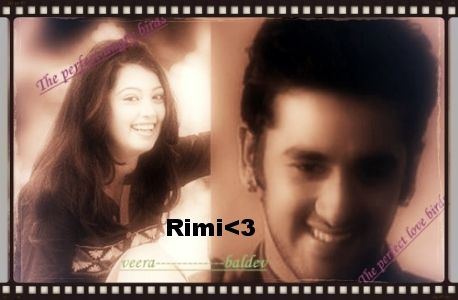 Rimi
(first ever OS on Baldev and Veera guyzz...
Sorry for any mistakes, my hindi/punjaabi is terrible at times
...enjoy)
OS-1 ( I believe you )
Baldev reaches ratan's house happily at night. He thinks veera might have been terrorized by Surjeet Singh (SS) and now she will ask for forgiveness.
*flashback*
Baldev is with surjeet singh(SS).
SS- mai tenu kabhi maaf nai karr sakta... Jaa yaha se.
Baldev- samjhne ki koshish toh kariye... Maine nahi kiya ye sab.
SS- toh kisne kiya? Bol?
Baldev(in anger
)- uss veera ki bacchi ne.
SS- veera?
Baldev- haan... veera...
SS- voi? Ratan singh ki beti?
Baldev- haan.
SS(mischievous
)- accha? Tab toh puttar... mai samajh sakta hoon teri haalat. Tu chahta hai na ki mai tujhe maaf karr doon??
Baldev- jee...
SS- toh ek kaam karr... tu kuch bhi karke... uss veera ko yaha bhej.
Baldev- vo kyu?
SS- savaal nai puttar... Arre.. mai toh sirf sabak sikhaaonga... tera badla bhi poora aur mera bhi...(wicked laugh
)
Baldev- sahi kaha aapne. Vaise aap karenge kya uske saath?
SS- arre daantoonga use... aur kya... aisa daraaonga ki tere kadmo ke giri milegi kal se ...
Baldev- jee ... Zaroor bhejoonga mai use yaha.
*present*
Baldev comes to know that veera is not back home yet and all are searching for her. He smells the bad intentions of SS.
Baldev(thinks)- ye maine kya karr diya?
He rushes to SS mansion. There, he beats the door badly but no1 opens it. He finally breaks the door and gets in.
SS- kya karr raha hai tu yaha???
Baldev- kaha hai veera?
SS- vo toh kab ka chali gayi...
Baldev- KAHA HAI VEERA????
SS- tu mujhse aise baat karega??
Baldev goes and grabs his collar.
Baldev- maine kabhi nai socha tha tu itna bada Kam**** niklega... kaha hai veera...?? Agar use kuch hua toh...
SS- oye toh??? Tujhe ki fark padta hai???
Baldev leaves him instantly as soon as he hears a voice coming from a room. He runs to that room and opens the door to find veera tied to a chair and her mouth sealed with a tape. He sees tears falling from her eyes.
Baldev runs back to SS and gives him a tight punch and hits him with a stick. SS faints.
Baldev runs to veera, sits down and unties her. He opens the tape making her weep
. She hugs him tightly as she cries her heart out.
Baldev- veera tu...tu theek toh hai na?? kuch kiya toh nai usne.
Veera is crying and not saying anything. She has grabbed him tightly. Baldev feels very bad for her and hugs her back. He gently caresses her head and runs his fingers through her smooth hairs.
He is lost in the hug. He keeps his chin on her head which is sunk in his chest.
Veera feels safe in his strong grip. Baldev gently kisses her head.
Baldev- sab theek ho jayega veera... mujhe maaf karr de...
Suddenly they realize the awkward and unusual situation and part away. They find themselves in an awkward situation. Still, baldev makes her stand and supports her to walk. On the door he looks at half conscious SS.
Baldev- aaj ke baad... Door rehna iss ladki se... samjha...!!!!
He takes veera with him. On the way they sit in rock as veera was thirsty.
Baldev gets water for her. In the full moon night he saw a beautiful and stunning girl. His biggest enemy who was also the one and only girl who somehow had a special place in his heart. He sat next to her and gently put one strand of hair at the back of her ear. She turns to look at him.
Veera- thanks baldev.
Baldev- (ashamed)- nai veera... galti bhi meri hi thi...vo maine hi ...
Veera- mai jaanti hoon baldev...
Baldev- tu jaanti hai?
Veera- jab SS ne mujhe zabardasti bandh ke band karr diya tab mujhe samajh aaya ki usne mujhe vaha karze ki baat karne ko nahi bulaaya tha. vo mujhe kidnap karna chahta tha.
Baldev- toh tu mujhpar gussa kyu nahi hai?
Veera- kyuki mujhe bharosa hai ki tum uski madat iss kaam ke liye nahi karr rahe the.. usne tumhe bhi dhokha hi diya hoga.
Baldev- itna bharosa karti hai mujhpe?
Veera- haan... chahe tu jitni bhi ladai karle mujhse... lekin tu kabhi mujhe nuksaan nahi pohocha sakta... hai na?
Baldev- haan veera... ...
Veera- chalo chalo abb ghar chalo. Kal se dobara apni ladaiyaan shuru karni hai ki nai?? Chalo...
(they laugh
).
Index:-
OS-1 (I Believe You)... just above
OS-2 (Best Enemies Forever?)...Pg-3
OS-3 (You Reside in One's heart)...Pg7
OS-4 (Tip Tip Barsa paani)...Pg9
OS-5 (ankahee baate)...Pg13
OS-6 (Baavli si preet mori, abb chain kaise paaye)...Pg-17
OS-7 (koi fariyaad)...Pg-20
Os-8 (Weird feelings)...Pg22
Os-9 (Slap me) ...Pg27


Edited by RiMjHiM19 - 28 December 2013 at 7:47am