Part 2
He stormed inside his house in that drunk state, still managing himself well. He never was so attached to alcohol but today he definitely was over limits after the serious call he got from the guest of this house Miss Khushi Gupta. Who the hell did she think of herself? Taking steps towards his room not considering having any formal meet with his new guest he straightly collided with the servant of his house
Arnav: What the Hell!! Are you blind?
His nose flared in anger facing this situation and he outburst it on the poor soul who was very new to this place. Some drops of juice which the servant was carrying back spilt on his favorite Black shirt and he couldn't stand this.
Servant: Sorry Sir. The dim lights didn't let me see you were coming.
Arnav then realized that the lights were indeed very dim. He in his drunken state had hardly any time to notice his surroundings.
Arnav: What happened to this house? Cant you lit every corridor properly?
Servant: Sir, Maam said we are wasting the electricity.
That was something unexpected her heard for the first time. So this "Guest Gupta" had started interfering in his Budget? Why did she care how much money he wastes in illuminating his house? Firstly she messed with him over the phone only because he didn't send Car at the Airport and now she is brainwashing the Servants here? How dare she?
Arnav: Where is she?
Servant: In the Guest room Sir. She is leaving to meet her friend probably. Should I ask her to meet you before she starts?
Arnav: Not needed. Because she won't start from here until she sees me.
He took a turn to search the Guest room and the servant kept analyzing his words.
________
He stopped before her door making his mind ready for this verbal fight between him and the Guest Gupta. He gently knocked the door but to his surprise found it open. He never liked doing this. Peeping into other's room only to check if he was allowed inside or not and specially in a girl's room but today he hardly cared as this was his house and If his Guest was not in a good position to meet him then why the hell did she keep the door open. So considering it as her fault, he entered inside only to find a thin girl dressed in a Purple Lavender Dress with her back facing him and her fingers fiddling with the dress to zip it up. All that anger, frustration that he felt inside him till he entered this door was washed off by this one scene. He had no much plans of opening his mouth to speak up and make her realize that she wasn't alone in this room now but his tongue and vocal cord didn't support him today. Involuntarily he took small steps towards her, his eyes fixed on her fingers which tried their best to pull the zip up and fix her dress but probably it was stuck somewhere. The dim lights in her room didn't allow him to see that angelic face properly but he knew one thing. She was an epitome of beauty. She was lost in her own world of struggle when suddenly she felt someone holding her waist and turning her around. In one go, she found herself in the arms of some unknown man whose face was worth adoring, his eyes were staring in hers as if reading her soul, his breathes washing away the fear of being in the wrong hands, his fingers tickling her open back and holding the zip pulling it back up slowly and gently ensuring this moment lasts for longer, this action doesn't complete till he is tired of admiring this same face like never before.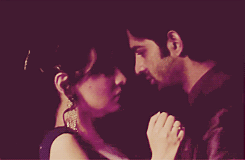 In seconds she realized who this man was and his actions made one thing clear. He was drunk and obviously if they continued being in this position for long, then either she will get a heart attack as her heart was beating erratically by this closeness of theirs or he would use this opportunity to consume her in some way tonight as he wasn't in his senses. The moment she felt the zip covering her back fully, she struggled to get off his grip but it wasn't that easy. Looked like he was not ready to come out of this sweet torture. She angrily pushed him back and slapped him hard on his cheeks.
The loud sound and the pain of that slap got him back to the normal world. He could not believe she did this. A girl had slapped THE Arnav Singh Raizada? How dare she? His anger which was never in his control was once again out and holding her nape harshly he pulled her close to him once again. She had no idea what this would lead to.
Arnav: If you wouldn't have been my Jeejaji's sister, I would have shown you what it means to slap me for no reason.
Khushi's struggle continued but not after hearing this. She looked in his eyes with anger and replied roughly.
Khushi: But I don't give rights to any of my Sister in law's brothers to come and Zip me. Next time before you touch me again think twice about its consequences.
A wild Smirk formed on his lips as if he liked what she said. This was once again for the first time that some girl was accusing him for misbehaving with her.
Arnav: Nice plan Guest Gupta. Firstly you kept the room door open purposely so that I can come in and see you dressing. And then when I try helping you , you slap me for that? What kind of law is this? Was this some way to trap a man in your charms?
She struggled and angrily muttered something but he interrupted
Arnav: Never mind. Whatever this was, I don't regret for my actions. Covering my Guests from the outside world was my duty. And I fulfilled it with utmost dedication.
His eyes scanned her lips which were so inviting him. This wasn't unnoticed by her and she looked the other side helplessly.
Khushi: Aap Batameezi kar kar rahe hai.
He smirked at her reply and then left her moving a step back. She touched her nape once as his grip was very tight and she could feel the pain still. She pointed her finger before him to get his attention and warned him.
Khushi: I wouldn't mind complaining this act to your sister but I don't like hurting others and bothering them for no reason.
Arnav: I will never stop you Guest Gupta. Do what you wish but outside this house because inside her the RULE is Mine.
She breathed angrily and left the room without waiting there for any more second. He followed her out and waited at the Lobby to see her ignoring every little call from the maids and driver asking if she needed anything and left the house hurridly.
Arnav: Looks like this would be a roller coaster ride in Shantivan for a month. Welcome HOME Guest Gupta.
____________
Sheetal laughed holding her stomach rolling on her bed while Khushi angrily kept looking at her standing aside.
Khushi: There's nothing to laugh Sheetal. I am not sharing Jokes here. That man misbehaved with me. He saw me like that without my permission. He touched my back.
Sheetal: Correct it Khushi, Bare Back.
She started laughing again and Khushi was frustrated. She took the pillow and hit her gently.
Sheetal: Ouuch. It hurts baby.
Khushi: You are hurting me too. I am here discussing my problem and you are busy laughing?
Sheetal stood on the floor and then clutched Khushi's hands securedly.
Sheetal: Okay so you need my comfort you ?
Khushi: Forget it. You aren't even bothered about me.
She moved towards the Window to look outside and Sheetal became serious now.
Sheetal: Khushi come on yaar. Some guys are like that. He didn't do anything else than this right? He covered you baby, didn't undress. And what you did to him? You slapped him? Any guy would have punished you for that. This is India baby not your Ireland where people especially Guys are decent enough. And don't expect much decency from Arnav Singh Raizada. He is little rude in this matter. But these days he is single. So lucky you.
Khushi: My foot. Just another misbehaviour from him and I am going to throw him out.
Sheetal started laughing again and Khushi waited to know what wrong did she say now.
Sheetal: Did you forget you are staying in his house not he in yours.?
Khushi: Whatever. His or mine I have nothing to do with it. But I swear if he touches me again, I will kick him hard
Sheetal : I will wait to know the aftereffects of that Kick then.
She kept teasing Khushi whose mood was totally off by that one act from her Brother's Saale Sahab. If Shyam wouldn't have been so close brother of hers she would not have mind complaining about this man. She is not any random girl whom anyone can use and throw. She is a tough girl who always fought for rights and she wont tolerate any nonsense from guys. Be it anyone.
_________
The Morning was quiet sunny when he opened his eyes hearing the door knock. He asked the servant to come in as usual to place the bed tea aside and leave but the moment the door was opened he heard the Servant talking to him.
Servant: Sir, Maam's room Shower isn't working today.
Arnav rubbed his eyes weakly and then stretched his arms in the air to breathe the fresh air.
Arnav: I am not a Plumber.
The Servant wished to laugh at this comment but he controlled and continued.
Servant: Sir we have checked the shower of other rooms as well but none of them working. Should I check of this room too?
Arnav nodded a yes and turned the other side to indulge in sleep again but the Servant came out of the bathroom with the good news.
Servant: Its working here. Should I ask Maam to use this Bathroom for today?
His eyes suddenly opened and he angrily looked at his Servant for even advising something like this.
Arnav: Whose house is this?
His anger rose again.
Servant: Sir Yours.
Arnav: Is she my Girl friend or Wife to use my Shower? Ask her to use the swimming pool at the Gym room.
The Servant nodded and left while Arnav closed his eyes again. But the thought of his Guest Gupta swimming in such an open room did not look much good. He screamed for the servant again who came instantly.
Arnav: Ask her to use this room and tell her specifically not to disturb my sleep.
Servant agreed to his master and left for informing the same to the Guest.
Author's Note
Finally
I could get some time to draft this. I am not much good in regular updates but looks like I will try following it. The next expected scene would be the below one