PART 1
It had been almost 6 months that Arnav Singh Raizada was single. He was always spotted with some or the other girl every time in his Fashion Shows or Client Parties but this time there was no one beside him whom he could term to be "HIS GIRL". Not that he wasn't happy. He was very much enjoying his Single days but somewhere at some point he needed someone to share his loneliness. He was on a call with his sister Anjali Jha who lived in Ireland with her husband. She was his only companion when it came in terms of sharing his feelings.
Anjali: Chotte grow up now. You really need someone permanent in your life. Aisa kab tak chalega? I think Lavanya was your third girl friend. Wasn't she? Infact you dated her for more than a year then what happened so suddenly that you both broke up?
Arnav: She started getting over possessive Di. Can you believe what she did once when we partied with my friends? I was dancing with my Friend's girl friend and she in jealousy poured her drink on that girl's dress. How embarrassing that was for me to handle the situation there. Luckily my friends didn't mind her actions and forgave her.
Anjali: That's it? And you guys broke up?
Arnav: No. There's a lot more that you cannot even imagine. She wanted me to introduce her to my family.
Anjali: Introduce? For ?
Arnav: Marriage Di. She had started dreaming a life with me for next 50 years. How sick is that?
Anjali had nothing to reply after that. She knew her Chotte will never agree to marry anyone. He just hated to commit himself for a lifetime to someone.
Anjali: I think she loved you truly Chotte. She must be shattered after this.
Arnav: And I don't care what she went through. I had made it clear long back when we started this relationship that it can never take a turn towards marriage track. She agreed then and later became a bit more demanding. I don't like such people who cannot keep their promises.
Anjali: Well. Forget that now. I had called you to ask something really important.
Arnav: Go ahead. I am listening.
He was busy in checking some photo's of Models for his upcoming show but his ears were definitely on his sister's words.
Anjali: My Sister in law, I mean Shyam's cousin is coming to India for a month. Its her best friend's wedding and she had planned to stay in a Hotel in Delhi but at the end moment, she couldn't book her accommodation in her preferred Hotel and hence I offered her some other option.
Arnav stopped flipping the pages finding the perfect face for his show. This girl had really all the features to be selected for the show. He checked her name written at the backside of her Profile picture. Tania Singh, a Delhi based upcoming model who had tried her luck in some Ad industry and was still looking for something challenging in her career. He scanned her picture once again when he heard his sister calling out his name to check where he was so lost suddenly.
Anjali: Chotte did you hear me?
Arnav: Sorry Di. Yeah I did hear. So Jeejaji's aunt is coming here and you want me to book a Hotel for her. Right?
Anjali laughed heartily hearing that from him and repeated her words
Anjali: Not Aunt Chotte. His cousin sister is coming and you don't have to book any hotel for her as I have asked her to stay in your house for that one month. Hope I had the right to decide that.
Arnav suddenly got up from his chair in astonishment.
Arnav: Our house? She __She___will stay with me? In my House? How can you decide something like that DI? I don't like strangers and I am not comfortable when such strangers stay in my house. And upon that I am not a good host. So please ask her to make some other arrangements. I won't entertain anyone here.
Anjali: You mean to say I don't owe that right to let my sister-in-law stay in my Mayka for some days? I never expected this Chotte.
Arnav knew this would happen. His sister was good at blackmailing.
Arnav: Okay fine. Don't be so emotional. She can stay. But let her mind her own work here and not intrude in my life or business. Just warn her that.
Anjali: She will never do that. She herself doesn't talk much and she is very much in her own self to even bother you. So be sure of one thing, she will never let you feel you took a wrong decision of letting her stay with you.
Arnav: Okay. When is she coming?
Anjali: In next 2 days. Her flight will be landing at 07:00pm. Send a Car to pick her up. Will you?
Arnav closed the Album of the Models and then replied back to her.
Arnav: Thank God you didn't wish I should be picking her up.
Anjali: I know my Chotte is not a good driver and she hates people who drive like flying a Jet. Okay remember one more thing, she is our guest so please treat her with respect.
Arnav: You didn't had to tell me that Di. She will be fine here. Trust me. What is her name you said?
Anjali: Ohh Haan. Khushi Gupta.
That name looked very familiar to Arnav and for next few seconds he was in his own reverie on where did he hear this name. Not giving much importance to it at the moment he promised his Di to try being a good host and then cut the call. Now his current target was Tania Singh. He had to appoint this girl before she is been diverted anywhere else.
_____________________
2 Days later
Tanya and Arnav toasted their drinks for celebrating their new venture in AR and gulped the drinks in one Shot. She was really happy for signing this contract with THE ARNAV SINGH RAIZADA who looked very much impressed with her on their first meet only.
Tanya: Umm. I am sure this meet of ours will be very interesting in the near future.
Her eyes clearly checked his face which hinted that he liked her.
Arnav: I wish the same Tania. You know I have worked with many Models yet but that this time I think I am working with the right one. Welcome to AR Officially then.
Tanya smiled at his comment and then started being a little more personal.
Tanya: So you are single now? How does it feel?
Arnav smirked back at her question and then gulping the next shot replied back
Arnav: All I can say is I sleep well these days unlike before when I was dating someone.
Tania blushed and his mobile started ringing with some unknown number. He excused Tania and then moving aside answered the call.
Arnav: Hello, Arnav Singh Raizada here.
Caller: Have you sent the Car? I didn't find anyone waiting for me here.
Arnav: Excuse me?? I guess you have called a wrong number Miss. This isn't a CAB Service number.
Caller: Huhh. Wish I had called a Cab instead of expecting you to send me one. Anyways, don't bother to send any Car now. I will reach Raizada Mansion safely.
Arnav: What The!!!!! Who the hell are you to talk to me like that?
Caller: Khushi Gupta. Now before you realize who I am and feel sorry for making me wait at the Delhi International Airport alone, let me tell you, you aren't forgiven for this Mr Raizada. So don't even ask one when you see me at your house. Good Bye.
She cut the call but the impact of her words were so strong that Arnav for a second forgot everything else at this moment.
__________________
Okay Guys I know this is a short one. But the next part will be longer. I promise. The Banner of this FF will be posted soon. And you can expect the below scene in Part 2. One of my favourite scene from the show.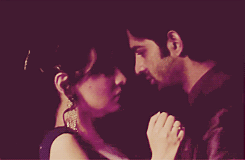 Also Banner for SS: Entrapment is updated on page 1

http://www.india-forums.com/forum_posts.asp?TID=3794903


Edited by tintin_ruble - 06 November 2013 at 4:24am