Happy Birthday Vijay Bro
Warm and happy wishes for you!
May life's brightest joy illuminates your path & May each day's journey make your dreams come true.
Have a great time with all that you love!
:::
Your birthday's a time for careful reflection
About your life, and its future direction.
You see where you've been when you look at the past;
Most of it's great; you had quite a blast!
You wonder what's coming, what life has in store;
Will it be just the same? Will there be a new door?
Remember this, as you blow out the last candle:
Life holds no challenge that you cannot handle.
:::
On your birthday,
I wish for you the fulfillment
Of all your fondest dreams.
I hope that for every candle
On your cake
You get a wonderful surprise.
I wish for you that
Whatever you want most in life,
It comes to you,
Just the way you imagined it,
Or better.
Happy Birthday!
Loves Deepali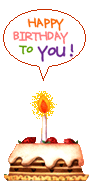 PS : Shruti di ,Melz and everyone beautiful B.Day thread



Edited by -Deepali- - 22 October 2013 at 12:48pm